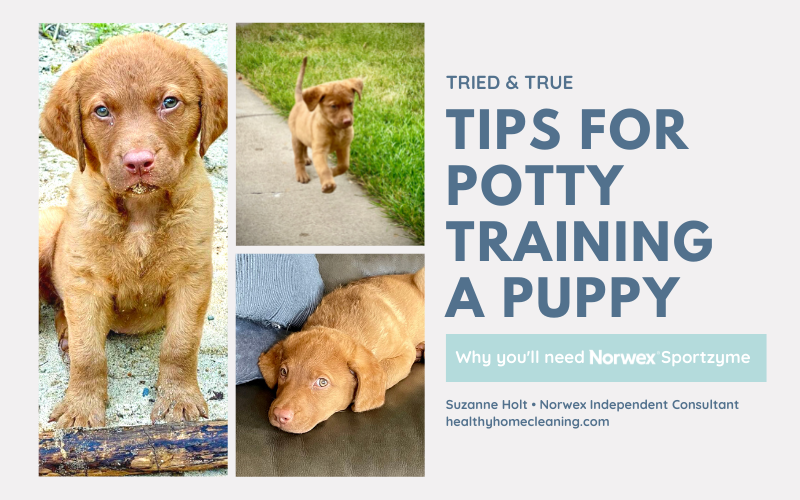 New puppies – SQUEE!!! 😍 We just got one and I often refer to him as "little love" because he's SO adorable.
Even if you're not a dog person, I think we can all agree that puppies are among the cutest things on earth – with their big round eyes, damp button noses, squishy bellies, downy fur, floppy ears, and new puppy breath (yes, it's a wonderful smell!), it's hard to resist them!
And thank goodness they're cute because if you've ever brought a new one home, you know that they need all the cuteness to help you not pull your hair out during the housetraining process! It's challenging, messy, and worst of all, smelly.
We just brought home a brand new Chesapeake Bay Retriever puppy two weeks ago and he's such a little love! We are in the thick of potty training/house training this little guy, so I thought I'd share some of my best tips.
Step 1: Buy Bells
We've used these bells on the inside of the front door to our house, cabin, and anywhere else we've travelled with our dog(s) since we brought our first Chessie home 4 1/2 years ago. Every time we take the puppy out, we tell him "ring the bells" and tap his nose or paw to the bells before we go outside. Even at just nine weeks old, our little love has gotten good at making a mad dash for the front door and hitting the bells loudly when he has to go out. While he's gotten good at it when he has to go poo … he still occasionally has little accidents in the house when he's playing too hard or just doesn't realize his bladder is full. Enter Norwex EnviroCloth and Sportzyme … Andrew illustrates their use in this quick video:
Often the biggest challenge of housetraining your puppy is eliminating the residual smell left behind AFTER you've cleaned up the accident. The smell of dog urine is very difficult to get out of carpets and upholstery – standard household cleansers just don't cut it – they leave behind a "hint of pee/poop" that you might not be able to smell, but your puppy's super sniffer can! Puppies are attracted to return to spots where they messed previously and when they smell the accident spot, it will trigger them to go to the bathroom again.
Enzyme-based cleaners, like Norwex Sportzyme, are the best way to remove not only the stain from an accident but also the smell that can cause your puppy to return to the same spot. The special bioactive formula in Sportzyme contains dormant, nonpathogenic, fast-acting microbes and enzymes that break down and eliminate organic residue. It's super easy to use, and it stops the puppy from being triggered by any residual odor from a previous accident.
If you've got a little fur baby in your home, I hope this article has been helpful for you. If it has, please leave me a comment and let me know what breed of puppy or kitten you have at home.
~ Suzanne