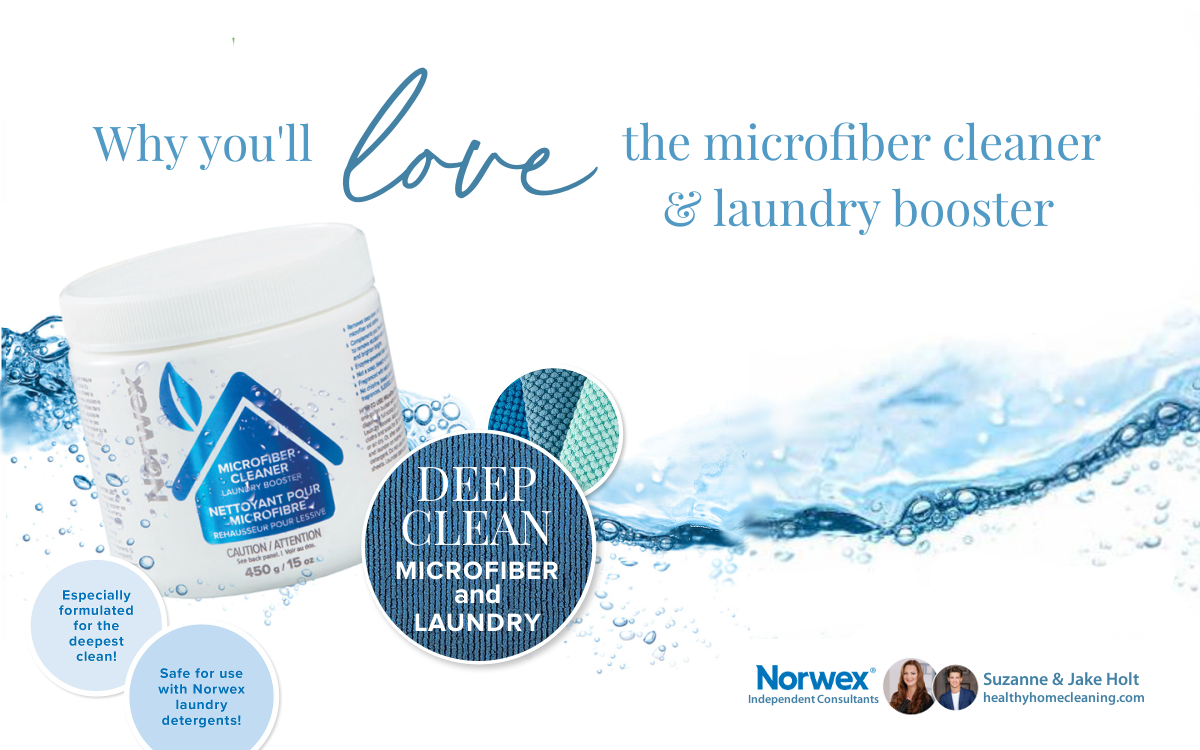 Norwex released a Microfiber Cleaner & Laundry Booster this fall. It's a container with 450 grams of powder that is meant to make deep cleaning your microfiber 100% easier. Here's the low down on this product, and why you're going to absolutely LOVE it!
The Norwex Microfiber Cleaner Laundry Booster
This is an enzyme-based product, that helps to reduce deeply embedded stains and odours, in both your Norwex microfiber and clothes. If the word "enzyme" has you spinning – no need to worry. I wrote a blog post that helps explain what enzymes are and how they work. Check it out if you want to learn more:
"The Science Behind Enzymes and Why Norwex Uses Them"
Before Norwex created the Microfiber Cleaner & Laundry Booster, if your microfiber cloths got smelly, you needed to deep clean them using Norwex Laundry Detergent (Ultra Power Plus). The deep clean method involves soaking the cloths in freshly boiled water and a super generous scoop of the detergent. This helps with bad odours, as well as deep-set stains within your cloths. This is a very effective method that many people use.
However, Norwex released the Microfiber Cleaner and Laundry Booster to allow you to do an EVEN BETTER, MORE EFFECTIVE deep clean. This product is not only safe and effective for your microfiber, but also for your clothes! I love that this is a versatile product. You can use it for both your Norwex and your regular laundry. Plus, there are TWO ways you can use this. I hope that my use of CAPS is helping you understand my enthusiasm.
My Experiences With This Product
As someone who has been a Norwex consultant for a long time, I have A LOT of Norwex in the house. This means that I've got quite the pile of microfiber that could use a good deep cleaning!
I was super excited to have this on hand to freshen my microfiber products up! I've used it to deep clean my Kitchen Cloths, Enviro Cloths and Mop Pads, all of which I've had for many years. All of them are stained and most of them smelled a little funky, even after a normal laundering.
Here's what I have to say about this Microfiber cleaner for Norwex cloths: For those of you that have been using Norwex for a few years, and have either older clothes lying around, or some items that are very frequently used (Kitchen Cloths and EnviroCloths), you are GOING TO LOVE THIS LITTLE JAR!!!
I was incredibly happy with the results. After soaking in this, my microfiber cloths smelled SO. MUCH. BETTER!
What I Love about the Microfiber Cleaner Laundry Booster
It works better for deep cleaning microfiber cloths than the laundry detergent method. The cloths smell fresher and they stay smelling and feeling clean for longer than when I use the original deep clean method.
This helps lift out stains from my lighter coloured Norwex. The Microfiber Cleaner is made for very dense weaves of fabrics (which are harder to remove stains from). Considering the fact that a Norwex EnviroCloth has three million meters of microfiber in it, I'd say it's a pretty dense weave, ha!
This is perfect for when I have a few smelly cloths. Sometimes, my Norwex sits in a wet pile (*gasp*). That prevents it from drying properly, and yeah, they become a pile of smelly rags. Or, they just get used a lot and overloaded with dirt, and they begin to smell. Having this container on hand is great, because I can throw my smelly cloths into the laundry tub for a 30 minute pre-soak before I launder them, and get rid of that smell WAY better than just when I do a normal load in the washing machine. I like to think of this as a 'Power Clean.' The soaking allows the cleaner to really draw everything out in a concentrated bath. Then, I launder the cloths right away, so that I'm rinsing away all of the gross stuff that was drawn out and left in the water.
Gets rid of mineral deposits. One 'issue' people have discovered with their Norwex cloths is that over time, mineral deposits can build up in their cloths. This issue varies depending on your water content, if you're on a well, city water, etc., but this buildup causes the microfiber to be less absorbent. This doesn't affect their effectiveness, but does make it super annoying to try to get it fully wet (it takes so much longer!). There hasn't been a great solution for this problem, until NOW, since the Microfiber cleaner will clean out all of those mineral deposits too! *Norwex lovers cheer*
Prevents dirt from redepositing onto fabrics in the laundry. Need I say more?
Contains water-softening elements. Hard water prevents an effective clean. Softer water means cleaner clothes!
No yucky stuff! This formula is free from: bleach, synthetic fragrance, SLS/SLES, phosphates, fillers, sulfates, chlorine, dyes, optical brighteners, phthalates and ammonia. Dang. That's a LIST!
Who might not use this booster a whole lot:
If you only have a Window Cloth and EnviroCloth at home, you won't have much need for this jar on your Norwex. Sure, you'll use it. But not very frequently. The benefit though is that it'll last you extra-long, ha! Also, it gives you the perfect excuse to get MORE Norwex into your house, mwahaha!
Who will use this booster a whole lot:
if you wear clothes, you'll like this. This is not JUST for microfiber, but also for stained clothes! And smelly gym clothes!!! Hooray! You just add a scoop into your laundry, along with your regular detergent. So, if you only have two Norwex cloths at home, you'll still end up using this when your clothes are stained/gross/stinky/ewww.
Two Ways to use it: AKA Instructions
To Deep Clean Microfiber:
Fill sink or one-gallon bucket with hot (not boiling) water and dissolve a full scoop (30ml) of Microfiber Cleaner Laundry Booster
Add up to 10 heavilly soiled microfiber cloths and soak for 30 minutes. Rinse well and tumble or air dry.
Or, after soaking, place in washing machine and launder on normal cycle using a Norwex laundry detergent
Launder dark colours separately.
As a Laundry Booster:
Can be used with powder or liquid laundry detergents. Add one full scool (30 ml) of Microfiber Cleaner Laundry Booster to wash cycle, along with Norwex Laundry Detergent.
If using with Liquid Laundry Detergent, include the Laundry Booster in the pre-soak cycle. When using Liquid Laundry Detergent in an HE machine, put the Laundry Booster in the presoak dispenser
Note that the Microfiber Cleaner Laundry Booster should not be used on delicate fabrics like silk or wool.
Get a jar of the Microfiber Cleaner Laundry Booster from my shop and get all of your cloths and clothes the deepest clean possible!
Purchase Products In This Post: