Confession: I really, REALLY don't like cleaning.
I know that I sell cleaning supplies, so you'd assume that I LOVE it. But, I hate it actually.
Probably one of my least favorite jobs in the house is cleaning the floors. One reason I dislike cleaning the floors is that it's such a BIG job. Such a large expanse of space with so many obstacles and it just feels daunting.
It also feels futile.  I sweep, and there are still crumbs and hair where I just swept.  While I'm sweeping, a little breeze blows and the pile of hairy dust bunnies scatters.  After sweeping, I wash the floor, and I'm dragging clumps of wet hair around, that my broom missed.
It never really feels like I'm getting it clean!
However, floor cleaning changed for me when I discovered the Norwex Mop System. I still don't love cleaning the floors, but now I don't dread it as much. And I don't put it off for weeks. I'll show you why the Norwex Mop System helped me clean the floors more often and what features I like best. You'll discover all of the cool accessories available that can go with it. Even better, I'll show you why the Norwex Mop is completely, totally and utterly worth its high price!
Why I Needed a New Mop
As much as I dislike cleaning floors, I LOVE the way clean floors feel.  Nothing screams "Your house is filthy!" like grit, crumbs, and hair sticking to my feet. Generally, I like to get every room in the house done in one fell swoop – both the sweeping and washing.  None of this, "one room today, and another room tomorrow."Otherwise,  I'd never have that "Ahhh, clean floors," feeling.  However, since it's such a big job, this is a problem.
I also like to have a quick way to clean my open concept floors when a friend phones and says "I'm coming for coffee in 5 minutes!" I needed a floor cleaning system that would help me get my floors clean FAST.
Is the Norwex Mop WORTH the price?
After getting my hands on the Norwex Mop for the first time, I knew RIGHT AWAY that it was definitely a 5 star product. But there was a catch… it has a 3 star price tag!!! It REALLY works, but it's expensive.  Let's face it: paying between $95 and $113 for a MOP seems mildly ludicrous when there are so many other lovely, enjoyable, yummy things that I could spend that money on.
Despite the cost, I DID buy one, and I don't regret it one bit.  I seriously LOVE this mop. I almost like cleaning floors now because they actually get clean, and they get done FAST!
How It Works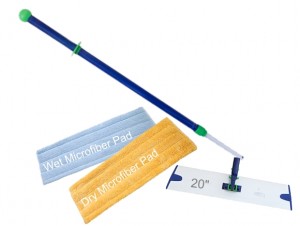 The Superior Mop collection is available in two different sizes. Small and Large. Both come with a plush yellow microfiber dry mop pad (for sweeping), and a blue wet pad (for washing).  The dry pad uses a static charge to pick up everything off my floors, including dust bunnies, hair, crumbs & other minuscule bits of "floor yuck".  This dry pad is even better than my Dyson vacuum cleaner at getting the dust off my hardwood. 
The blue wet washing pad needs to only be wet with water.  That's right – no bottle of cleaner needed. If you want to know more about how that's even possible, read more here. This pad cleans everything from my hardwood floors;  smudges, footprints, drops, smears, grease spatter, dried milk & juice drips… you get the point.  In terms of its ease of use, the Norwex Superior wet mop pad is easy to use if you follow the directions. You're supposed to move the mop over your floor in a Figure-8 pattern. If you do this, it moves easily. If you just scrub the mop back and forth, the "grab" in the microfiber can make the mop hard to move because it feels like it's sticking to your floor, and the base can "flip", as happens with other similarly-constructed mop bases.
These pads can clean any and all floor types! These pads are ESPECIALLY life saving for hardwood floors that show everything and need constant wiping!
Sizes
The small pads are 13.39″ x 5.91″ and large pads are 20.47″ x 5.91″
I personally prefer and recommend the Large Mop System. You can get to so much more floor space, in less time. The less time mopping, the better!  Now, if you have a small home, mini home, or apartment, you'd likely prefer the mini mop, since you only need to mop small areas. But if you have a standard or large home, go with the Large for sure (YES. WORTH the extra $18!!!).
Pros and Cons of the Norwex Mop System
Pros:
wet mop cleans with JUST water. NO cleaning solutions needed, which means that my kids aren't crawling on chemical covered floors.  It's also great for the health of my floors… my floors aren't getting a coating of waxes or other harmful chemicals.
don't have to worry about water damage on your hardwood, bamboo, or cork flooring. The wet mop pad only has to be damp, not sopping wet, to wash the floor.
dry mop pad is FANTASTIC at picking up all kinds of hair, dirt, and dust bunnies.  The dry mop is microfiber, which has a natural static electricity so it really holds onto the dirt. You can dry mop a very large area before you have to clean it off.
unlike a traditional broom, you never have to lift the Norwex mop off the floor while sweeping. This means, the wind can't catch and blow the hair and dust bunnies that you've collected, across the room where you'll have to go retrieve them.
the dry dust pad is better than our vacuum at getting the fine dust off our floor.
both the dry and the wet mop pads extend beyond the base, folding up when washing along walls. This prevents the base from gouging holes in your walls or scratching your baseboards.
the pads can be washed in the washing machine, and dried in the dryer.  This is a huge improvement over my old mop which would sit wet for a looong time after using it.  I can't even imagine what grossness was growing in there! You'll also be saving money if you're currently using a mop system that has any disposable pads!
it's lightweight, the handle is adjustable, and it's very easy to use.  I love that the mop pads attach to the mop base with Velcro. So easy!
doubles as a wall washer, because of the telescopic handle.  I can reach to the top of my vaulted ceiling walls with it.  It's also great for washing extra large shower/bath stalls.
has a handy-dandy little flip-down locking mechanism that you lock and unlock with a mere push. If you don't lock it, the base swivels in every direction – handy for getting under your furniture. If you flip the locker down, the base doesn't swivel anymore, making it great for cleaning walls and shower stalls.
an amazing warranty! I love that all parts of this mop system come with a two-year warranty! You are investing in a quality product that will last you. Based on customer experiences, this mop lasts much longer than just two years though. The average user has their original mop system a minimum of five years. After that time, they may need to replace the pads, as they become worn down, but their mop is still going strong. All parts can be purchased separately, so any other broken parts can be replaced if needed!
CONS:
yup… it's expensive.  This is the biggest complaint I hear about the Norwex mop.  In the mop's defense, it will last you for years, and it comes with an EXCELLENT warranty.  Think of the years that you won't have to buy a floor cleaning solution, or replacement sponges for your mop, or vacuum bags for your vacuum, or Swiffer pads and solution (Swiffers are NOT cheap to use!).  This mop will pay for itself sooner than you think.
it's not great for hardwood stairs.  It's a little awkward and fumbly.  For my stairs, I've discovered that the Norwex Dusting Mitt works SO well for "sweeping" – it's kind of like wearing a mitt shaped dry dusting mop pad on your hand – and a damp Enviro Cloth is easier for washing the stairs than the wet mop pad.
although the dry mop pad is easy to clean, it's not AS easy as dumping dirt from a dust-pan into the garbage.  When I first got my Norwex mop, I would clean it outside by hitting it against our deck railing to knock the hair and dust from it. Just make sure you're standing up-wind from it or you'll be covered in mop dirt!  However, if you buy the mop, you should absolutely spend the extra few dollars and purchase the rubber mop cleaning brush.  It works at brushing off all the dirt, hair, and dust bunnies from the dry (and wet) pads, right into the garbage, without the mess of beating or shaking it outside (and there are also so many other uses for this great this accessory!)
for super-shiny, high-gloss hardwood: The Norwex wet mop can leave streaks behind. BUT – if you wet the dry microfiber mop pad and use it to wet-mop your high-gloss hardwood, you'll find it dries streak-free.
the dry mop head is not so good at picking up larger items, like cheerios or pebbles.  If I sweep in a figure 8 pattern the way I'm supposed to, the bigger things stay in front of the mop. However, they don't stick to the mop when I lift it up to clean it off. You do need to make a pile of those big pieces and sweep them up with a dustpan and broom. BUT: Norwex just came out with a new Chenille Mop pad. This dry pad is better at grabbing the big crumbs, and a great accessory for your mop!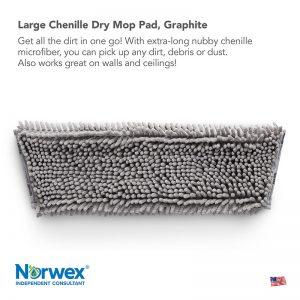 The wet pad is not as great on bumpy floors – like tile, or pitted linoleum. You will definitely want a tile mop pad for those floors, as it has scrubby nylon fibers woven throughout the pad to add a little more "elbow grease" for when you come across dried on maple syrup or cemented Rice Krispies.  It's seriously fantastic.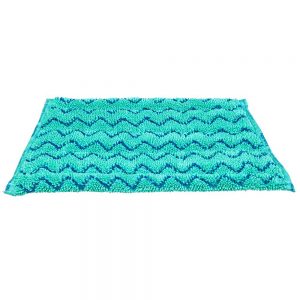 Other Available Mop Accessories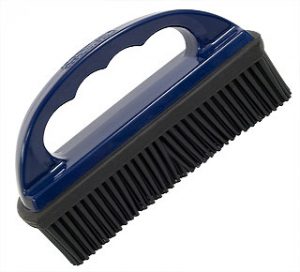 I mentioned the Rubber Brush earlier. This is another 'totally worth it' purchase for cleaning off your dry pad, as it simply makes it easier!
Dry Mop – Attach the dry mop pad to the mop base, and using a figure 8 pattern, sweep your floor.  Clean the dirt off the pad by either shaking it outside or brushing it with the rubber brush, to brush the dirt into the garbage can.  For the little bits that didn't stick to the mop when you lifted it up, you can use your old fashioned broom and dustpan, or wipe them up with a wet Enviro Cloth.
Wet Mop – Get the mop pad wet by running it under warm running water. Ring it out, and attach it to the mop base.  Wash your floors in a figure 8 pattern.  This should do a fairly large area of your floors.  When the pad starts to dry out a bit, take it off, rinse and re-wet. Or, you can use a spray bottle filled with warm water to mist the floor.  When you're finished, remove the pad from the mop base, and rub it against itself under warm (hot) running water to clean it.  If it's not too dirty, hang it to dry and use it again later.  If the floor was really dirty, wash it in your washing machine.
Washing Instructions can be found here.
CONCLUSION:
Is the Norwex mop worth the price? In the end, I believe it is, and give it 5 Stars. It's an extremely high-end mop, and it will last for years and years. The cost is comparable to the first year's cost to keep stocked in refill pads or floor solutions for other mopping systems. After the first year, the Norwex mop system doesn't cost you a dime. You're not throwing pads or empty solution containers in the trash to clutter up our landfill space, or that you have to keep purchasing to replace. Plus, it's got that awesome two-year warranty, if anything goes wrong! I can confidently say that you won't regret this purchase!
Now share with me: If you have a Norwex Mop, do you think it was worth the price?
And if you found this post useful, please take a moment and share it with your friends via Facebook or Pinterest!