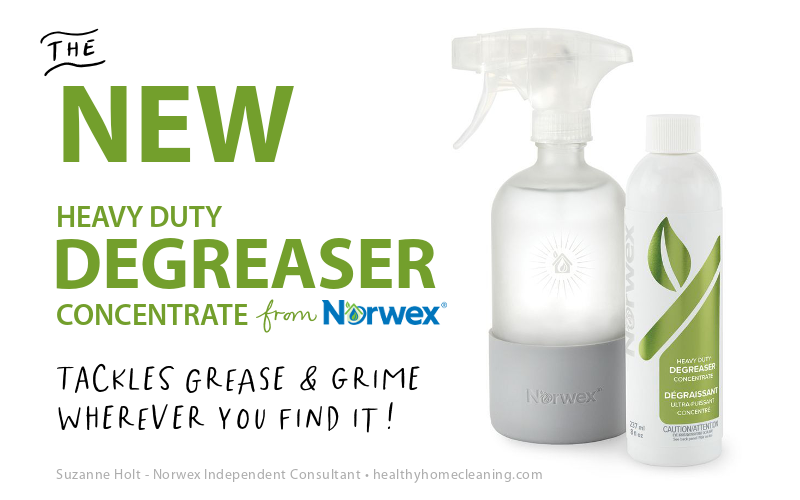 This product. I can't even write a full sentence, I'm so excited about this one! There is nothing worse than greasy buildup. Since I keep my home free from harsh cleaners, this new and safer formula of Heavy Duty Degreaser from Norwex is getting LOTS of use in my home!
What I LOVE to use it for
This Degreaser concentrate is definitely being used often on my kitchen cupboards and my oven range. Those are the two greasiest things in my kitchen. It's also perfect for tackling the ceiling fan and light fixtures in the kitchen. You may be thinking it's weird that I'm excited. I like to clean, kay? I also like to clean when IT'S SO EASY!!! Important to note: this product is a concentrate, so it's going to create enough solution for 5 -16oz bottles! MORE CLEANING FOR ME!!!!
How to use
This is a concentrate, which means it must be diluted. Here's what ya do:
Pour 3 Tablespoons of concentrate into a 16-ounce spray bottle and fill with water. Swish gently.
Spray on the greasy surface and wipe clean with a Norwex microfiber Cloth. This could be your EnviroCloth, Kitchen Cloth, or EnviroSponge or EnviroScrub. It could even be a mop pad attached to your mop, on a high, hard to reach place!
For extra stubborn grease, allow the product to sit a few minutes before wiping off.
Note that this product should not be used on porous or unsealed surfaces. It's also a good idea to test on an inconspicuous area before using.
What to use it on
This list is by no means exhaustive. But here's just a few ideas of what you're going to love cleaning with this bottle.
Oily stains on countertops and kitchen cupboards.
Smudges on floors and walls and light switches.
Food residue and built up gunk.
Greasy buildup on oven ranges, stovetops, light fixtures, cupboard handles, hand railings, outdoor patio furniture and garage floors.
Here's an idea of some surfaces: countertops, floors, painted walls, glass, porcelain, stainless steel, chrome, aluminum, painted metal, laminates, fiberglass, plastic, vinyl and ceramic.
Why it's safer
I mentioned before that this degreaser is a safer alternative. Here's the reasons why:
Contains only plant-based and biodegradable ingredients
No harsh fumes or caustic cleaning agents
Non-abrasive and non-corrosive.
This product is also free from: bleach, ammonia, synthetic fragrance, dyes, SLS/SLES, Phthalates and Phosphates.
Complementary Product
You'll love the glass Forever Bottle from Norwex to dilute this product in! It's a refillable, earth-friendly glass bottle with a slip-resistant silicone sleeve on the bottom.