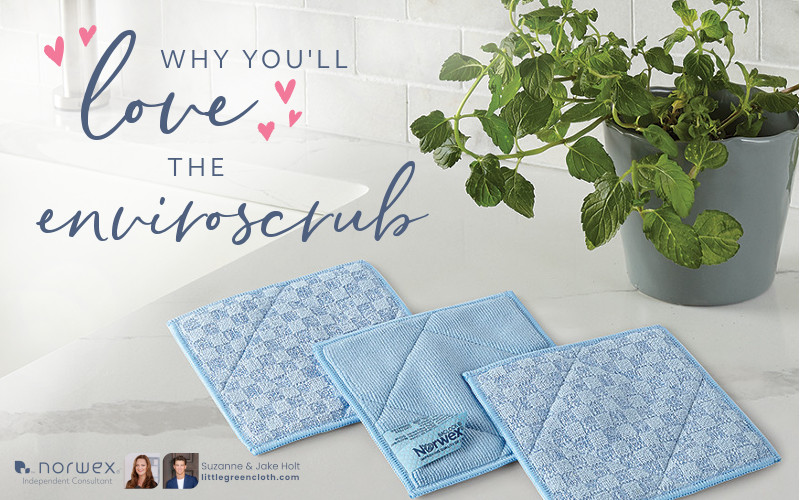 Norwex has come out with a new cloth, called the EnviroScrub. It's a hybrid between a cloth and a sponge. Some people would say, " A sponge is a sponge. No need to improve or change it." Sure, you'd say that if you haven't tried an EnviroScrub yet. Once you get your hands on these things, you'll totally understand the need for its existence! I've discovered that this versatile sponge also functions like a cloth, and has been quickly become my go-to scrubby cloth. I'll show you what's to love about the Norwex EnviroScrub in this post!
Soft EnviroCloth on one side, which has the ability to remove up to 99% of bacteria from the surface, with just water.
Kitchen Scrub Cloth on the other side, with a checkerboard weave that gently scrubs without scratching.
Thin sponge layer in between to increase absorbency for wiping up spills.
The BacLock* in the microfiber cloth—the exclusive micro silver antibacterial agent—goes to work to self-purify and inhibit odors from bacteria, mold and mildew growth within the cloth within 24 hours so that it is ready to use again for your next dirty job.
What I love about these scrubs
SO versatile! The two sides give you the best of both worlds – a little abrasion if you need it, or a soft, absorbent cloth if you need it. Typically, you need both, so this scrub has everything that you need for the job! It works well with just water for some jobs, and pairs well with other Norwex cleaning products for the hard-to-tackle jobs.
Thin and not too thick. Compared to a 'regular' sponge, the thinness of this sponge is better, because it can get into small nooks and crannies that a thick sponge cannot. Its thin edges and corners come in handy! It's thinness also lends to easy drying in between uses.
Size. I love that this is bigger than a sponge, but smaller than a whole EnviroCloth or Kitchen Scrub Cloth. It's a great 'medium' size, and measures 6.3″ x 6.3." It covers more surface area than a sponge, but isn't too bulky in your hands (or on the job) like a whole cloth.
Comes in a set of 3. This means you can keep one in the kitchen, and one in each bathroom!
There's a loop attached. It's easy to hang up and dry in between uses.
Machine washable. The BacLock feature allows you to use this a number of times before it needs to be laundered. When it does need to be laundered, it easily goes through the washing machine and the dryer. Plus, there's quilting stitches that prevent the sponge layer from bunching in the wash!
What I love to use this for
So far, I love this the most to scrub my stovetop with! I've always used the Spirisponge and Cleaning Paste to clean my ceramic stovetop (for years). But this has quickly become my new go-to instead of the Spirisponge! Here's how I do it: Get the scrub cloth damp, then rub the scrubby side in a little cleaning paste. Scrub down the stovetop, then flip the scrub cloth over and wipe away the paste with the soft EnviroCloth side. And Presto! Clean stove top! (follow with a polish with your Norwex Kitchen Towel or Window Cloth for extra shine 😉
My second favourite use for this scrub is to use it with Bathroom Cleaner or Descaler, to tackle soap scum and hard water buildup on my glass shower doors, and the bathtub. The Bathroom Cleaner or Descaler loosens the build up, while the scrubby side of the EnviroScrub allows me to add a little extra elbow grease if needed. And the EnvrioCloth side lets me wipe it all away!
Other uses:
Use with the mold and mildew stain remover to scrub up stained surfaces
Scrub down your pots, pans, kitchen countertops, sinks, or tile backsplashes. You can scrub them down with water and the scrubby side, or use some cleaning paste with it for any of these job.
What's not to love
I'll be honest. I find it hard to not love everything about these so far! I actually can't think of any things I don't like.
A New Favorite
These are a 5 star product in my books. They quickly became a favorite cleaning tool in my home. I think it will be a favorite for you, too! Get your pack of 3 from my website.
Thanks for stopping by!
~ Suzanne