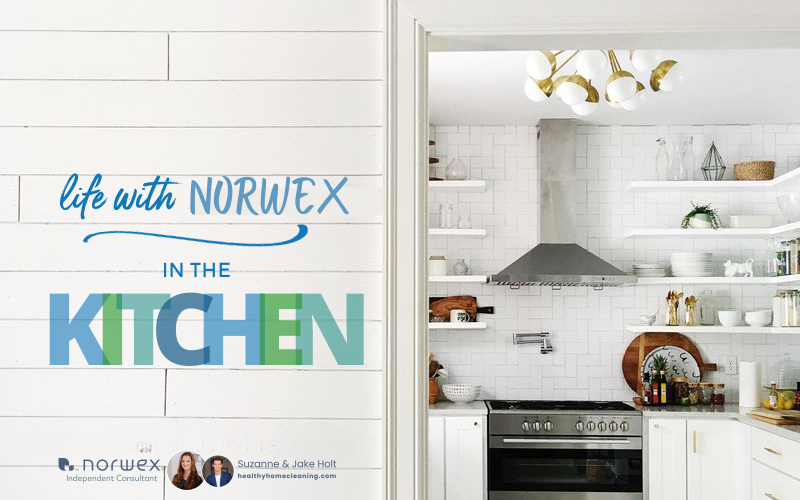 Let's talk about Norwex in the Kitchen. Norwex has SO MANY products. It can be a little overwhelming, I agree! So, I wanted to make you a list of items meant specifically for the Kitchen, and what that would look like in YOUR kitchen space. It's the definitive guide to transforming your Kitchen into a Norwex Safe Haven!
Norwex in the Kitchen
Let's start with the WHY. Why have Norwex in the Kitchen? I love having Norwex in my kitchen because
it helps me reduce the amount of harsh/toxic chemicals I use in that space
it makes kitchen clean up faster and easier (we all want a little more of that in our lives)!
Dishes
Dish Cloths – these funny looking net-like cloths are the best thing since sliced bread. They may even be better than bread with butter slathered on top! These are great because they're really good for scrubbing down the dishes, and they never ever get smelly (EVER). Just say yes to this dish cloth and let your life be less stinky!
SpiriSponge – need a little extra scrubbing power when you wash the dishes? Use this on your pots, pans, and stuck-on food on the dishware! Abrasive enough for tough spots, but gentle enough for things like Teflon pans!
Spirinett – this is great for the hardest, most stuck on, burnt bits on your pots and pans! Just be cautious, as this will scratch some surfaces, but it's so so handy for those extra tough jobs!
Dish Soap – If you want a greener, more biodegradable option, this dishwashing liquid is for you! It has a natural orange scent and is safe for your septic tank.
Bottle Brush – a super handy tool for washing the water bottles, travel mugs, vases, baby bottles, and mason jars in your life! There are extensions available for pots and pans and bottles with super small openings! The best part is there are no metal parts, so it won't rust (like ALL bottle brushes do), AND the silicone bristles mean no bits of food get stuck in the bristles (Read: it stays clean!)
Magnet Ball – If you have issues with hard water in your home, this magnet ball will soften the water in your dishwasher, resulting in cleaner dishes. And bonus: you will use up to 70% less detergent when this is in your dishwasher. Sweet!
Drying
Kitchen Towels – these towels are super absorbent. So, you can use them for drying your dishes. And they'll dry a LOT of dishes (even when they're wet!). These are also fabulous for drying your hands since they not only dry quickly in between uses, but they contain Norwex BacLock, so they essentially self-purify between uses. That's a cleaner towel hanging up! The Chenille Hand Towel is also a great option for a permanent hand drying towel, hung on the oven or dishwasher handle!
Dish mat – lay your drying dishes on this super-absorbent mat that also dries quickly!
Counters and Surfaces
Kitchen Cloths – you'll love these for wiping down countertops, tables, sticky handles, and cupboards. You don't need any soap with them. And they help you avoid disinfectant wipes altogether. The densely woven, superfine Norwex Microfiber physically removes up to 99% of bacteria from a surface using only water when following proper care and use instructions.. They contain BacLock, so in between uses, the antibacterial agent in them is working to prevent the multiplication of any bacteria. That means a less stinky kitchen cloth for you. Plus, they're fabulous at grabbing onto all of those crumbs!
Window Cloth or EnviroTowel – use either of these for polishing all of the surfaces you want left shiny and streak-free. That could be your stone countertops, your stainless steel appliances, shiny kettle, or faucets. The EnviroTowel is much bigger than the Window Cloth, so if you have a lot of surfaces to polish up, it's handy!
Counter Cloths – these can replace paper towels in your kitchen. That's pure money in your pocket! These are the same size as a half sheet of paper towel, and are way more absorbent! They'll hold up to 1/4 cup of liquid without dripping. Use them dry to absorb spills or wet to clean sticky spots. They're also great as cloths for cleaning sticky hands and faces, or using as napkins!
Deep Cleaning
Cleaning Paste – this is great for scrubbing out your sink, kitchen grout, inside the oven, and the wonderful-always-dirty glass top stove! Essentially, it's elbow grease in a jar. Use this with the SpiriSponge for best results on the glass top stove, and the Spirinette for best results inside the oven.
Oven and Grill Cleaner – if you prefer to avoid the elbow grease involved with cleaning out the inside of your stove, this enzyme based product will help ease the burden!
EnviroSponge – some people are sponge people. And that's totally okay! This sponge exists for YOU! Abrasive on one side, and soft EnviroCloth on the other, perfect for all sorts of different cleaning jobs! This is great for quick wipe ups of surfaces and sticky spots. Can also be used with the Cleaning Paste for different elbow-grease-needed jobs!
Cooking
Cutting Board – I personally love the large size of this cutting board. After I got one of each of these, I got rid of my other cutting boards. I just wasn't grabbing them anymore! These have great features, like the silicone ring on the bottom that prevents slipping; The liquid-catching dipped rim along the edge, and the hole in the corner for hanging it up to store! Fun fact: it's made from biodegradable natural Rice Husks!
Silicone Lids – Cover your food, on the counter, or in the fridge, with these! They come in all shapes and sizes, for your different dishes. Or, use them to keep food/liquids hot. Or, protect your food/beverages from bugs when eating outside.
Veggie and Fruit Scrub Cloth or Fresh Produce Wash – use either of these products to make food prep not only fast but help you eliminate leftover pesticides and germs from your food! The Veggie and Fruit Scrub Cloth is handy for things like apples, potatoes, nectarines, plums, or for cleaning off the dirt from your fresh-from-the-garden produce. The Fresh Produce Wash is convenient for smaller foods, like berries or grapes, or hard to clean foods, like broccoli, cauliflower, etc.
And that is a cumulative list of all the best Norwex products for your kitchen! Check out other posts in this series by searching "Life with Norwex " to find out more about life with Norwex in the Garage, Bathroom, Laundry Room, and more!
All of the products mentioned are available to order from my shop. Let me know if you have questions about any of the products, or are looking for more details in the comments below. I'm happy to help!
~Suzanne