How To Deep Clean Norwex Microfiber
I LOVE my Norwex microfiber cloths – all of them; the Enviro Cloths, Face Cloths and Kitchen Cloths.  I use them to clean everything in my house, including myself.
For the first few months after getting them, I thought that "sour cloth syndrome" was a thing of the past – my Norwex cloths never smelled bad – I was a happy cleaner!  Within about 4 months, however, my beloved Norwex cloths began to smell sour, just like my cotton cloths – GROSS.
Then I remembered a bit of advice another Norwex consultant had given me about deep cleaning the Norwex cloths when they've been used for REALLY dirty or greasy jobs – give them a deep clean using the Norwex Laundry Detergent.
So, I soaked them in my kitchen sink with a few scoops of the Norwex Detergent, rinsed them with warm running water, and then tossed them in a hot dryer.  The smell?  GONE!
I was a little horrified at the intense brown color of the water in the sink after the cloths had soaked.  I guess it's an example of how amazing these little cloths are at picking up and holding dirt.
So if you have Norwex cloths that smell awful, don't despair!  Here's how to get them smelling like new again:
_______________________________________________
****UPDATE Oct 2018: Norwex has a new Microfiber Cleaner that is EVEN MORE effective than the method outlined below. Check out the new blog post to find out more: "Why You'll Love the New Microfiber Cleaner & Laundry Booster" 
And shop for it here: www.suzanneholt.norwex.biz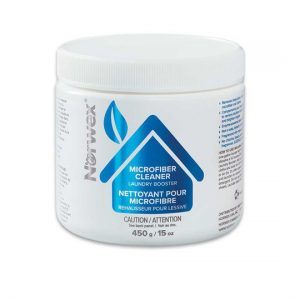 _______________________________________________
HOW TO DEEP CLEAN NORWEX CLOTHS
(For degreasing and stinky, smelly microfiber cloths)
1. Fill sink or bucket with freshly hot water

2. Dissolve Norwex Ultra Power Plus Laundry Detergent in the water.  I use 1 scoop of detergent (2Tbsp) for every liter of water.  Yes, this is WAY more than what you use for a normal load of laundry, but necessary to really deep clean your cloths.  You will need to make sure that your cloths have room to move in the water and are completely submerged, so be sure to use enough water and adjust your Laundry Detergent accordingly.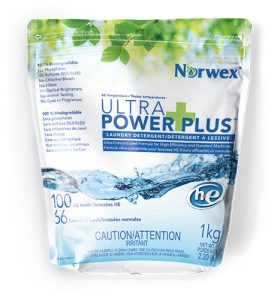 3. Add the cloths, and soak for at least 30 minutes.  I also agitate them a little to get the soap and water moving through the fibers.
4. Rinse each cloth thoroughly with hot water, wring the water out, then
5. Dry the cloths –  it's best to toss them in a hot dryer, but you can hang them to dry as well.
If you Norwex cloths were REALLY smelly, you might need to repeat steps 1-3, until the point where the soapy water isn't brown when the cloths are mixed in with them. 
Your Norwex Microfiber cloths should smell clean and odor free!
… and if you like instructions in pictures, here you go
(Note that this photo contains an older design of the Norwex Ultra Power Plus Laundry Detergent. It now has an updated look!)
If you found this post useful and your Norwex Microfiber smells fresh again, please take a moment to share this information with your friends!
Save