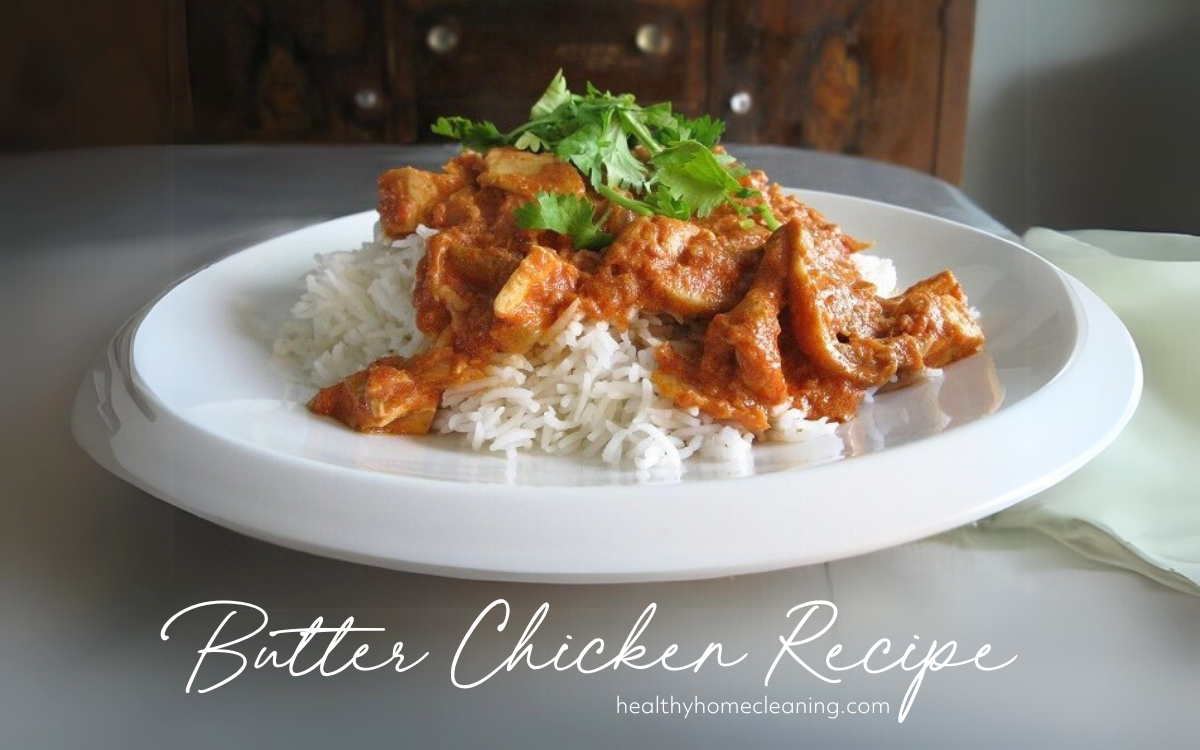 Yes, this is a recipe!
This is not a post about a Norwex product (although, the Norwex Kitchen Cloths or the All Purpose Kitchen cloth will come in very handy to clean up the messes and spills while making this it).
This recipe is fast enough for a quick-after-hockey-practice meal, but delicious and beautiful enough to serve when you have guests for supper.  It will quickly become part of your regular recipe rotation; even your kids will like it (perhaps even LOOOOVE it, as mine do)!
Indian Butter Chicken Recipe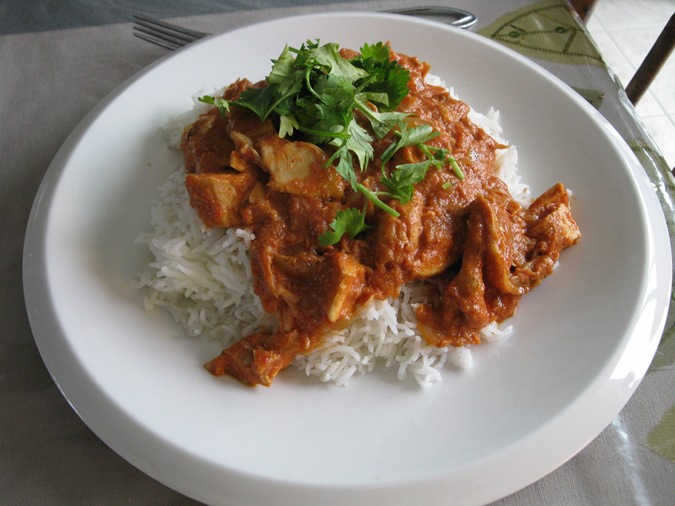 This recipe is super simple to make, and quite fast.  It's especially quick if you use a pre-roasted rotisserie chicken from your grocery store.
It also doubles or triples brilliantly, so you can make enough to feed a large group.  Or your pre-teen/teenaage son, who will eat all of the leftovers. All. Of. It.  There are no leftovers in this family.
You can make this as mild or spicy as you like.
Oh, and did I mention that this meal is gluten free? Well it is!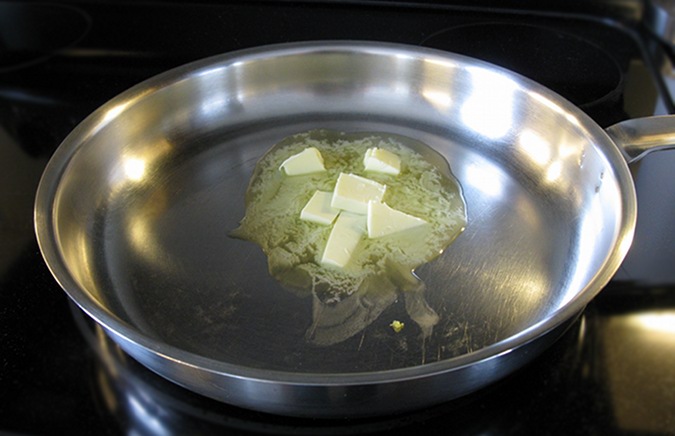 To start, melt 2-3 Tbsp of butter (not margarine) in a 10-12 inch skillet over medium heat.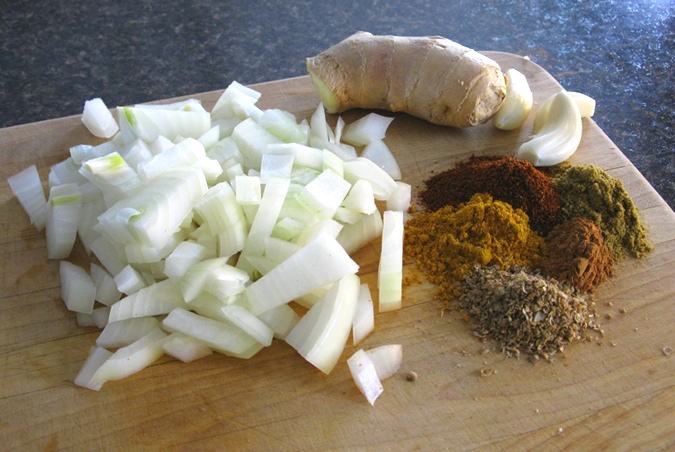 Prepare the onion (1 chopped), gingerroot (2-3 Tbsp fresh & grated), garlic (2-4 minced cloves) and spices (2-3 tsp chili powder, 2 tsp ground turmeric, 1-2 tsp ground cumin, 1/2 tsp ground cinnamon & 1-2 tsp ground coriander).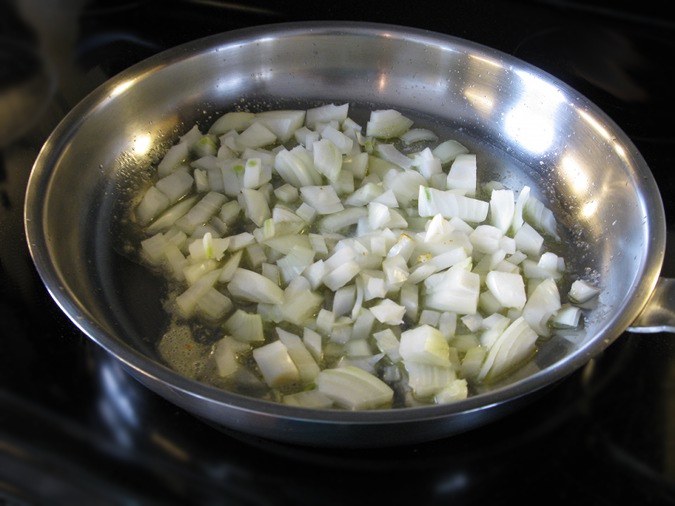 Once the butter is melted, add the onion and saute until they're nice and soft and a little translucent.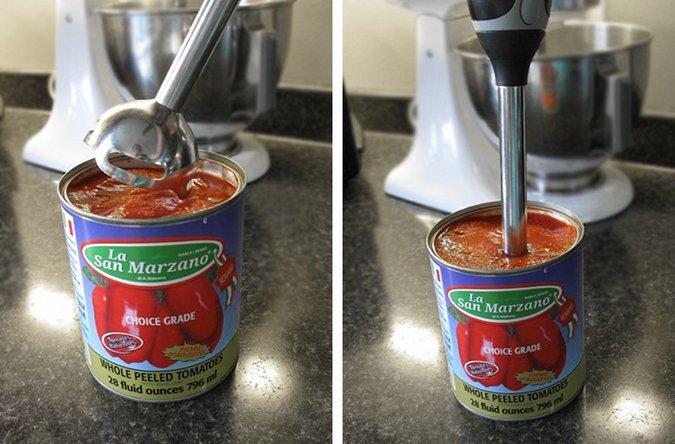 While the onions are becoming yummy, prepare the tomatoes.
This step is entirely unnecessary for lovers of tomato chunks.  But if your kids HATE… errr…. really don't appreciate finding large, chewy pieces of tomato in any sauce, this is a great solution.  Using a hand blender, eliminate the chunks.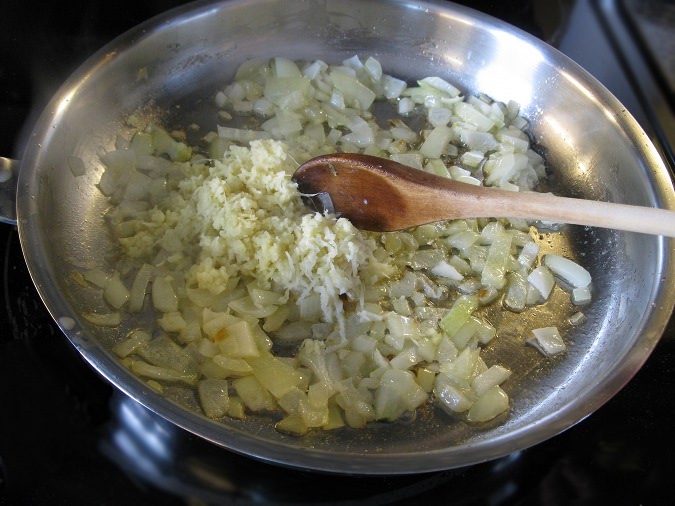 When the onions are cooked, add the grated gingerroot & minced garlic to the pan.  Stir, and cook for a couple minutes.  Be prepared, the ginger will stick to the pan.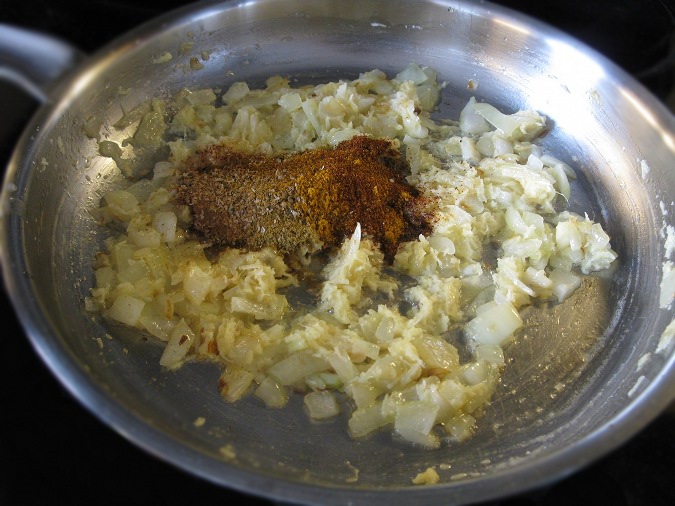 Mix in the chili powder, turmeric, cumin & coriander.
If your tomatoes are really runny, this is where you would add 1-2 Tbsp of tomato paste. The brand I use are thick (which are a plum variety), so I never use the paste.
NOTE:  Many people make the mistake of adding their tomato paste to the sauce after the canned tomatoes have been added;  tomato paste should ALWAYS be sauteed BEFORE adding the diced tomatoes.  This eliminates the tinny, metallic taste that accompanies paste.

Add the tomatoes and stir them in.

Stir in the salt & pepper and brown sugar.
Cover your sauce and let it simmer, on low, for 10-20 minutes, or until you're almost ready to eat.  You really can't over-simmer this, so if it sits, simmering for 30-40-50-60 minutes., it will still be just as tasty.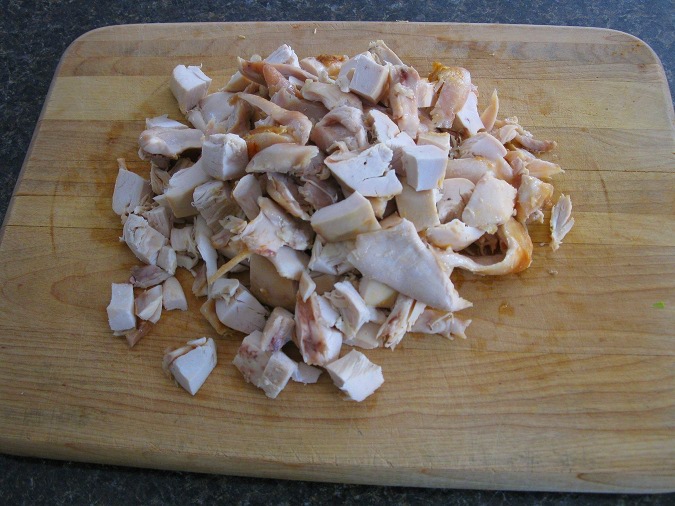 Meanwhile… get your cooked chicken de-boned and cut into bite sized pieces.  You can either use a store bought, pre-roasted bird, or you can cook up some chicken you already have.  You can also add as much or as little meat as you want.  There are no rules folks.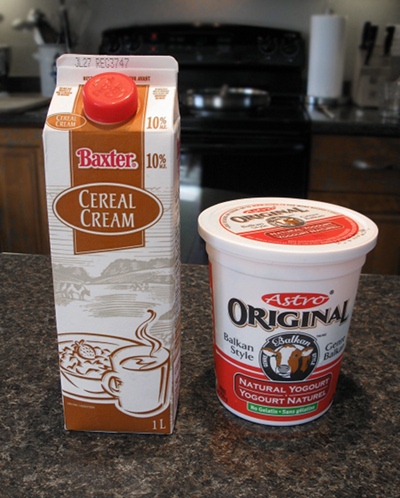 Measure out your cream (2/3 cup) and yogurt or sour cream (1/2 cup)… or don't measure. I just wing it.


JUST before serving, mix in the cream & yogurt and stir in the chicken.  Heat through, but don't simmer it or the yogurt and cream will separate.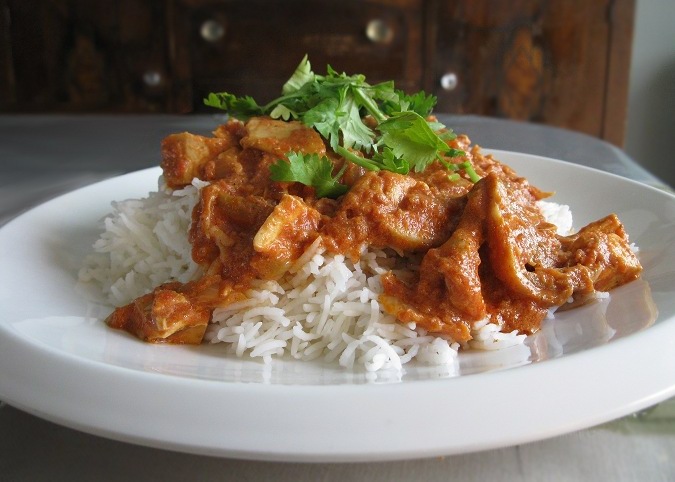 Once it's hot, serve  the Butter Chicken sauce over basmati rice, with fresh, chopped cilantro and a little balkan styled yogurt.
Be prepared to over-eat!
Here is a printable version of the recipe – Eat and Enjoy!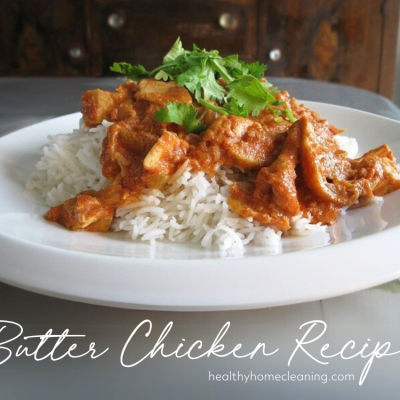 Indian Butter Chicken
Delicious & easy Indian Butter Chicken that even kids love. This is easy enough for an every-day supper but fancy enough for company.
Ingredients
2

Tbsp

butter

1

large onion

chopped

2-3

cloves

garlic

minced

2

Tbsp

grated fresh gingerroot

2-3

tsp

chili powder

2

tsp

ground turmeric

1-2

tsp

ground cumin

cumin seed is also very nice added to this

1/2

tsp

ground cinnamon

1-2

tsp

ground coriander

1 796

ml/28 fl oz can of undrained tomatoes. These can be diced or whole

2

Tbsp

tomato paste

optional

1-2

Tbsp

brown sugar

1

tsp

salt

1/2

tsp

freshly ground black pepper

6-7 grinds

1

whole rotisserie chicken

skin removed, chopped into bite sized pieces. Or chicken breast or thighs that are already cooked

2/3

cup

10% cream

or 5% if you're trying to cut calories!

1/2

cup

plain balkan style yogurt OR sour cream

Fresh minced cilantro
Instructions
Melt butter in a deep 10-12 inch frying pan or skillet over medium heat.

Add onions and cook slowly, stirring often, until they are tender and translucent.

While onions are cooking prepare the can of tomatoes (for the picky eaters in your family), by lightly blending with a hand blender, or mashing with a potato masher, eliminating as many chunks as possible.

Add garlic & gingerroot to the onions and saute for 1-2 minutes.

Stir in the chili powder, turmeric, cumin, cinnamon & coriander - Cook one more minute.

Pour in the can of tomatoes, whole, diced or blended... whatever floats your boat.

Stir in brown sugar, salt. pepper and tomato paste (if your sauce is too runny... I don't usually use the paste, but the tomatoes I use are quite hearty and meaty.

Cover, reduce heat and simmer for 15-20 minutes.

Just before serving, add the cream & yogurt (or sour cream) and stir until fully incorporated. Heat until hot, but do not simmer or the yogurt will separate.

Add the chicken to the sauce and heat through.

Serve over hot basmati rice with cilantro to top.