This is a fantastic soup for any time of the year, and it's easy, easy, EASY – throw the ingredients into the slow cooker and walk away until supper time; my very favorite kind of meal.
Your house will smell divine, and your family will love you when they taste this yummy meal.
Slow Cooker Southern BBQ Chicken Soup
 This recipe requires very little prep time, and uses one of my favorite appliances – the slow cooker.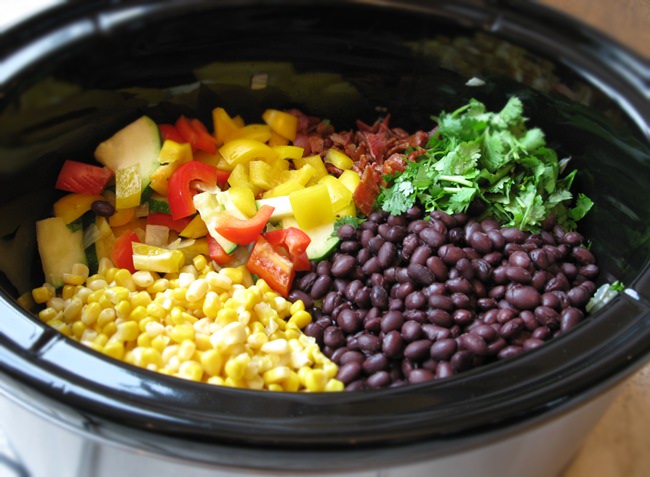 I should say, before beginning, that this recipe is flexible.  If you don't have all the veggie ingredients, don't worry about it!  Just add what you have.  For example, I always like to add all 3 of the "pretty peppers", but if you only have one or 2 colors, the soup will still taste great.
To start, roughly chop:
1 red pepper
1 yellow pepper
1 orange pepper
1 onion
2-3 stalks of celery
1 cup cilantro
4-5 strips cooked bacon
1 medium sized zucchini (optional)
Finely mince or grate 2-3 cloves of fresh garlic.
Drain and rinse a can of black beans (or kidney beans) and a can of corn.  If I don't have a can of corn, I use frozen.
In a crock pot (slow cooker) throw in all the above ingredients.
Admire the beautiful colors.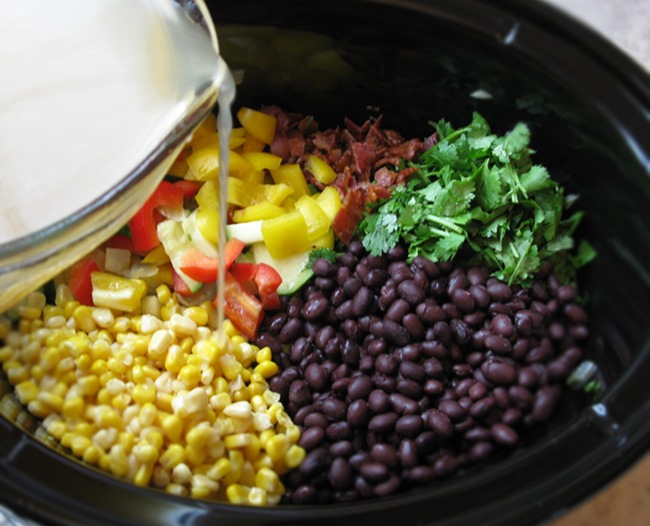 Pour in 4 cups chicken broth (1 store bought box).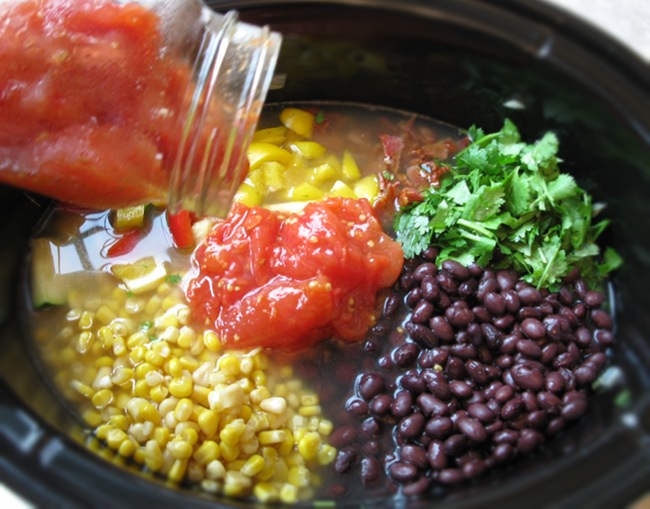 Add one large can of stewed, diced tomatoes – I think the size is 796 ml (28 fl oz).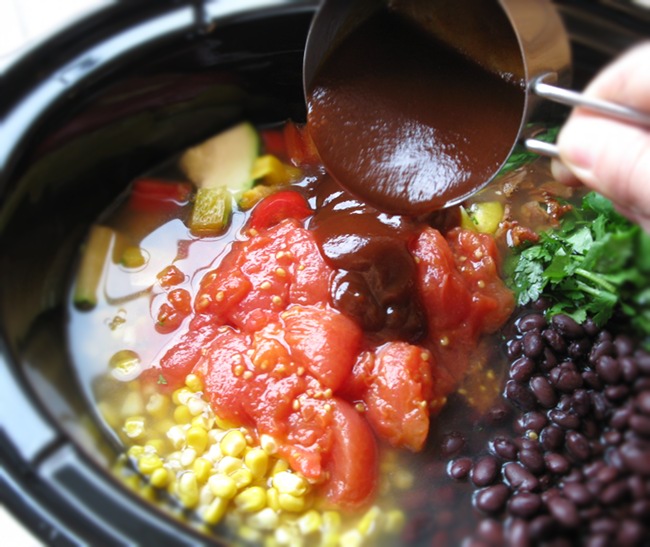 Then add 1 cup of your favorite BBQ sauce.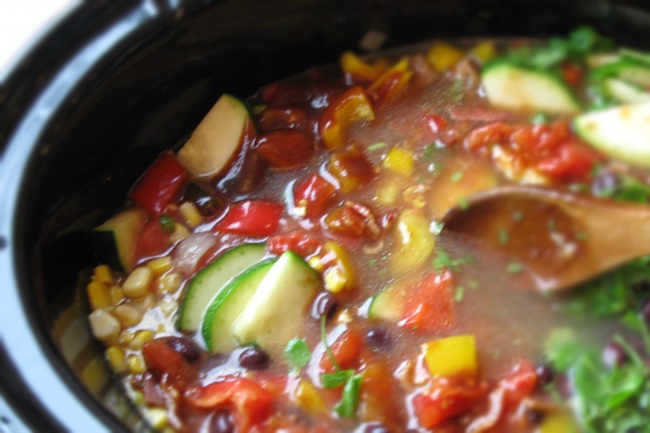 Add your salt and pepper.
Stir it all together.  Put the lid on, and cook for 5-6 hours on low, or 2-3 hours on high.
While the soup is cooking, prepare your chicken.  There are a few options for this:
left-over chicken from your fridge
BBQ rotisserie chicken from your grocery store
freshly cooked chicken, seasoned with BBQ sauce during the cooking phase
You can use as much or as little chicken as you want.  Just take the meat off the bones, and chop it up into large pieces.
Add the chicken about a 1/2 hour before serving.  The chicken doesn't need to cook, it only needs to heat through.  If you put cooked chicken into the slow cooker at the beginning of the soup cooking process, you'll end up with mushy, stringy chicken… not very tasty or pretty.
Ahhh… soup is served!
Serve the soup "naked"…
… or with a dollop of sour cream and a little fresh cilantro.
Either way, it's delicous, and will warm you up, body and soul.
Enjoy the printable recipe  below for the Slow Cooker Chicken Soup… BBQ Style!
BBQ Chicken Soup in the Slow Cooker
An easy soup for the slow cooker, that is reminiscent of summer, with its BBQ flavour and fresh vegetables.
Ingredients
1

each

chopped - red pepper, yellow pepper, orange pepper

chopped - red pepper, yellow pepper, orange pepper

1

onion chopped

2-3

stalks

celery

1

medium zucchini chopped - unpeeled with seeds

2-3

cloves

garlic, minced

1

cup

cilantro

roughly chopped

4-5

pieces

cooked bacon

chopped

1

can black beans

drained and rinsed

1

can of corn

drained (or 1 cup frozen corn)

4

cups

chicken broth

homemade or boxed

1

ml/28 fl oz can

diced tomatoes

1

cup

of your favorite BBQ sauce

1/2 - 1

tsp

sea salt

1/2

tsp

pepper

Chicken - cooked and cut into bite sized pieces. You can use a rotisserie chicken

left over chicken from your fridge, or freshly cooked chicken.
Instructions
Combine all the ingredients, except chicken, in your slow cooker / crock pot. Cook on high for 3-4 hours or on low for 5-6 hours. About a 1/2 hour before eating, stir in the cooked, chopped chicken.

Serve with a dollop of sour cream and a bit of fresh cilantro.