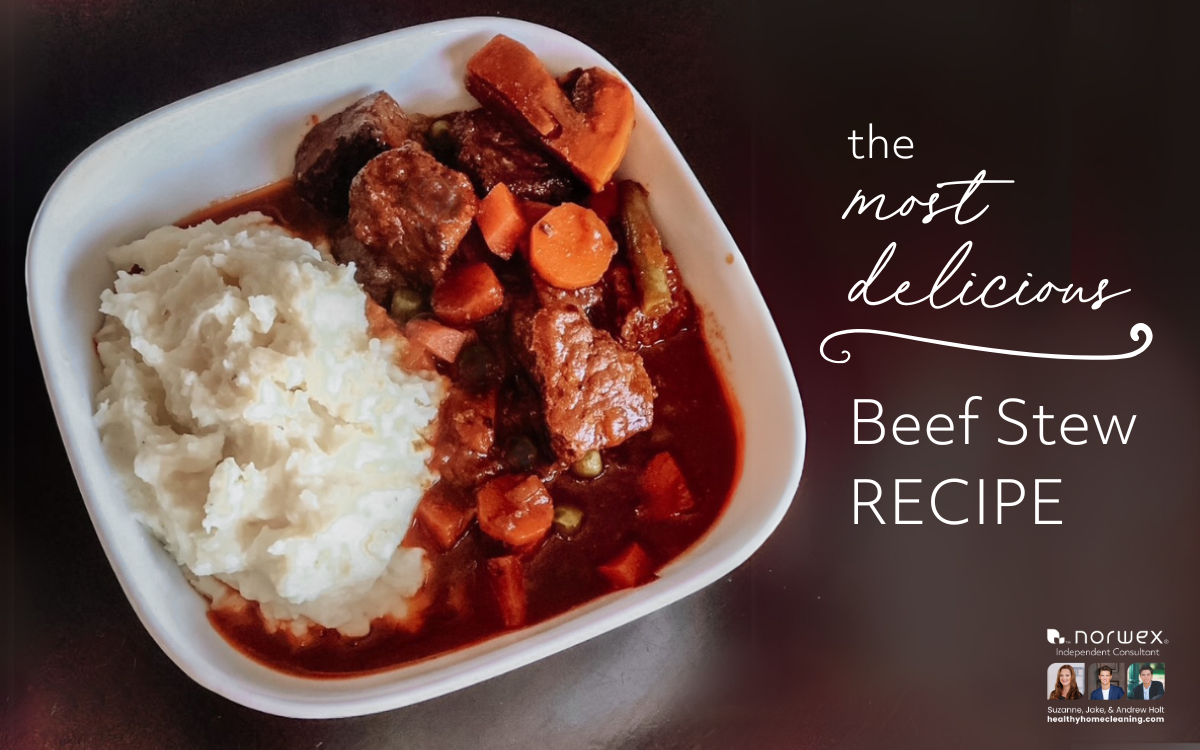 It's been very cold here in Minnesota this winter.
Not 'chilly' nor 'cool'; no, no, those words don't do justice to the deep-freeze we've been living in.  It's been downright arctic. Icy-cold. Glacial. Frigid. Bitter. Biting. Piercing. Numbing.
The ultimate comfort food must be made in order to endure! Welcome to our table, Beef Stew.
Truly,  I looooove beef stew.  Tender, fall-apart morsels of meat in a rich gravy with flavorful bites of root veggies cooked along side.  Oh yes, this is the winter for making stew!
For years I've been on the hunt for the perfect stew recipe, and for years my stew has fallen short of the glorious meal it should be. It's been too thin or too thick & pasty, too pale or too bland; the meat's been stringy & dry, or greyish and lacking rich flavor;  the veggies sometimes mushy and other times, undercooked.
Thankfully I've learned a few things over the years, and can finally say that I make a mean beef stew.  Let me share the joy with you!
The YUMMIEST Beef Stew Recipe
(Full, printable recipe at the bottom of the post)
Start by choosing the correct cut of beef – ALWAYS use chuck. Period. All other cuts result in tight, dry, tough cubes rather than melting, tender morsels.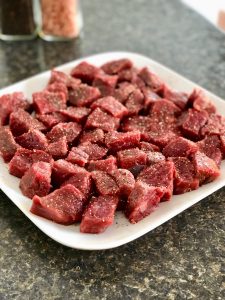 Generously season your stew meat with salt & pepper.
Then dice up the onion and mince some garlic.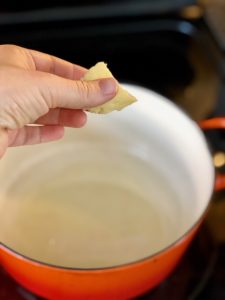 Heat some olive oil in a big ol' pot – if you have an enamelled cast iron pot, this is the time to use it.
Get a bit of butter ready.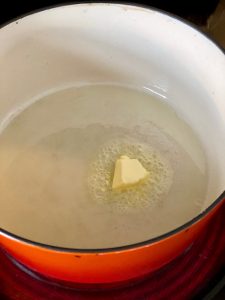 When the oil is hot, drop in the nob of butter. Let the butter melt.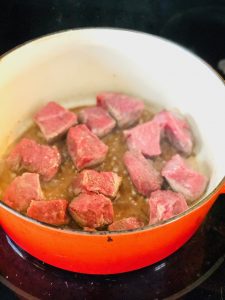 Throw in half the meat in a single layer and brown it on all sides. Once it's browned, remove it to a plate and brown the rest of the meat.
DON'T SKIP THIS STEP!
Amazing flavor comes from a good sear – the Maillard Reaction to be specific. Here's a little science lesson for you:
"The Maillard Reaction is one of the most important flavor-producing reactions in molecular gastronomy. It creates "brown pigments by rearranging amino acids and certain simple sugars" (Modernist Cuisine). When protein is heated, amino acids and sugars react to form new flavor compounds. And these flavor compounds react to make even more flavor compounds. Eventually, extremely large molecules called melanoidin pigments are created. These are the molecules that produce brown pigments and deeper flavors to the food." (Source)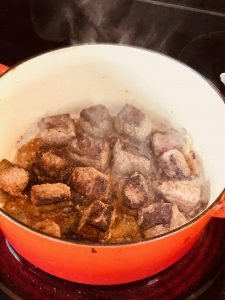 All of the browned bits on the bottom of your pot help to create rich, dark, beefy flavored juices for your meat to stew in, and the meat itself gets a HUGE flavor boost as you brown it.
I can't stress enough how important this step is.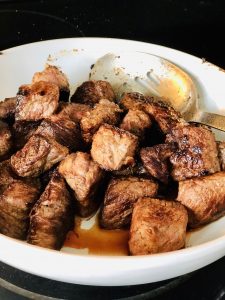 Drooling.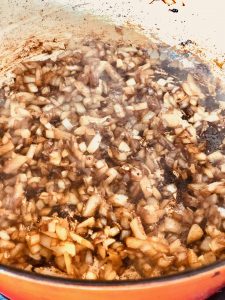 Once all of the meat is browned and removed from the pot, reduce the heat a bit (about medium-low), and throw in the onions and garlic. Stir it around for a few minutes.
Don't let the almost burnt look of the bottom of the pot alarm you!  That's all amazing flavor, my dears. You'll also notice that as the onions cook and release moisture, the crispies on bottom of the pot lift up and mix in with the onions, creating deliciousness.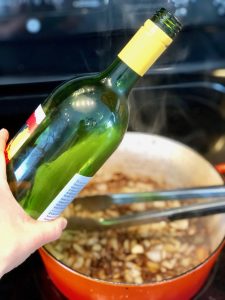 Deglaze the pot with red or white wine.  Let it reduce almost completely – wine is optional, but adds a lovely taste profile.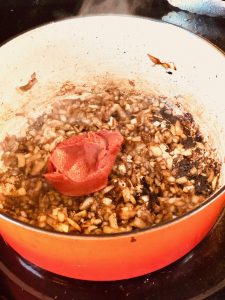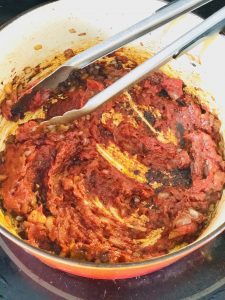 Add your tomato paste and let it cook until it changes color to a darker, rusty red… a couple of minutes.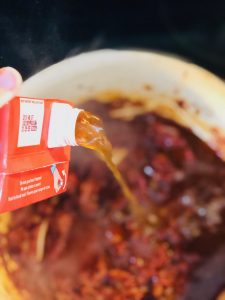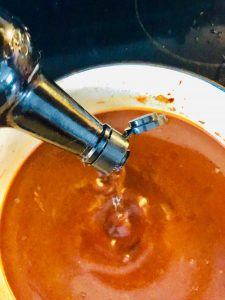 Then pour in the beef broth, and add a quite a few splashes of Worcestershire sauce.
If you have homemade beef stock handy, by ALL MEANS use it in this stew!  The flavor is just that much richer with homemade broth.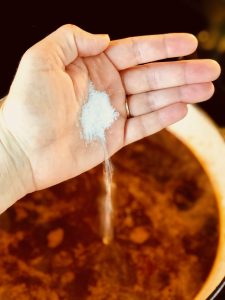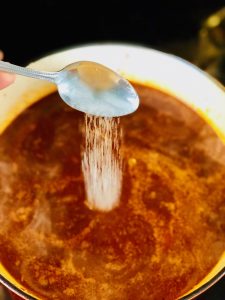 You'll need some salt & pepper.  And some sugar – just a wee bit.
Sometimes, when I'm feeling particularly chilly, I'll add a couple pinches of pepper flakes. The spice is nice.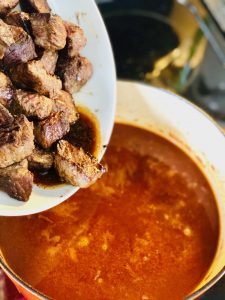 Then add the reserved plate of meat, including the lovely juices.  It's the flavorful stuff you know!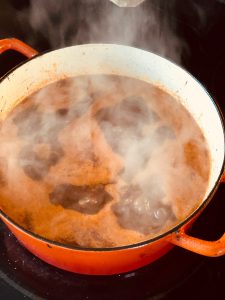 Let it come to a boil.  Reduce the heat, cover with the lid, and let it simmer, simmer, simmmmmmmmmer.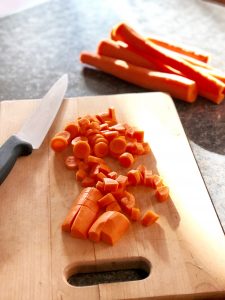 The stew needs to simmer for about 1 1/2 – 2 hours, which will give you lots of time to get your root veggies ready, and your potatoes mashed.
Cut a few carrots into nice little bite-sized bits. And a small turnip (if it pleases you!) Set them aside – you'll add them to the stew later.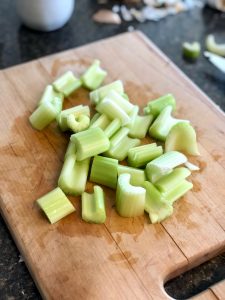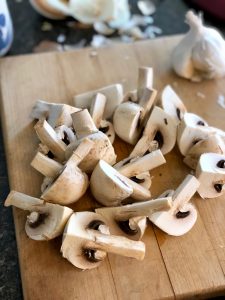 Sometimes, but not always, I get all crazy with my stew, and add celery and mushrooms!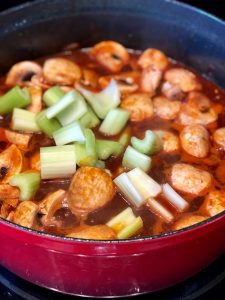 The celery and mushrooms do best if stewed with the meat – they like a looooong cook.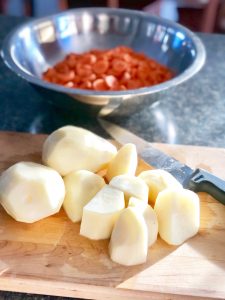 Now onto the mash!
Peel and cut 5 lbs of Russet potatoes.  Try to avoid waxy varieties; they just don't mash as well & you won't get the creamy deliciousness you're craving.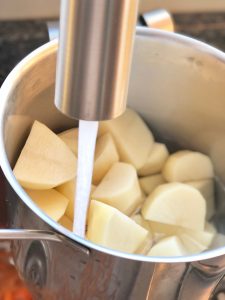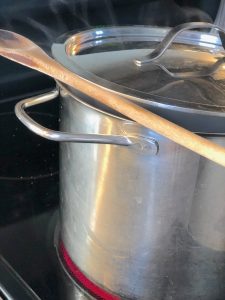 Stick em' in a pot, cover them with cold (not hot) water, generously salt the water, and cook them until they're fork tender.
Pro Tip: If you prop your lid open with a wooden spoon (yep is HAS to be wooden), it will prevent your pot from boiling over!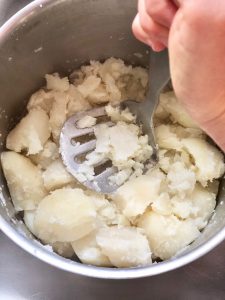 Once the potatoes are cooked, drain them & give them a quick mash, then let them steam for a bit.
Don't be tempted to skip the mash-&-steam step… without it, your finished product will be gummier, lumpier, &  less creamy.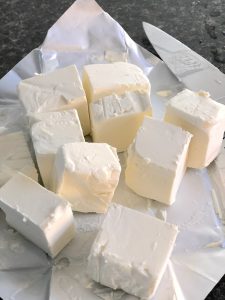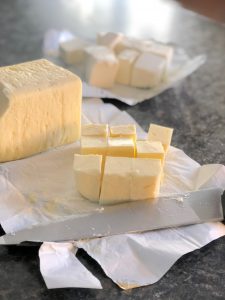 While the potatoes are releasing steam, cube up a room temperature block of cream cheese (the full fat kind!) and a 1/2 cup of butter.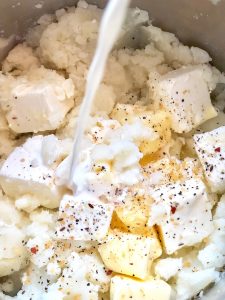 Next, throw the cream cheese & butter into the pot, sprinkle some Montreal Steak Spice in (or a little salt & pepper), and pour in a generous amount of cream.
You may think this to be overindulgent – so many calories and fat grams – but trust me, it's sooooo worth it.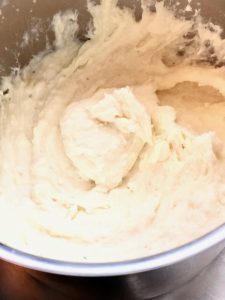 Then mash to a fluffy, creamy, cloud of deliciousness. This isn't the time to be gentle – I usually do a mash 'n' whip motion, and have my teenage son help me by holding the pot in place!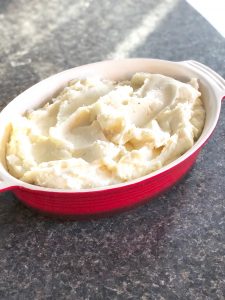 You'll want to keep the potatoes nice and warm until the stew is finished cooking; you can set the lid on the pot to do this, or you can spoon them into a casserole dish and put them into a warm oven to wait.
I love this red, oval crock, so I use it every chance I get.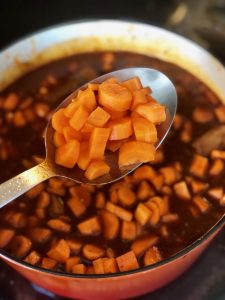 Back to the stew!
The beef stew has been stewing now for about 2 hours; the meat is tender, and the sauce is thickening.  If you're using turnips, you should throw them in now.
Let the turnips cook for about 15 minutes, then toss in the carrots. Cook until they're tender, about 30 minutes more.
Just before you eat, you can toss in a handful of peas or green beans, if it strikes your fancy.  Just let the sauce come to a simmer to heat them through.
Now, your stew is ready. Ahhhh. Pure comfort food bliss.  Bless its heart.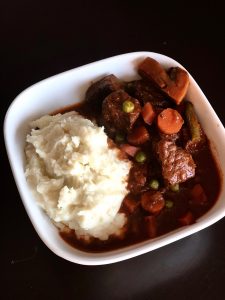 To serve, spoon a generous amount of mashed potatoes in a bowl, and add the beef stew beside it.  The delicious juices will mingle with your potatoes and make you do a little comfort-food happy dance!
I hope you love this stew as much as our family does!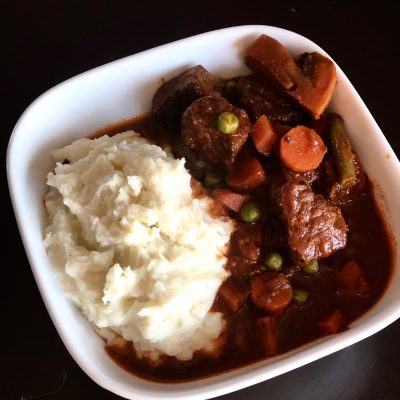 I-Could-Eat-the-Whole-Pot Beef Stew
The BEST Beef Stew Recipe with Creamy Mashed Potatoes. This recipe is truly one of the ultimate comfort food recipes that you will come back to time and time again.
Ingredients
Stew
3

Tbsp

Olive Oil

1

Tbsp

Butter

2

pounds

Beef Stew Meat

chuck roast, cut into pieces

Salt & Pepper

1

Onion

Diced

3

cloves

Garlic

Minced

3

Tbsp

Tomato Paste

or 1 small can

4

cups

Beef Broth

4-5

dashes

Worcestershire

1/2

tsp

Sugar

4

Carrots

Peeled & Diced

2

Turnips

Peeled & Diced
Mashed Potatoes
5

pounds

Russet Potatoes

Peeled

8

ounces

Cream Cheese

1 Block, softened

1/2

cup

Butter

Softened

1/2

cup

Heavy Cream

1

tsp

Montreal Steak Spice

optional

Salt & Pepper

to taste
Instructions
STEW
Season the stew meat generously with salt & pepper. In a large, heavy pot heat the olive oil over medium-high heat. Add the butter; as soon as it melts put half of the stew meat into the pot. Brown the meat on all sides. Once it's browned, remove it from the pot using a large slotted spoon, and put it on a plate. Add the other half of the stew meat, and repeat the browning process. Once it's well browned, remove it to the same plate.

Quickly add the diced onions to the pot, and reduce the heat to medium-low. Stir them around to coat them in oil and yummy brown bits and let them soften. Add the garlic, then add the tomato paste. Stir everything around and let the tomato paste cook for 3-4 minutes.

If you're using wine, this is the time to pour it in, stirring and scraping the bottom of the pot, lifting all of the brownings and incorporating them into the liquid. Bring to a gentle bubble, and allow the wine to reduce almost completely.

Pour in the beef broth, Worcestershire, sugar, & 1/2 tsp of salt. Add the browned beef back to the pot, being sure to pour in all the delicious juices from the plate.

Bring it to a boil, reduce heat to low, put the lid on the pot, and allow to simmer and stew.

After 1 1/2 - 2 hours, add the diced turnips (if you're using them). Give it a gentle stir, put the lid back on, and cook for 15 minutes. Now it's time to add the carrots. Cook 30 minutes more, until both vegetables are tender. If you're using peas or green beans, add them now; bring the stew back to a simmer.

The gravy should be significantly thickened by now. If it's too thick, you can add a little more broth or water.

Give it a taste, and season with salt & pepper to your preference. Serve the stew in a bowl, pouring it next to the creamy potatoes. Make sure you pour the juices all over the potatoes - it will make life perfect. I promise.
MASHED POTATOES
Peel & quarter the potatoes, put them in a large pot of COLD water and generously salt the water. Bring to a boil, reduce heat to medium, and let cook until fork tender.

Drain the potatoes, and give them a mash to release the steam. Add the cream cheese, butter, cream, and Montreal Steak Spice (or a little salt & pepper). Mash them some more until they're creamy and fluffy.

These potatoes can be made ahead of time and put into a casserole dish, in a warm oven, until the stew is ready to be served.