The other day I discussed a few steps on greening up your kitchen, and now it's time for another room that uses a lot of water and energy – the bathroom!
Between excessive hot water use, kids who forget to shut off the light, and the need to regularly clean and sanitize the sink and tub to keep everyone healthy, it's no surprise that a good portion of our energy costs come from the bathroom. If you're curious how much of an impact your bathroom has on your heat and energy bills, and would like to make your bathroom green,  here are a few steps you can take to cut down and shave off a few dollars: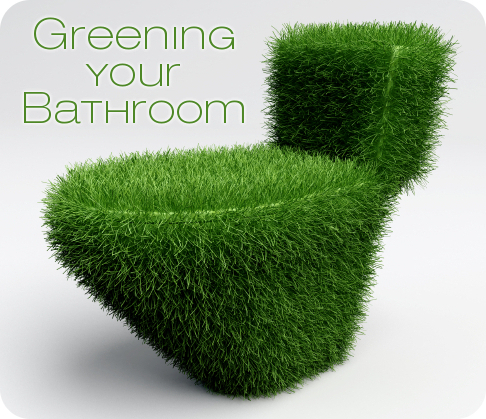 7 Steps to a Green Bathroom
1. Install a shower timer. I know this sounds silly, but the average person spends 15 minutes in the shower. If you set a timer for a 10-12 minute limit every time you took a shower, you would not only save about 150 gallons of water a month, but you might also save a few extra minutes in the morning!
2. Add a recycling bin. The bathroom is one place I tend to forget to recycle. Add a small recycling bin in there to throw toilet paper rolls, empty Kleenex boxes, shampoo bottles, soap boxes, and even toothpaste caps and containers.
3. Install a low-flow shower head. Low-flow shower heads cut down on the amount of water used without sacrificing pressure. They are inexpensive, easy to install, and can save a family of four almost $300 a year.
4.  Install a low flow toilet.  Did you know that approximately 27% of the water used in your home is from flushing your toilet?  Your toilet uses more water than any other appliance or plumbing fixture in your house… more than your dishwasher, washing machine, shower, or bath.  With an older style, traditional toilet, you could be using up to 7 gallons of water per flush, as compared to a mere 1.6 gallons per flush with a low flow toilet.  A dual flushing toilet can increase your savings even more.  These nifty toilets give you a button for "solid waste" flushing and another button for a "liquid waste" flush, which uses only 0.8 gallons per flush!
5.  Install motion sensor faucets.  Another place where LOTS of water is wasted (especially if you have young children), is the bathroom sink.  I can't count the number of times I've reminded my kids to turn off the water while brushing their teeth, or have gone into an empty bathroom to find the tap on full blast.. "I just forgot to turn if off Mom!"… A motion sensor faucet would eliminate this problem completely.  Once the little hands have moved away from the faucet, the water would automatically stop running.  Brilliant.  Not only would it prevent unnecessary water use, but it would also help to keep you bathroom cleaner.  No more grimy hands turning the water on… no more gunk building up on your faucet handles… way less germ and bacteria growth.  Anything that can help prevent the spread of germs is a welcome addition in this home!
5. Purchase organic cotton and hemp linens. The amount of pesticides and chemicals used in cotton production make it an exceptionally dirty crop, so switching to organic cotton, bamboo, or hemp products is a much more environmentally conscious option. These products are also easy to wash and sanitize, which is important for shower curtains and mats that are always damp. Wash them once a month with Norwex laundry detergent to maintain their color and keep them in great shape.
6. Keep a basket of Norwex bathroom cleaning products under your sink for easy and healthy cleaning!

* Norwex Descaler for monthly tub and shower scrubs.
* Bathroom Scrub Mitt for regular sink and counter wipe downs.
* Ergonomic Toilet Brush for a toilet brush that doesn't get nasty.
* Peppermint Foaming Hand Soap to keep dirty hands soft and clean without chemicals.
To read reviews of the Norwex Descaler, Bathroom Scrub Mitt or  the Peppermint Foaming Hand Soap, please click on each of the product names.
What have you done to make your bathroom healthier and greener?