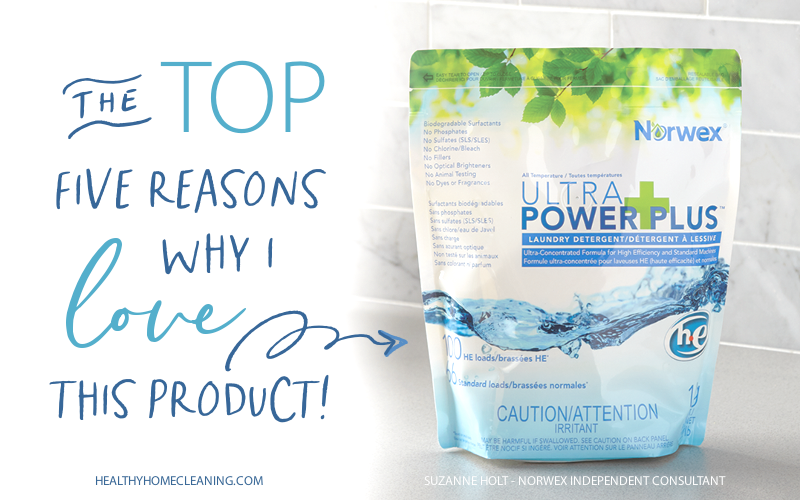 I talk about this detergent quite a bit on my blog. And that's because I truly LOVE it. It's what my family uses, and I think everyone should give it a try. Here are the TOP five reasons why I'm all about the Norwex Ultra Power Plus Laundry detergent.
One: Lasts Forever!
This is a concentrated detergent. You don't need much. In fact, most users find that they don't need nearly as much as what even the bag instructions recommend. The average user finds that a teaspoon is all they need in their HE washing machine. Hard water means you'll need to increase that to about a tablespoon (possibly more). But either way, this means that it lasts a very long time, and is an economical choice! For a family doing laundry all the time, this is an IMPORTANT factor to loving a laundry detergent.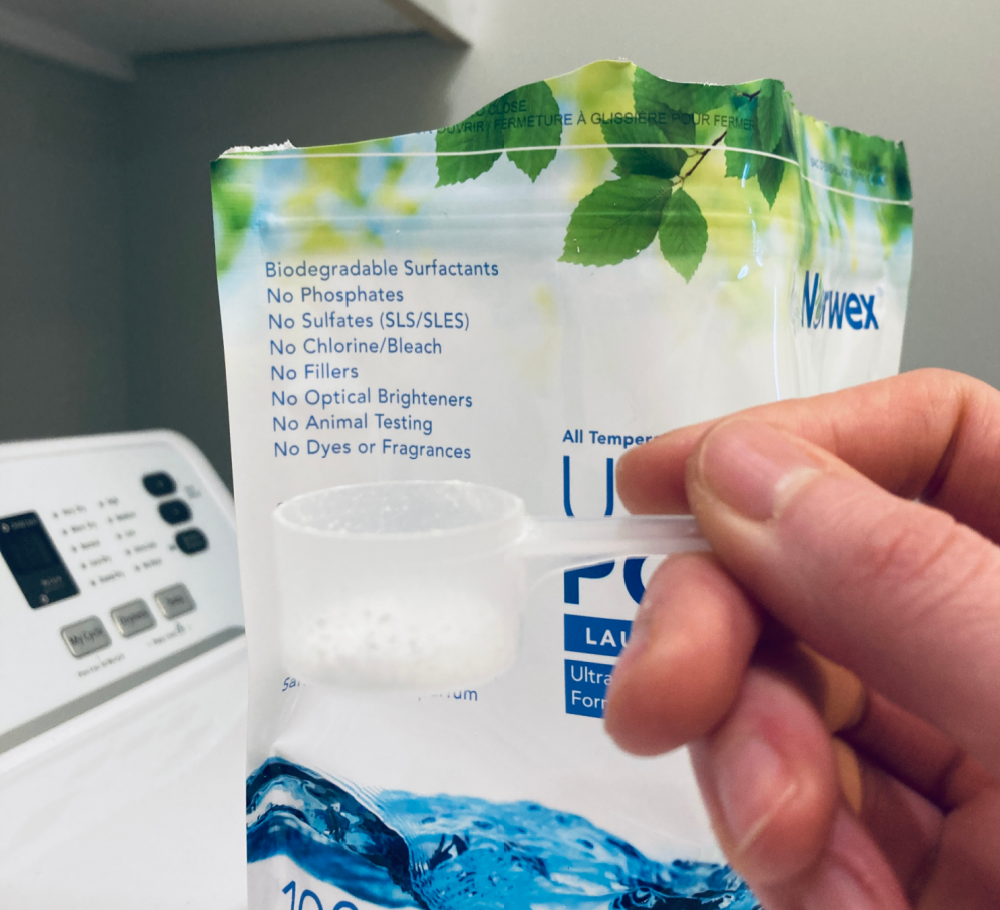 TWO: Doubles as an All Purpose Cleaner
Greasy cupboards, stained furniture, dirty car upholstery, stains in carpets, greasy ovens; this detergent can tackle all of that. You'll add a tsp of Norwex Ultra Power Plus Detergent to a spray bottle, fill with warm to hot water, and shake it up to dissolve. Then, spray on the surface you want to clean. Let sit, anywhere from 10-30 minutes. Then wipe with a damp EnviroCloth. How convenient is that?!
THREE: Deep Clean Anything
Got grungy or smelly sports clothes or equipment? Oily buildup on your pillowcases? Extra dirty sheets? Smelly clothes? Use a generous scoop of this in a tub or sink of very hot (or freshly boiled) water. Then, throw in the item you want to deep clean. Use just enough water to cover the item(s). Let sit for a few hours. This simple concoction will strip your items of their buildup. Your water will be a nasty color! Just rinse well (multiple times if necessary) until the water runs clear. The items will be much cleaner/fresher than when you started. You can read more about the process here.
FOUR: No Weird Ingredients
This detergent is free of overpowering fragrance (there's literally NONE added!). Don't worry – your clothes come out smelly fresh! There's also no strange coloured Dyes (it's purely white). There's no SLS, SLES, phosphates, bleach, optical brighteners or fillers. The ingredients contain biodegradable surfactants. That means you can feel confident when this enters the water systems, that it's not harmful to the enviroment.
FIVE: It Actually Works
I feel like this has happened to everyone – you find a detergent that promises to be 'green.' Or its packaging eliminates excessive plastic. You get all excited, but then, your clothes really aren't that clean after you use it. And you never buy it again, hopes deflated. Not with the Norwex laundry detergent! I love that this detergent has all of the above benefits, PLUS WORKS FABULOUS!!! Clothes come out clean. They don't have a fragrance, but smell fresh. Laundry heaven! And on that note: this is a powder detergent. You're likely wondering if it leaves residue on your clothes. That answer to that is NO! If it DOES, it's because you're using too much. Scale back how much you're using. Your clothes will come out clean and residue free!