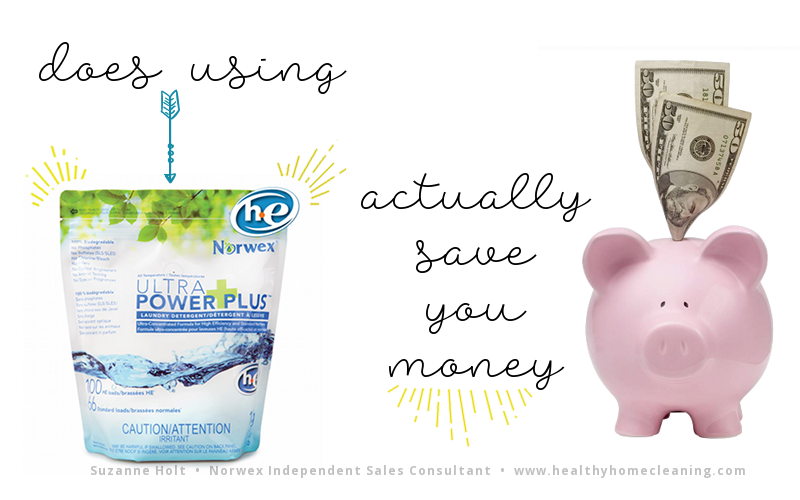 If you've looked at the catalog, and have browsed the "Laundry" section, you might have been surprised at the cost of the Norwex laundry detergent. When I saw the Norwex Powder Laundry Detergent in the catalog for the first time, I thought, "$24.99 for a bag of laundry soap? Pffft! As IF! I'll just buy a different green brand and save my money!" However, my opinion of the 'high cost' of this soap has changed since using it. I've discovered that it's actually NOT costly.  I'll show you why it saves you money, how to ensure it saves you money, and why I love this laundry soap.
***EDIT: The Norwex Laundry Detergent used to be called "Ultra Power Plus Detergent," but the name was changed to "Laundry Detergent" in 2018. You'll see the old name, "Ultra Power Plus" referenced in this post sometimes, or see the old packaging featured in some photos. The renaming and new packaging also came with additional product improvements!
Why the Norwex Laundry Detergent Saves You Money
This laundry detergent is ultra concentrated, which means that you don't need as much soap as you're used to using.
The instructions on the back of the bag are as follows:
See what I mean? You don't need very much of this concentrated formula!
HOWEVER, based on consultant and customer experience, you don't actually need even as much soap as they recommend. Which is EVEN BETTER!
Based on user experiences, here's what most people find works best for them:
While all washers and water types are different, and user experiences may vary, I have yet to find someone that needs to use the full amount listed on the back of the bag. If you already have the laundry detergent, or you're going to get your hands on it, try reducing the amount recommended, by 1/2-1 tsp for each load, working your way down each load, to the recommended measurements in the table above, to see if a smaller amount works in your machine. Trust me; you'll be amazed!
This means that your laundry detergent is going to last you a LONG time. Here's some examples of what that looks like. For me, with a top loading washing machine that is NOT HE, and soft water, I use 1 TBS of detergent for a large load (that's half a scoop, using the scoop provided in the bag). In my family of two school aged kids and two adults, that lasts me almost two months.
If you have an HE washing machine, you're getting even better economical results from this detergent. I've heard another consultant say that when she uses ~1 tsp per load in her HE front load washer, she gets more than 140 loads per bag. And that's the conservative estimate. Which means that a bag of laundry detergent lasts for many months if you own an HE machine!
Why I Love The Norwex Laundry Detergent
My top reason for loving this detergent is for what it doesn't contain. It is 100% free from:
fragrance
phosphates
sulfates
chlorine/bleach
fillers
optical brighteners
Not only that, but it's also 100 % biodegradable!
And check this comparison, of the Norwex Laundry Detergent, mixed with water, compared to another brand of laundry detergent!
The amount of soap added in each jar is the equivalent amount needed in a full load of laundry. Makes you wonder about all of the colours and fillers that don't dissolve in the other brand, doesn't it?
Another reason I like this laundry detergent is because it ACTUALLY works! It doesn't contain a bunch of yucky stuff that's bad for you, but still contains the stuff that makes your clothes clean!
Stains
It works wonders as a pre-soak for tough stains. When clothes are extra soiled, simply soak for a few hours, or overnight, in water mixed with the detergent, to loosen those stains!
I have a customer that uses it to soak her husband's smelly running shirts. She uses a generous scoop in hot water in a sink and lets the shirts soak 4-6 hours, then launders,  and they come out smelling fresh and clean again. She used to have to use ammonium to get rid of the smell, but the UPP helps her avoid that now!
Another reason I love this detergent: You can use it for more than just in the laundry room!   Here are some examples of what it can clean, when you either make a runny paste or dilute it in a spray bottle with water:
Couch cushions
Upholstered car seats
Car stains
Polish jewelry
When trying these areas, always test an inconspicuous area first. You'll love having this laundry soap on hand, for all the dirt in your life!
Are you a skeptic of the price of the Norwex Laundry Detergent? Have I managed to change your mind? Let me know your thoughts in the comments below. And if I've convinced you that this detergent is worth it, head over to my shop and get a bag for your laundry room! 
~Suzanne