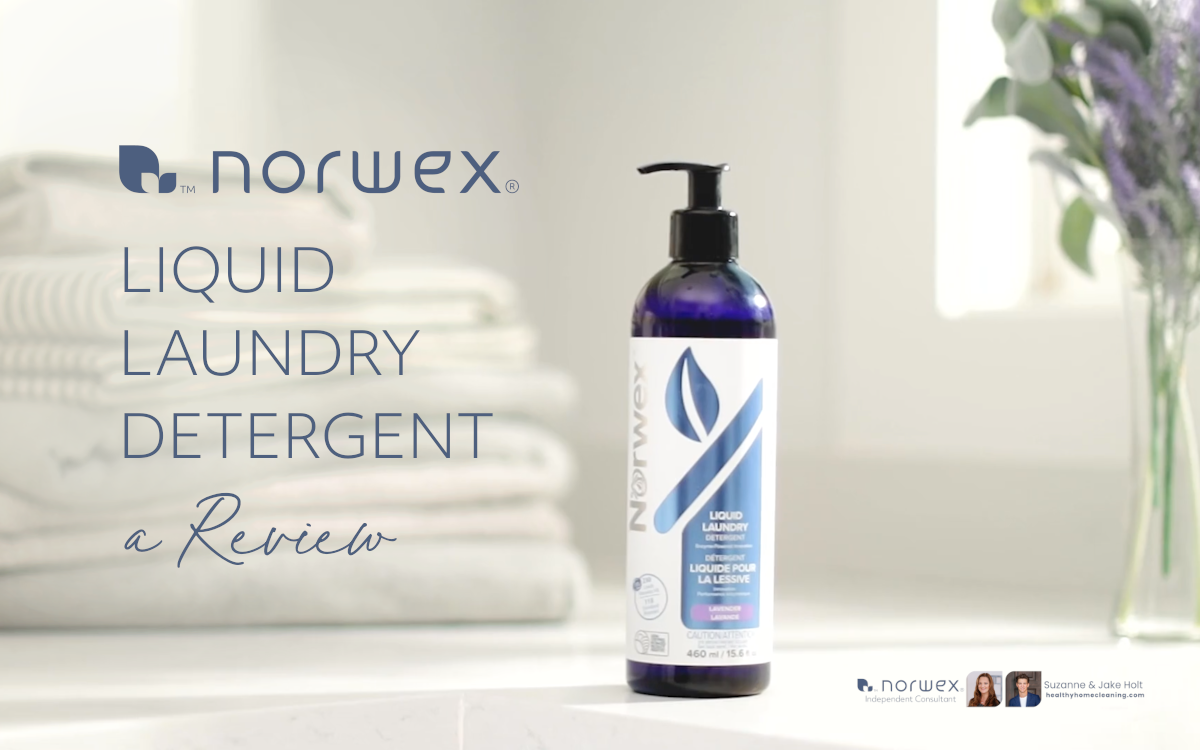 Norwex released a Liquid Laundry detergent in October. I've had time to use it for a number of months now, as well as receive customer feedback. I've been receiving lots of questions about this product, so I think it's timely that I share with you what I think of this detergent, what customers are saying, as well as tips for using this Norwex product!
Why a New Liquid detergent?
Norwex already has a very popular, and well-loved, powder laundry detergent. While the Norwex powder detergent is very effective, the fact that it is a powder can be a stopping point for some people, since some washing machines have a liquid dispenser. The powder detergent can get all clumped up and stuck in the dispensing tray. Some users will dilute the powder in a jar of warm water, shake to dissolve, and then add to the tray. However, it's one more step that needs to happen in the laundry routine, and it's a bit of an annoyance. So, Norwex worked on creating a liquid option for all the HE machines that work better on liquid! Others don't love powdered detergent, because it needs to be dissolved in the water first, before adding clothes, to avoid detergent residue left on clothes. A liquid laundry detergent solves this inconvenience! 
This liquid detergent uses the power of enzymes for potent effectiveness against tough odours and stains.
You only need a teensy-tiny bit of this ultra concentrated formula! The pump dispenses pre-measured amounts, and you only need 3 pumps for a large load in an HE machine.
Dissolves in a snap, so you won't get any detergent residue on your clothes
USDA Certified Biobased Product (it's biodegradable!)
Free from fragrances, phosphates, ammonia, bleach and fillers.
Never tested on animals
Works on all types of fabrics
What I Like About This Product
After using this product for a number of months, I can attest to the fact that it works! In my opinion, it works just as well as the powdered Norwex powder Detergent.
What I (and customers) Don't Like About This Product
Instructions: Customers who get their hands on this product find that they can't find instructions for how much detergent you need. There ARE in fact instructions on the bottle. But first, you have to peel back the top corner of the back label to find them. It's not very obvious that this is an option, so I've had some frustrated customers when they first receive it. *UPDATE: Norwex has updated their label to make it easier to see that the label can be peeled back! 
The instructions are as follows:
For an HE Washer– Small loads: 1 pump Medium loads: 2 pumps Large Loads: 3 pumps
For a Standard Washer – Small loads: 2 pumps Medium loads: 3 pumps Large loads: 5 pumps
Cost Effectiveness: While this liquid detergent proves to be even more cost effective than the Norwex Powder Laundry Detergent in an HE washing machine (will wash 215 small loads for only $0.16 cents/load), it doesn't seem to be the same in a non-HE machine. I have a customer that has a top loading, non-HE machine. A full load in a non-HE machine requires 5 pumps from the bottle. In her family of four, her liquid detergent lasted a little over a month. When using powder detergent, she can get two months out of it. Since the liquid detergent costs more than the powdered detergent, it wasn't a savings for her.
Versatility: those that have the powder detergent in their laundry room know how versatile this detergent is. Whether it's diluting it in a spray bottle with water to treat stains on clothes, rugs or furniture, or to wipe down greasy cupboards, or to deep clean their microfiber cloths, the liquid detergent lacks this ability to be versatile. No one knows for sure if the liquid detergent works as well in that capacity. Perhaps time will tell us differently, but for now, it only works in the washing machine.
Sour Smelling Laundry: Some users (but not all), are having issues with experiencing a sour smell in their laundry when using the liquid detergent. It seems to depend on water type, washing machine, etc. This hasn't been an issue for me, in my top loader. Customers and consultants are finding that some adjustments need to be made to avoid this sour smell. Here are a few tips if you have experienced this issue:
Reduce the amount of detergent you are using, by at least 1 pump.
Adjust your water temperature. So, if you've been washing with cold, try warm. If you've been washing in warm, wash in cold, etc.
*UPDATE: Norwex released an improved formula of the liquid detergent, which has radically reduced the issues of sour smelling laundry customers were experiencing. 
Conclusion
You are going to love this detergent if you dislike powder detergent. You'll also love the cost effectiveness of this product if you have an HE machine, as well as how long it lasts before you need to buy more.
If you have a non-HE machine, you'll be disappointed at how quickly you go through it, and you won't find as much value for your money. You'll want to stick to the powder, if you have a non-HE machine.
If you currently use powder Norwex Laundry Detergent, and utilize its versatility around the home, you won't want to make the switch to the liquid (at least not yet).
While both detergents are effective, I personally love everything about the Norwex Powder Detergent, and highly recommend it as the top choice. It's currently my favourite of the two detergents Norwex offers.
I give the Norwex Liquid Laundry Detergent 4 stars!
(The original powder Norwex Laundry Detergent gets 5 stars)
Let me know in the comments which detergent you would choose, and if you think I'm crazy for not loving the liquid detergent.
Have fun with all your laundry!
~Suzanne