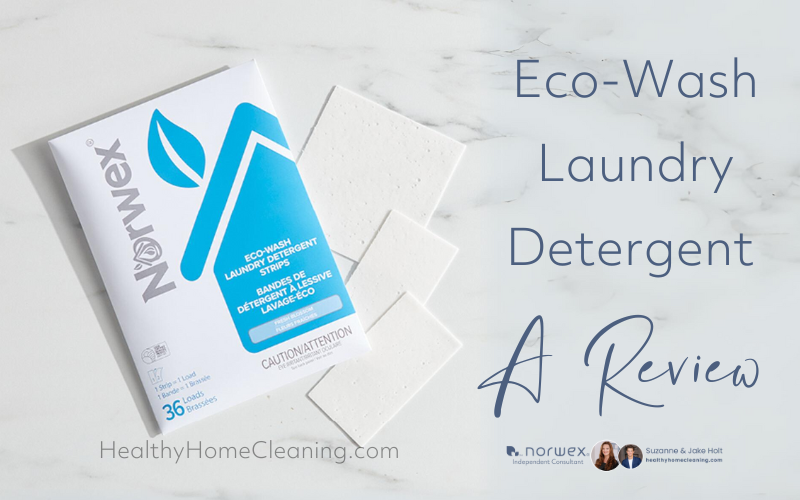 When you're trying to live green while on the go, the Norwex Eco-Wash Laundry Detergent Strips are a convenient way to keep up in a toxin & plastic free way.
The Eco-Wash Laundry Detergent Strips have already won an award from Good Housekeeping! It has only been in Norwex's collection a little over a year and already received Good Housekeeping's Top 5 Best Laundry Detergent Sheets Award. They are the #1 Best Laundry Detergent Strips for Travel!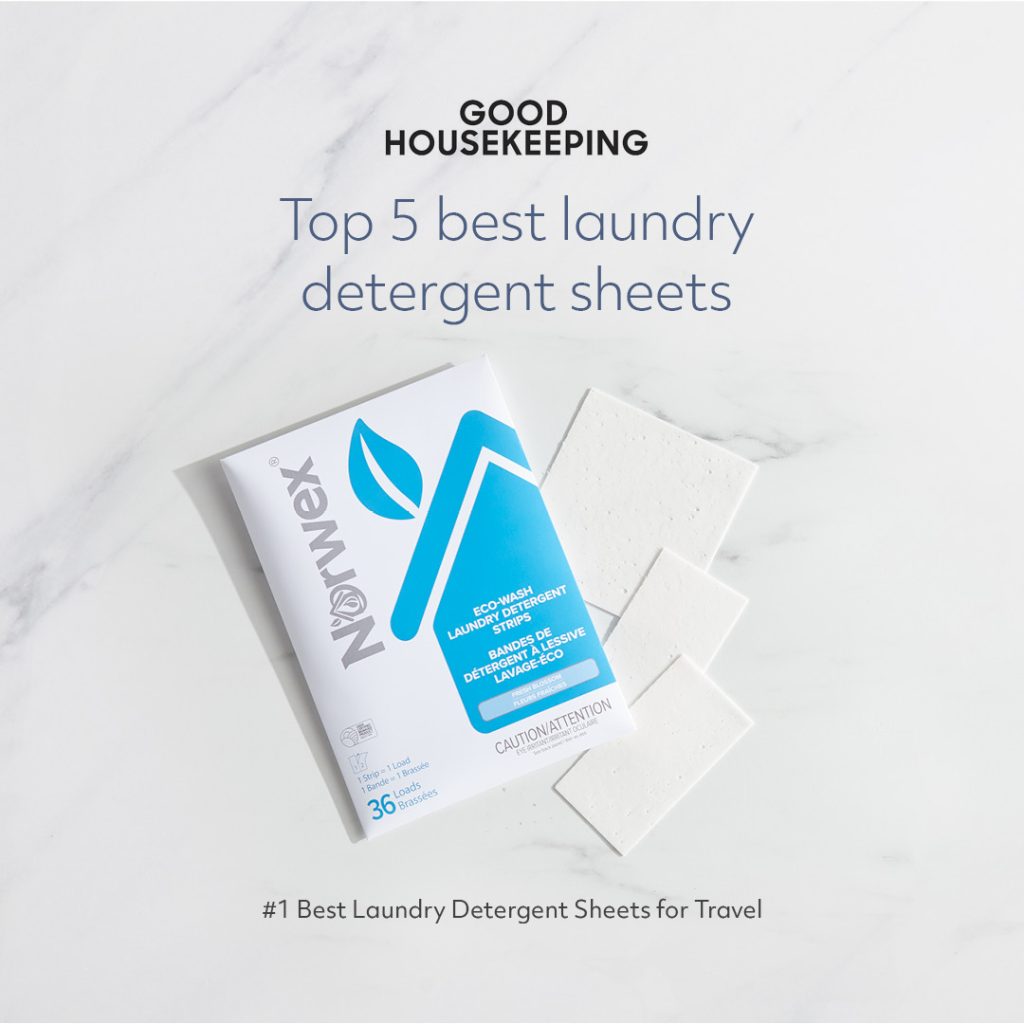 When I first saw the Eco-Wash Laundry Detergent Strips, I felt a little skeptical. I already LOVE Norwex's Ultra Power Plus Laundry Detergent. Being in a committed relationship, I wasn't so sure about the need for another laundry soap. It's obviously an excellent idea- we all want to cut back on plastic and chemicals while we're on the go, but not everyone travels as much as my family or is in a life stage where it would make sense to use them. However, I did have a friend with a large family reach out and let me know that she enjoyed them when her washing machine broke and made trips to the laundromat until it was replaced. She ended up appreciating them as well. Between the two of us, we both agreed these were our top features.
These Laundry Strips have a lot of benefits when you're in a situation where they are appreciated. Let me explain.
Light weight- Hands down, the best part of the Eco Wash Laundry Detergent Strips is how lightweight the packet is. It is only about a pound and a half. It's crazy light! One of the large jugs is over 11 pounds! When you're hauling piles to the laundromat or down the dorm halls, you don't want extra bulk if it can be helped. It's great that you can throw it on top of the laundry basket and not juggle extra weight.
Mess free- There are other laundry pods out there that are pre-measured, but they are a ticking mess time bomb. The Eco Wash Laundry Detergent Strips are a liquid free formula- fluidity is not necessary for its function in the finished product. It is a flexible solid that feels a little waxy. The fact that they are liquid free also will help you travel better through security.
Compressed- The actual dimension of one those large detergent jugs is almost 14 inches x 10 inches x 6 inches. The Laundry Detergent Strips packet containing all the strips is only 8.5 x 6 inches! You can hold it in your hand like a wad of papers! When you're living in an apartment or saving room in a suitcase, these strips can save valuable space when you're working with some tight constraints.
Effective Formula- My friend with kids was skeptical of how effective the Laundry Detergent Strips would be at actually breaking down tough messes. With toddlers and preschoolers around, she wasn't sure if they would break down grubby food and dirt stains. She was pleasantly surprised that everything came out as it usually would with any other laundry detergent formula! Even the smells came out without overpowering, synthetic scents to coat it.
We were so impressed that these small strips could come through for us when needed! You can even pat yourself on the back when using them because they not only cut back on chemicals, but also on plastic.
Did you know?
Laundry jugs create a significant amount of plastic waste, contributing to an estimated 9 million tons of discarded plastic flows into the world's oceans every year, according the U.S. National Geographic Society. When you choose alternative packaging, these small choices can make a BIG impact! Plus, the Eco-Wash Laundry Detergent Strips are free from:
Chlorine bleach
Synthetic dyes and fragrances
Phosphates
Ammonia
SLS/SLES
Phthalates
EDTA
Parabens
Preservatives
1,4 Dioxane
Ethylene Oxide
Fillers
Optical brighteners
Not formulated with 'Formaldehyde Donors'.
I love that Norwex is on the lookout to keep so many concerning materials away from me and my family!
How to Use
Since the strips are pre-measured, you'll just be tearing off what you need to use. Here is the guide:
One strip cleans one regular load of laundry.
For heavily soiled laundry, use two strips.
For small loads, use a half strip.
For hand-washing, use a half strip in a small sink of water
Then just put the strip in the machine's base, load clothes on top and start machine. It is important to place strip at the bottom to ensure that it fully dissolves. My friend made a user error when she was in a rush, and a placed one on top of the load in the barrel- it did not fully deploy. Make sure to wash items according to label care instructions. It's amazing! This strip is totally biodegradable and leaves no trace behind! Since it is an ultra-concentrated formula, it washes up to 36 regular or 72 small loads in either a high-efficiency (HE) or conventional machine. If you're not on city water, the Eco Wash Laundry Detergent Strips are effective in hard water and safe for the septic system.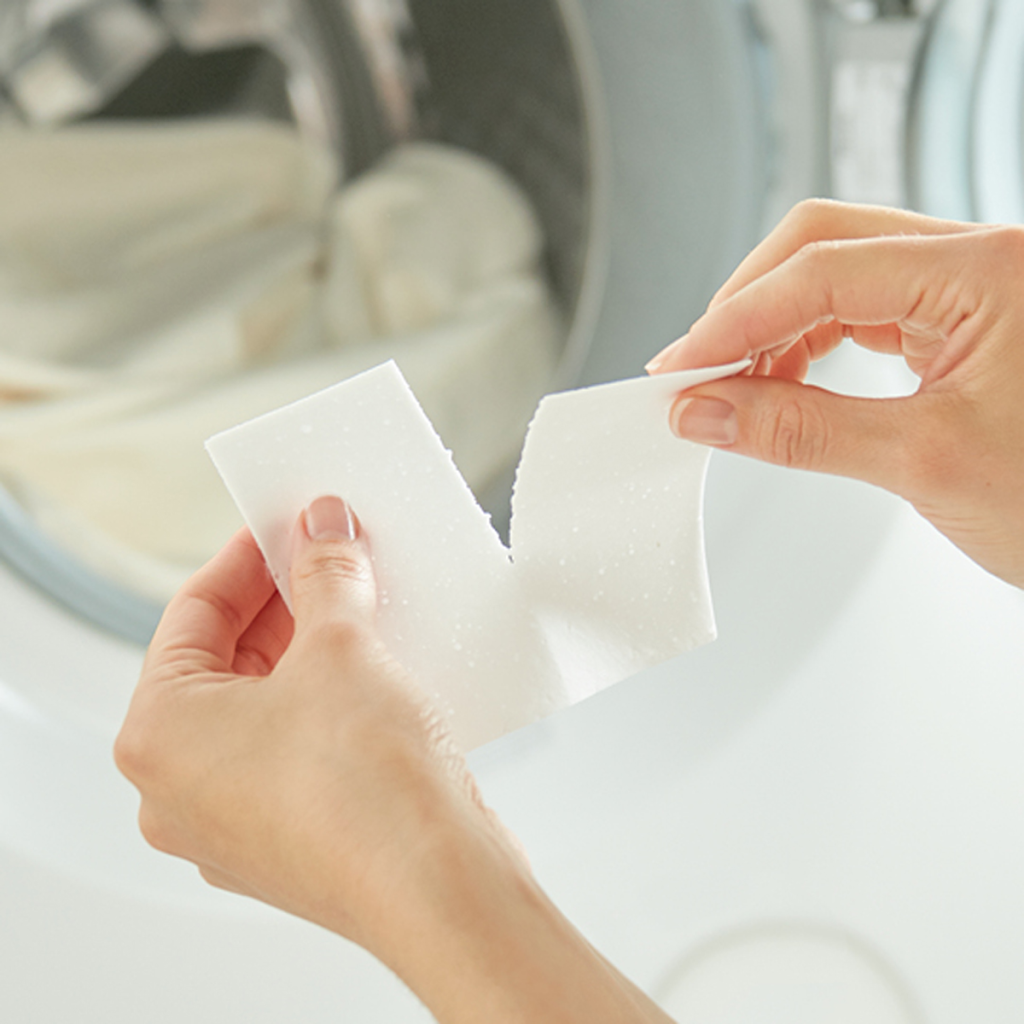 How to Decide when to Use
As I said before, you'll enjoy this product for the ways it fits into your lifestyle. My son is a college student and it fits well into his tight dorm space. Even if you're in an apartment and want to free up space for storing other items, you might like the room it will provide. The Eco-Wash Laundry Detergent Strips are also a great fit if you have a travel-heavy lifestyle for work or leisure. I fly often for Norwex events, and frequently in my time off to see family and hang out at the cabin. The Eco-Wash Laundry Detergent Strips are great to have on hand- you never know when something might come up even if you've packed strategically.
They would be really nice too if you live in a camper or at the cabin during the summer months. However, if you're looking for something cost effective for a big family, this probably won't be your everyday laundry detergent, but could be nice to keep around for a trip or occasionally going to the laundromat.
If you're wondering which Norwex laundry detergent to use, here is a handy chart to walk you through the benefits of each one.
Overall, the Eco-Wash Laundry Detergent Strips are a great solution for travel and tight spaces. This small product can make a big impact in our world by eliminating chemicals and reducing plastic pollution. I did take one star off for the price, but convenience and innovation do come at a higher cost. If you think that this would be a regular purchase, you could sign up for the AutoShip & Save program to save 10% or you could open a Norwex account to receive the 35% consultant discount. I would love to walk you through these ways to save on faves!
Are you ready to give the Eco-Wash Laundry Detergent Strips a try?
Other Products Featured in this Post