There is no need to sacrifice convenience or cleanliness when it comes to your kitchen sink tools because the Norwex Soap-Dispensing Kitchen Scrub Brush combines the best of all designs!
A handled kitchen sink scrub brush has become a staple, keeping your hands far away from icky food when washing dishes, but also providing enough leverage to scrub away stuck on food from the dish or pan. The Norwex Soap-Dispensing Kitchen Scrub Brush combines the design features of several models and includes the BacLock feature which pushes it into a category above the rest. I get it's real nerdy to geek out over a kitchen scrubbing brush, but when you use something everyday, these fine details make a big difference!
Sponge Headed Brushes and Bristle Headed Brushes
When it comes to the world of kitchen scrub brushes, there have been 2 models to choose from- sponge headed and bristle headed brushes. Some of these can soap dispense, but others do not. Unfortunately, as well-liked as these options are, they are also popular with the microbiological community- a hot spot for all kinds of bacteria (realsimple.com, 2023). For awhile the guidance was to boil or microwave these sink tools, but TIME recommends investing in a new sponge every week (realsimple.com, 2023). It ends up being worthwhile for your health, but also a wasteful financial investment and 52 sponges a year for one household definitely leaves an impact on the planet.
Some models have attempted to create a more eco-friendly option, but it still comes up lacking. The last one I bought had replacement heads, but no soap-dispensing ability and the head still needed frequent replacement.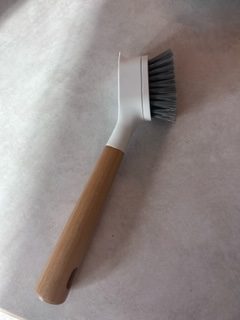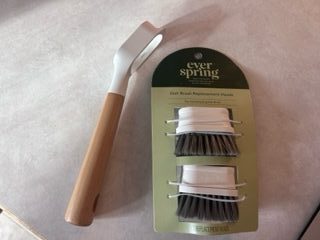 When I saw the Norwex Soap Dispensing Kitchen Scrub Brush, it was love at first sight! Clearly, so many design features had FINALLY been rolled into one excellent product! I was even more pleased to incorporate it into my kitchen sink routine and experience how seamlessly it helps you to get your dishes done.
I use my dish brush mostly as a "pre-wash" for dishes as they are getting loaded into the dishwasher. I like to make sure all the food debris gets off before loading so my dishwasher doesn't have to work as hard or get clogged. The bristles are strong, but flexible enough to remove food quickly and without much effort. They work way better than a sponge headed kitchen brush. If something is stuck, you can just flip it around to the scraper built in to the back.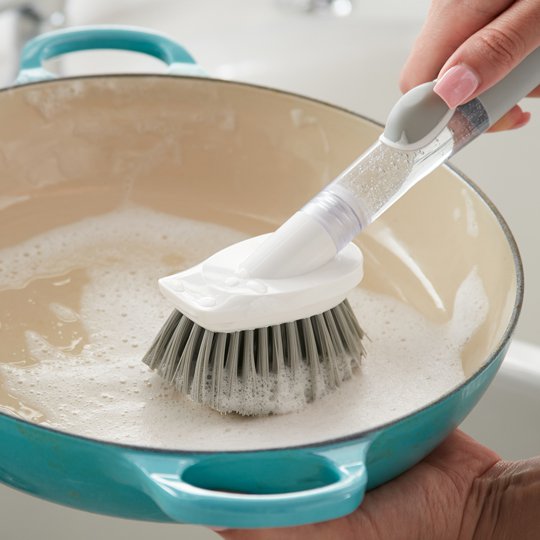 The BacLock feature is built into the brush bristles, handle button and grip, which means it stays fresher much longer! I have smelled the brush almost every time before using, and I can't smell anything but soap. The BacLock doesn't give a place for the microbial community to hang out since it is an antimicrobial agent solely intended to protect and self-clean the brush bristles, handle button and grip by inhibiting growth of odor-causing bacteria, mold and mildew. I love coming into dish washing with a fresh tool!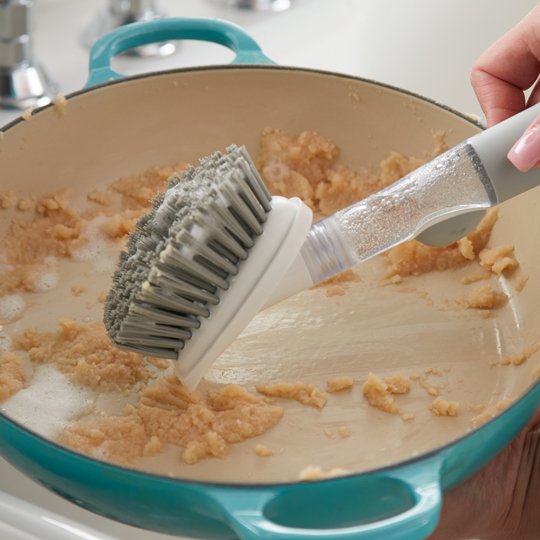 My Norwex Soap Dispensing Kitchen Scrub Brush also comes in handy for quick hand washing jobs. When there is a pan in the sink that I'd like to use ASAP, I'm reaching for the Kitchen Scrub Brush to provide a squirt of soap and enough cleaning power so I can move on to cooking with it.
The soap dispensing button has worked well every time! It also doesn't leak soap out the head piece. Not only does the button mechanism have a tight grip, but the tread has a small piece of silicone at the end that seals off the soap chamber so it doesn't ooze out of that gap. I love all these little details!
How to Use
To fill it up, just unscrew the head and pour dish soap slowly into the reservoir until the soap is at the start of the treads and then screw the head back into place. Now it's ready to use!
When you want to wash, use the pad of your finger (not your fingernail) to press the button to dispense dish soap, and then start your scrubbing session! Once you're done, clean it off by washing out the head and handle with soap and then dry completely.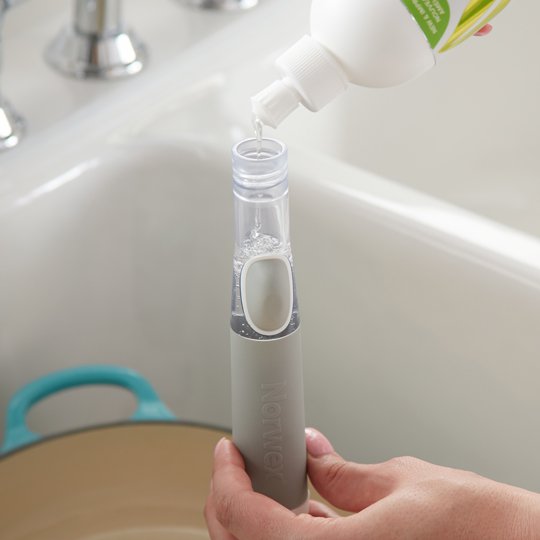 Once the bristles start to get worn, you'll want to replace the head piece. To cut back on waste, you'll just replace the brush head, not the entire brush. Grab a new head piece, unscrew the old one from the handle, and then screw the new one back in place. It's so simple!
To be honest, I haven't had to replace my bristle head yet! It's been over 6 months and the original is still intact and going strong. It's surprised me how tough they are!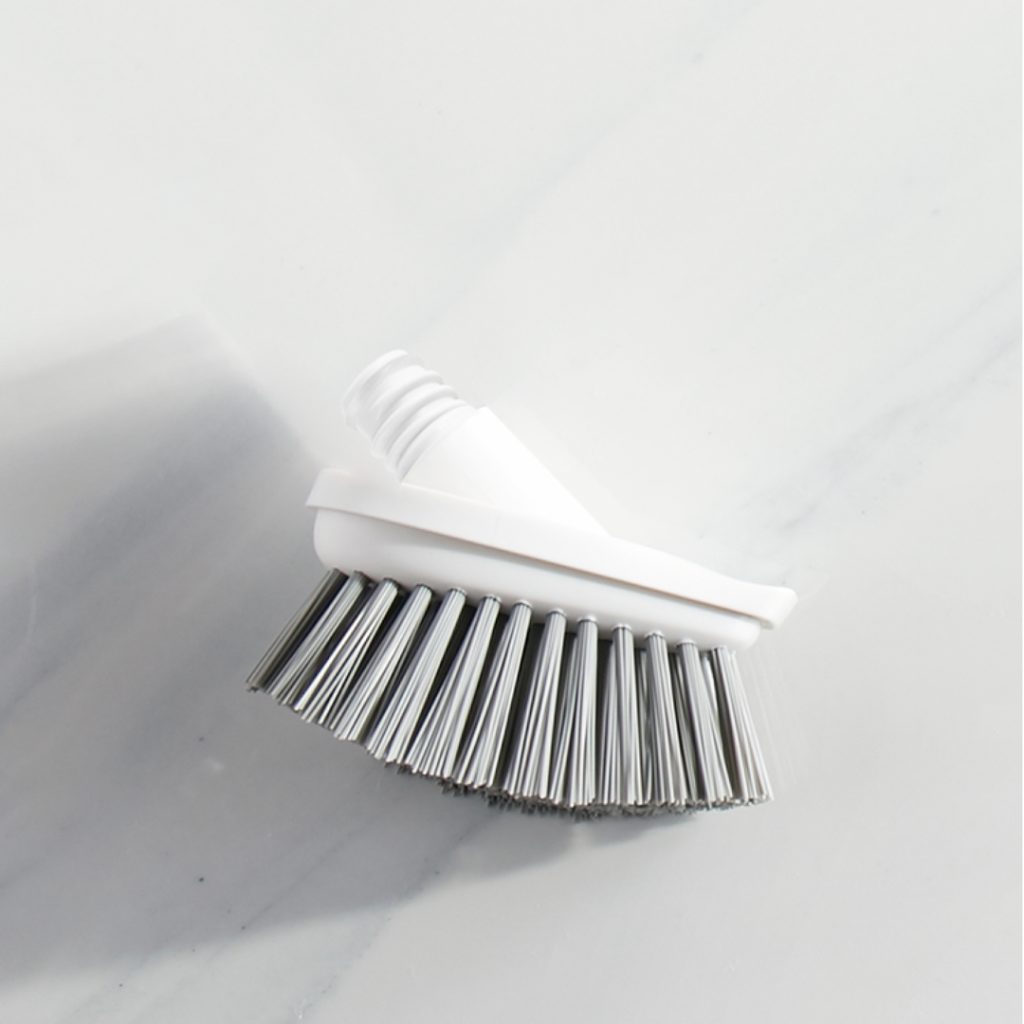 The Norwex Soap Dispensing Kitchen Scrub Brush has become one of my favorite Norwex items! It checks so many of my boxes and makes an unpleasant job a much better experience. The price it higher than the ones you'd get at a big box store, but I feel that the design and replacement ability justifies it. And since the head lasts so long, I don't feel burdened by replacing them. I hope you'd like to give it a try too!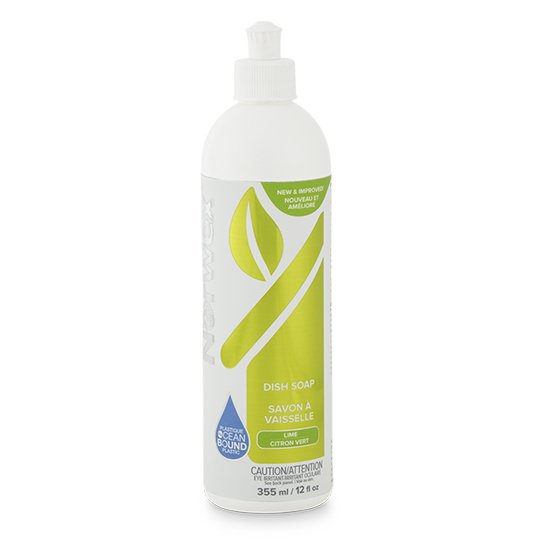 Get them together as a Package in the Soap & Scrub Set!