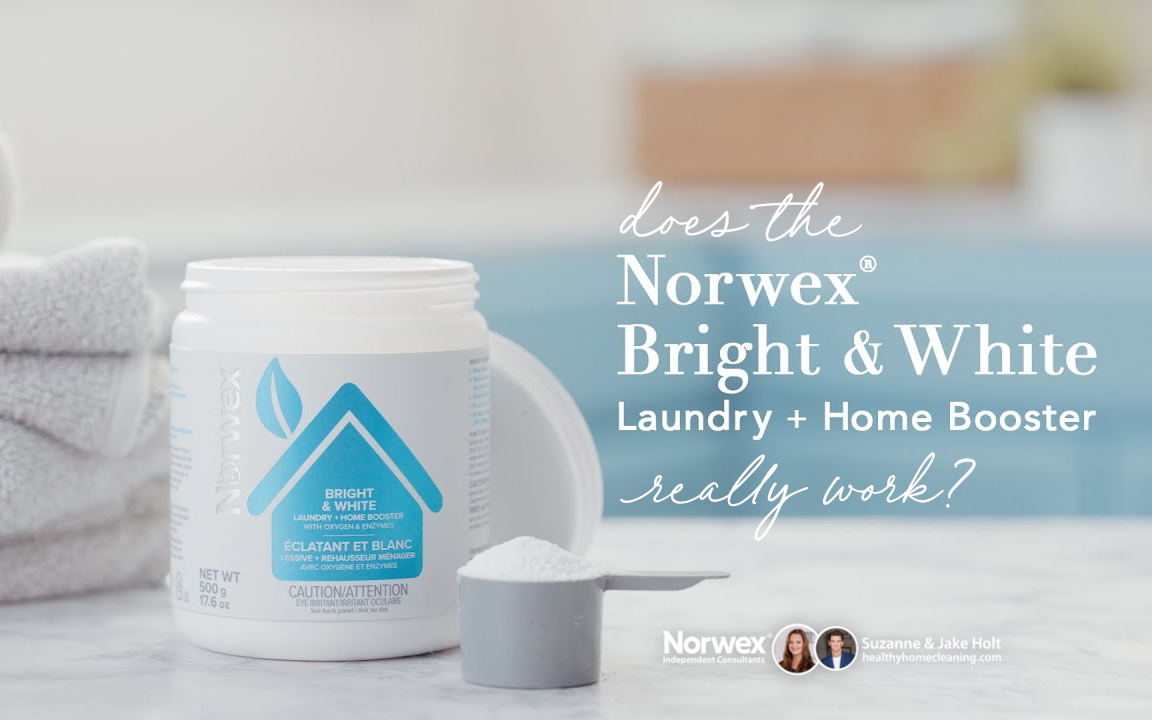 Have you tried the Norwex Bright and White Cleaner Laundry + Home Cleaner yet? This product boasts the ability to brighten colours, whiten whites AND be a useful all-purpose cleaner for different surfaces for the house! It promises quite a cleaning punch. So, I've been putting this to the test in my home since it was release. I've got my own results to share with you, plus results that other consultants and customers have been experiencing, so you can decide for yourself if this cleaner meets its hype and is worth keeping in your home.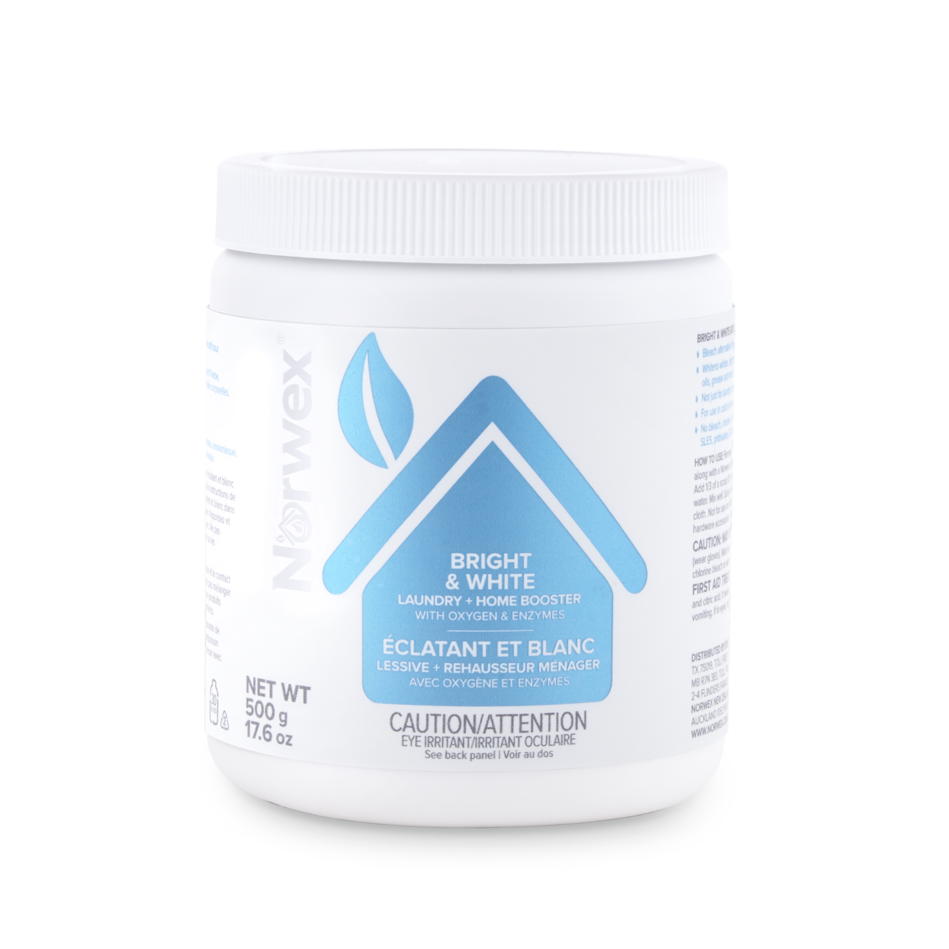 This multipurpose oxygen-and enzyme-based cleaner is an all-in-one solution for your laundry and home, tackling tough stains and odors. It's touted to be a safer alternative to bleach as a cleaner and whitener. The reason? Repeated use of bleach will make textile fibers weaker. Bleach is also corrosive, so it can irritate the skin, eyes and lungs. So this cleaner is a safer alternative, with no harsh chemicals, that supposedly cleans as effectively as bleach.
Did You Know?
Chlorine bleach doesn't break down grease or food soils. It simply removes the color from the substances it comes into contact with.
Vegan
Not tested on animals
Available to purchase in the AutoShip & Save program
Works in cold and hot water
Tested and proven to work on 30 different household and fabric surfaces
Does what it says it will do
How To Use it in the Laundry
For laundry stains, this powder removes stains such as: grass, dirt, pet stains, urine, blood, sweat, body oils, grease, and more. Take note that THIS INCLUDES SET-IN STAINS! I miss stains multiple runs through the laundry, so I LOVE that this powder has the ability to tackle the old stains I've missed!
It also whitens and brightens laundry, so it's especially perfect for adding a scoop to your load of whites.
How to use:
For regular laundry – Add 1 scoop (30 g) to washing machine with your laundry detergent. Use the detergent dispenser or add to the drum before adding garments. Do not leave it undissolved in the machine for prolonged times
To pretreat stains – Mix ½ scoop (15 g) with Norwex laundry detergent. Use either a ½ scoop of UltraPower Plus Laundry Detergent, 1 pump Liquid Laundry OR ¼ of an Eco-Wash Laundry Detergent Strip and 2 tsp (10 ml) of water. Cover the stain and let it stand for no more than 10 to 30 minutes. Rinse out paste completely before laundering. Mix only with a Norwex® laundry detergent.
How To Use it as a Multi-Purpose Cleaner
This laundry cleaner is crazy because it not only cleans your clothes but a bunch of other random things too! I feel like I'm still discovering the possibilities of this cleaner. The list of things it can clean is long. From vinyl, to grout, quartz, patio furniture, shoes, toilet bowls, cloth diapers, showers and more, it's a handy, versatile cleaner.
How to mix
Add 1⁄3 scoop (10 g) to a 16 fl. oz spray bottle (I love these glass spray bottles from Norwex ), fill with water, mix well and allow to dissolve fully. Spray surface and let set for 2–5 minutes before wiping with a clean wet or dry Norwex Microfiber cloth. Use within 6 hours of dilution with water for best results .*Not for use on specially coated surfaces.
Testimonials
Nothing is more convincing that a product works well than feedback from people who have tried it out! I've got testimonials from other Norwex consultants and their customers, that shared their experience trying this product out in different ways.
Toilet Bowl
"(Made a) combo in my toilet bowl with amazing results. I made a paste, not diluted in a spray bottle. Let it sit for 4-5 hours."
Shower
"The customer used Bright & White and the Utility Brush in her shower after trying everything else. They have a water softener, and since there is no chlorine in the water, they couldn't get the orange film off her grout. Well, tada! It worked!"
"I used the Bright and White to clean the grout between penny tile on a shower floor. This grout had orange-coloured buildup that had proven difficult to clean with many other products and methods. It cleaned up the fastest of all the products I've tried on it!"
(Video Source: Crystal Moore)
Here are two other examples of how great this works on tile grout!
Kitchen
"I just cleaned my sink with Bright & White and look at the results. The photo on the left I had scrubbed clean with just dish soap and my spirisponge. The photo on the right I sprinkled a lot of Bright & White, let sit for about an hour, then used a Spirinette, but didn't even need to really scrub at all."
Laundry
"Bright and White before and after a customer used one scoop in the laundry with her husbands pillow!"
I love this one. Easily brightening up well loved stuffies is a MUST!
Ummmm…yes helloooooo!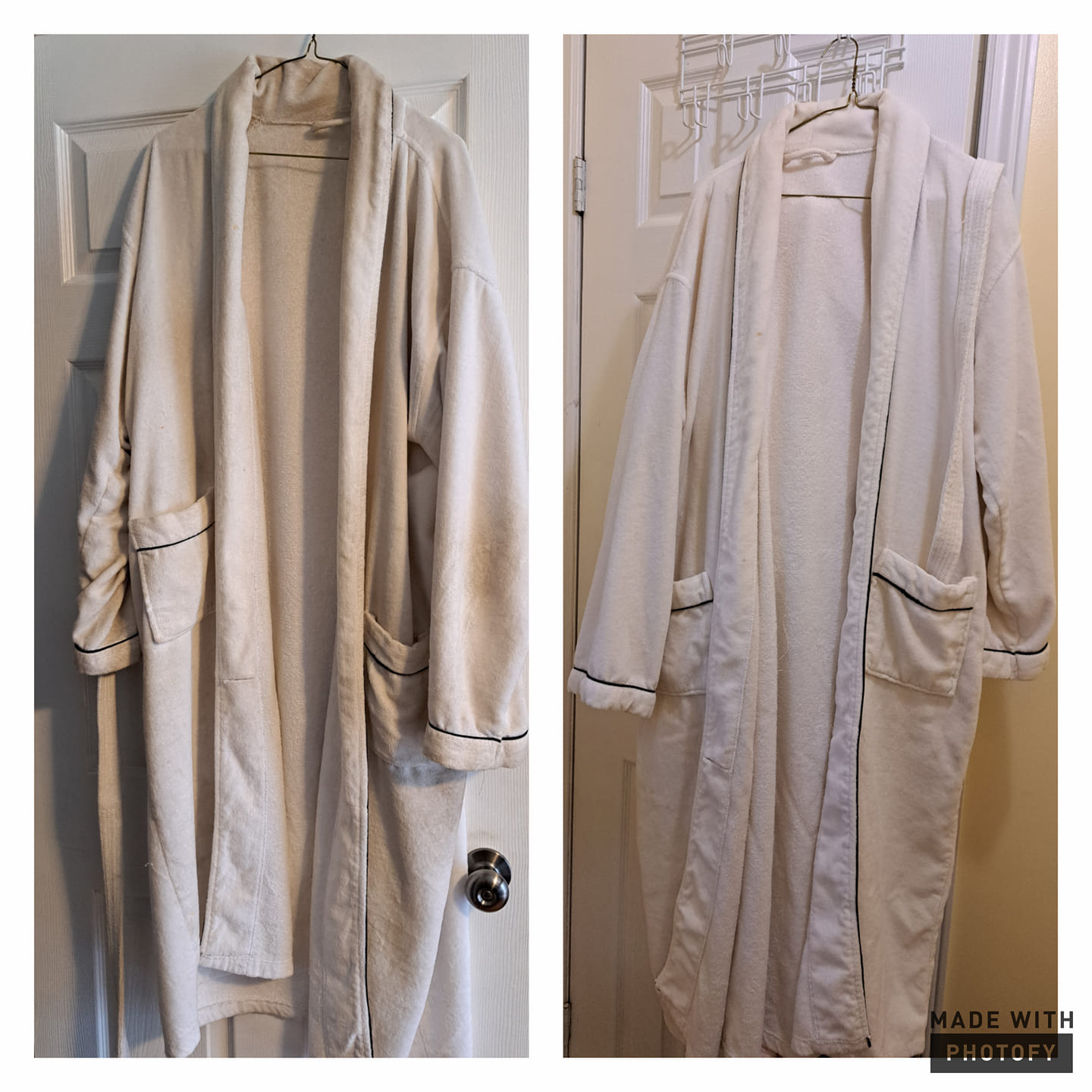 "Stains on tablecloth that had been in storage nearly 10 years!! Made a paste of the Bright and White, let sit almost an hour, then washed in our Liquid Laundry Detergent with 1 scoop Bright and White."
Which One is Best?
Norwex has many options for deep cleaning the laundry. It can be a little confusing, I admit. There are three stain removal options: Bright & White Laundry, Microfiber Cleaner Laundry Booster, and Laundry Stain Remover. This chart can help you determine which cleaner is best for which job.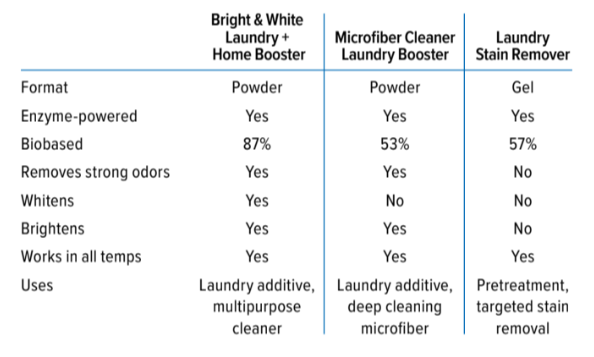 My Review
I've been pleasantly surprised for any type of stain I've tackled with the Bright & White Laundry + Home Cleaner. It works as well as the claim, on both laundry and household dirt. This is a winning product in my books. Plus, when you see the photos of what other people have experienced, it seems obvious that it's a handy product to have in your home when you want to ditch the bleach. It deserves 5 out of 5 stars for its effectiveness and versatility. Now go get yourself a jar and get cleaning!
Products To Purchase Featured in This Post: