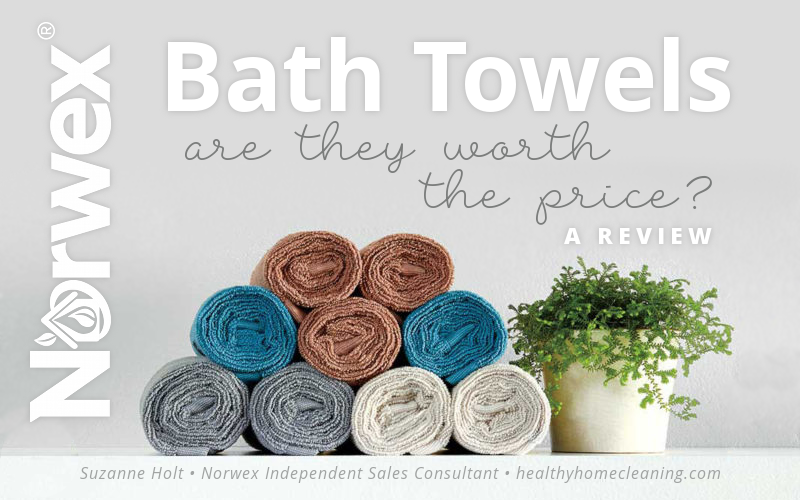 Norwex Bath Towels –  My Review
Norwex is well known as a cleaning company, and has a reputation for its microfiber cloths that remove 99% of bacteria from the surface you're cleaning. But they also have some kickin' products for your body as well, and it would be wrong of me to not ensure you knew about them! Today, I'm going to share with you what I love about the Norwex Bath Towel, and some handy tips to ensure that you love them too!
And remember that I'll be honest with you about in this review, 'cause that's my jam!
What I Love About the Norwex Bath Towel
Super absorbent – These towels suck up all of the water, and hold it all in! While the towels themselves aren't huge, that doesn't stop them from having the ability of absorbing every drop of water from your body. You won't be left with a soaked towel, and a still wet body with these!
Dries quickly – You'll never own a towel that dries as quickly as this one! In our house, we've always reused our towels a few times before laundering them. That means that after using a towel, the next day, the towel we used wasn't always dry, especially during the humid summer season. But once we got our hands on the Norwex towels, that changed! These microfiber towels dry quickly. That ALSO means that they aren't fostering the growth of bacteria, which would contribute to smelly-towel syndrome. They also come with a loop to hang them up with, so that they do dry effectively in between uses.
BacLock  – This antibacterial agent woven within the fibers of the towel begin working, over the next 24 hours, against the growth of mold, mildew and bacteria, the instant your towel becomes wet. This feature is also handy in fighting smelly-towel syndrome!
Color – You've got four colour choices with this towel! Let the color coordinating begin!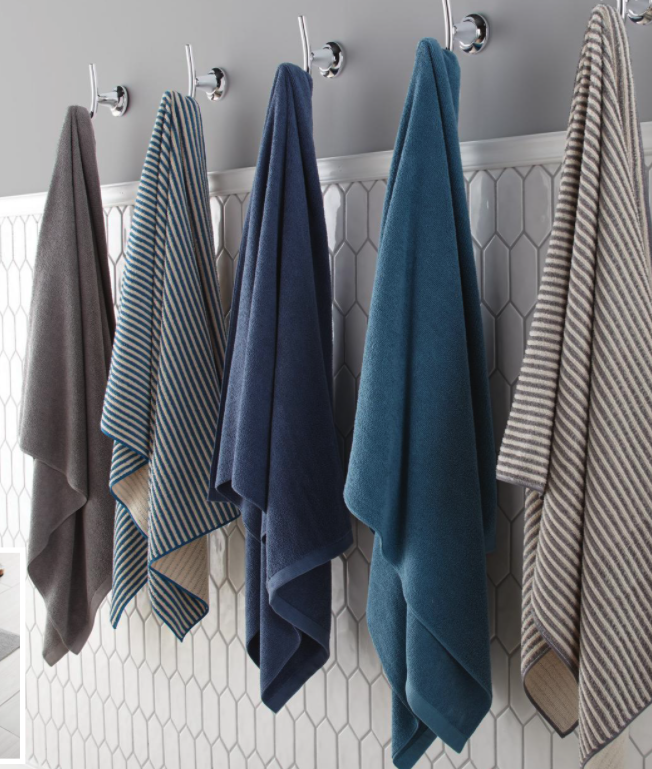 What the Norwex Bath Towel Is Good For
Every member of your family. Everyone in your household will love these towels! They're not too big, and not too small. You guessed it. They're just right! 
Gym. This towel is great to take to the gym with you, if you don't already own a Norwex Sport Towel. Since it's not bulky, it fits easily in your gym bag.
Camping. You can only hang to dry while camping, and since this towel dries quickly, I love taking these camping!
What's Important to Know
Pat to Dry. This towel does not FEEL like the towels that you're used to. Because it is made of microfiber, and woven tightly together, it's covered in tiny little fabric pieces that are kind of like hooks. Which means that the fibers 'stick' to your skin. So, you don't rub your skin dry. It just won't work right for you if you do, because the towel gets stuck on your skin as you do. Instead, you pat your body all over to dry. It DOES work to rub on your back though!
Say NO to the Beach. If you take these towels to the beach, sand and a bunch of other stuff will get stuck to the fibers of these cloths and you'll end up super frustrated. If you want a Norwex option for the beach, the Sport Towel is the way to go, as it's a smooth, velvety towel that doesn't contain looped fibers like the bath towel.
It's thin. Our experience with anything that's a towel is always thick and fluffy, right? While our new Kids Towel is thick and fluffy, our regular towels are very thin. But don't let their thin-ness turn you off. Because these ARE effective towels. Once you try them, you'll actually despise using a 'regular' towel. And yes, even fluffy hotel ones!!! (Norwex has turned me into a complete snob!)
It's Not Perfect.
While these towels are going to dry quicker than the average towel, and they contain BacLock to work against the growth of the things that cause smells, your towel may still smell like a stinky towel sometimes.  Yes, it IS much better than the average towel. But it's not a perfect towel that never develops a smell. In my experience, here's what contributes to it beginning to smell:
It was hung on a hook with other towels, therefore, couldn't dry as effectively in between uses, as it was surrounded by other wet towel.
I was lazy, and didn't launder it frequently enough. Laundering your towel at least once a week seems to be a good rule of thumb. If your towel user showers every day, or more than once a day, you'd want to launder it more frequently.
Humidity prevents the towel from drying in between uses.  Therefore, you'll want to launder your towel more frequently if the weather is particularly humid, or your bathroom is always damp.
Not hanging your towel up. If you hang your towel up by the white loop attached to the towel, you'll have better experiences with your towel smelling fresh. If you neglect to hang it up, or your family members like to leave it on the floor in a wet pile, or in a gym bag, it's going to begin to smell.
How To Launder Your Bath Towels
Avoid using fabric softener, bleach and dryer sheets when laundering your Norwex Bath Towels
Wash with other Norwex, or sheets. Avoid throwing in the laundry with fluffy towels or blankets. The lint from those items will transfer and get stuck all over the hooked fibers of your towel. Yikes!
Wash in hot water. This is not a must, but is very helpful, as the heat helps to open up the fibers of your towel, releasing any dirt it's holding, and fluffing the towel up again.
Dry in the dryer for a soft, fluffy feeling towel.
Norwex 'officially' recommends using the Norwex Laundry Detergent to launder your towel. (This laundry soap is the bomb, and I don't know why you wouldn't want to use it! )
Laundry Tip: If your towel has begun to smell, you can add a cup of vinegar to your rinse cycle when you launder it. Or, you can add a capful of Odor Eliminator to your water at the beginning of the load, and it will help freshen up your towel! If using vinegar, wash in hot water. If using Odor Eliminator, wash in warm water.
I hope this review has helped you better understand the Norwex Bath Towel, and shown you why it's a great towel. If interested in purchasing some for your bathroom, you can visit my Norwex shopping site and get a fluffy pile for yourself! Happy showering!
~Suzanne