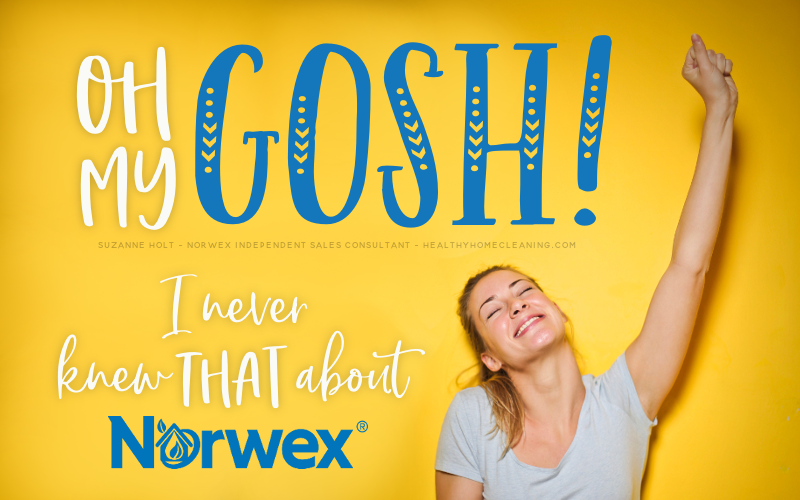 Something that I love about Norwex is that it's so versatile. So many of their products have multiple uses. And it's not always what you think. I'm going to share with you not only some unexpected uses, but also some helpful and fun Norwex facts about the products that you might not know!
Did you know that the Norwex Body Cloths are perfect for prepping your skin for shaving, and will eliminate the need for shaving cream? Yup. This is totally legit. You simply wet the Body Cloth, rub it over the area you want to shave, wet your razor, and go for it. You'll avoid razor burn and nicks, even better than when you use shaving cream. Cross my heart!.
Clean the Toilet with Just Water
You likely know that the EnviroCloth cleans surfaces with just water. But did you know that this cloth can handle even the DIRTIEST of surfaces, like the toilet seat? Some customers still can't wrap their head around this fact, but I challenge you to try it! You can use the EnviroCloth just wet, and it will remove 99% of everything from the surfaces of your toilet. Go ahead and wipe everything down, then throw it in the washing machine before you use it again.
Don't limit your laundry detergent to just one room and purpose! Dilute some of the Ultra Power Plus Laundry Detergent in a spray bottle of water and get spraying! So use it on kitchen cupboards to degrease them. Spray it on your furniture to get rid of stains. Use it to clean the filth that accumulates in your car. Soak filters with a scoop of detergent and hot water in a tub or laundry sink (and they'll be clean, with no scrubbing, in 30 minutes).
Norwex has a line of microfiber made with up to 70% recycled plastic bottles!
The Tags are More Than Just Tags
Your microfiber has a tag somewhere on it. While they serve to name the product, and help you not mix up which cloth is what, the tags are also there so you can hang your cloths up in between uses! Remember how Norwex microfiber contains BacLock technology, to self-purify the cloth in between uses? The BacLock needs to work while your cloth dries. The best way to ensure that cloth dries adequately is by hanging it up. In comes that handy tag for hanging up and allowing for adequate air flow!
Dampen your Mop Pad with a Spray bottle of Water
This is a tip for the mop users out there. One complaint I've heard about the mop pad is that when you're mopping the whole house, the pad can start to dry out. Some customers don't like having to take off the dirty pad, wet it, wring it out, and keep repeating that process, touching the dirty pad repeatedly. But never fear: there's a much easier, and cleaner solution to this problem! Simply keep a spray bottle of water handy while you mop. Once your wet pad begins to dry out, simply mist some water on it to re-dampen it. OR, mist the floor just before you wipe over it. No need to touch that dirty pad until the very end! 
The Norwex Counter Cloths were made to replace a half sheet of paper towel. Most customers purchase these with the intent of wiping up spills with it, since it can absorb a whole 1/4 cup of water (in your face, paper towel!). But these these are also great as Napkins! They're perfect for sending in your kids lunchboxes, instead of napkins. Or grabbing to clean a dirty face (use wet for sticky fingers). The BacLock feature means you can rinse and continue using multiple times and they don't get gross. My favorite napkin use for these though to clean my buttery popcorn fingers off when I'm shoving popcorn in my face on movie night!
These highlight really just a few of the ways that Norwex can be used, and a smattering of interesting facts. If you want to learn more about Norwex, make sure you're following me on Instagram and Pinterest to stay in the loop.  There's always something to learn about Norwex!
~Suzanne