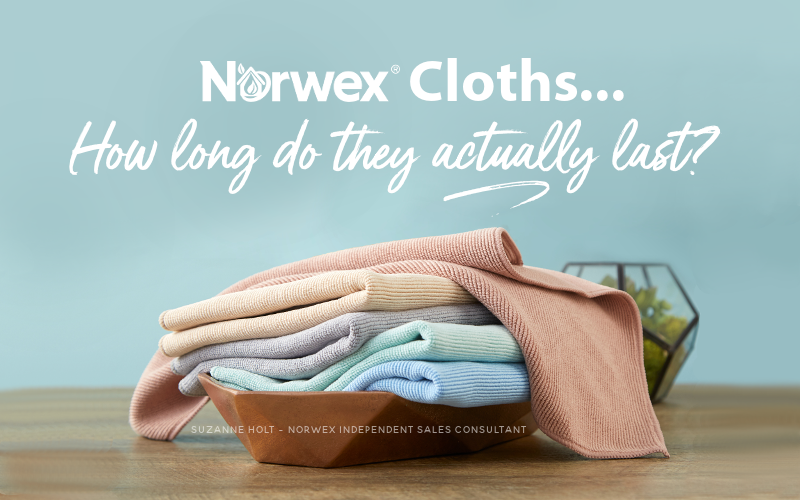 When people are first introduced to Norwex Microfiber cloths, one of the first questions I get asked is: "How long to these rags lasts?" I can understand why they want to know, because they're perplexed as to why a cleaning rag would cost over $15. (To be clear, these are no rags. They're so much more!) While these cloths sound amazing, with their ability to remove 99% of bacteria from the surface, it's still hard to wrap your head around their price. We're used to cleaning a surface with a strong cleaner, using an old cotton rag, and then disposing of the gross rag over time. But Norwex microfiber is a whole different kind of 'rag' that's going to last you much longer than expected!
Are They Worth the Investment?
Here's what you can count on: This 'rag' that you buy will last you at least two years. I know this because all Norwex microfiber has a 2 year product warranty. If anything should happen to your cloth, like: it starts to unravel, it develops holes, or it doesn't appear to be working as effectively as it used to – Norwex will happily send you a replacement (at no cost to you). That's some kind of warranty for a 'rag!'
After Two Years, Do They Need to Be Replaced?
When the two year warranty has passed, these cloths don't suddenly stop working. No, they keep on working for you! They continue to effectively pick up 99% of everything from the surface you're cleaning. In fact, they will continue to clean effectively for many years.
Fun fact: I still have my very first Window Cloth, from 11 years ago! It still works like a charm, too!
Many customers share how they still have the same EnviroCloth from 5, 7 or 10 years prior. I hear similar stories regarding their mop system and pads, with the wet pad needing to be replaced after 5 years, because it was wearing in places, but the mop base and handle are still going strong!
Over time, Norwex microfiber begins to lose some of its 'fluffiness.' The fibers become less soft than when they were brand new. But that doesn't mean they're no longer working! They also become stained over time. Again, even stained, they're still working just as effectively as the day you purchased them!
How Do I Know When It Stops Working?
Norwex microfiber never 'stops' working. It keeps going and going! You can stop using your cloth when it starts falling apart. That's going to be only after many years of use.
Sometimes, it's nice to have a fresh, fluffy cloth, and some people choose to replace their cloths once they become really course feeling. This is especially true of the Body Cloths. I replaced my five year old body cloths with fluffy new ones recently, and it's so nice to have softer ones!
How To Ensure a Long Life
There are some ways to make sure your Norwex lasts as long as possible, and continues working effectively.
Here are things to avoid:
Bleach. Laundering your microfiber in bleach will degrade the fibers of your cloths.
Fabric softener. It will plug up the little pockets in your microfiber that are supposed to pick everything up from the surface, and the microfiber just won't work as well for you.
Dryer sheets. These will coat the microsilver in your cloths, and it won't work as effectively.
Dish soap. Your cloths will simply hold on to dish soap, and it won't wash away easily. The result will be a nasty stink, and sometimes a slimy feel to your cloths. So, keep your cloths out of 'regular' dish soap (like Dawn or Palmolive, which contain heavy fragrance and fillers).
Heat. Microfiber is made of a blend of plastic fibers. Which means that when it comes in contact with high heat, it can melt! So don't use your EnviroCloth or Kitchen Cloth to wipe down your stovetop, until it's completely cool.
Corrosive Cleaners. These will degrade your fibers, very quickly! Microfiber works effectively at removing bacteria with just water. If you need to really deep clean something grungy, you can pair it with other Norwex products, like the Cleaning Paste, Bathroom Cleaner, or Descaler. You can even use essential oils with Norwex Microfiber with no issue.
For Best Results
Norwex recommends laundering their cloths with the Norwex brand laundry soap. In all honesty, I've had the best results by using Norwex Laundry soap only on my Norwex cloths. They come out the cleanest this way. Some aren't willing to make the switch, and if this is you, stick with a fragrance free laundry soap for better results!
What to do with your cloths when they're ready to retire
When your cloths have reached the end of their life, contact your consultant (and if that's me, contact me!). Your cloths don't have to end up in a landfill. Norwex has a Microfiber Recycling partnership with Covanta, a company that converts waste into renewable energy! Your consultant can provide you with details on how to mail the cloths back to Norwex!
~Suzanne