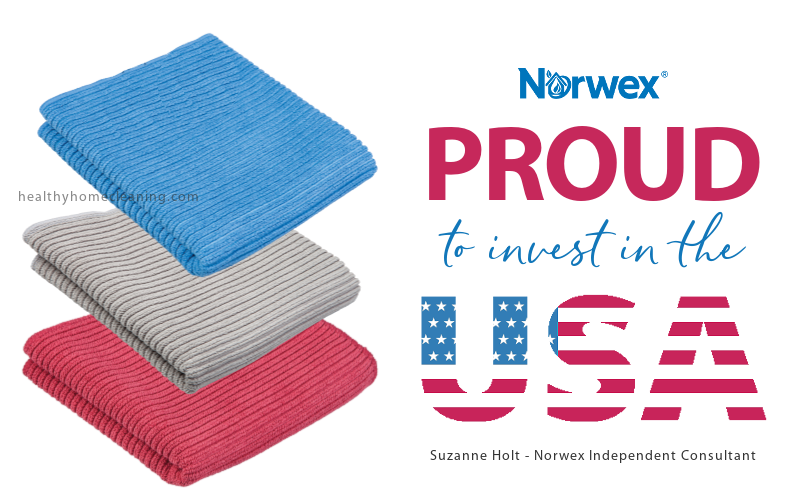 "Norwex invests in the USA with their products and consultants, but aren't they are a Norwegian company? Isn't it short for 'Norwegian experience?'"
"I thought Norwex was made in China?"
"Norwex ships to me so fast, it must be local!"
If you've thought ALL of these things, you are correct! I promise I'm not playing 3 truths and a lie! As Norwex has grown, all of these statements have become true, and I am so proud that they have become local as Norwex invests in the USA with their expansions in Dallas, Texas. While we celebrate Norwex's 26th birthday month, let me give you a brief recap of some of Norwex's milestones.
1994– Founder Bjørn Nicolaisen is introduced to the incredible microfiber cloth and the Norwegian business starts.
1999- Norwex makes its way to North America through Canada.
2007– Norwex introduces a new microfiber with microsilver, now known as BacLock® technology.
2009– Norwex opens its own production facility in China to ensure quality and meet the growing demand for Norwex Microfiber. I was so fortunate to be part of the Senior Leadership Trip to China to see the facilities and meet our team there. Check out the video below to learn more:
2011– Norwex continues to grow with the official opening of Norwex USA.
2013– The Norwex USA Distribution Center opens. It is a facility with a highly automated order processing system designed to ensure the best service possible for our US customers.
2018- The EMP Research and Manufacturing Institute is opened in the US to innovate, develop, and manufacture our own products to keep the mission moving in our country.
2020- I am so proud Norwex has reached its 26th birthday and has increased its investment in the USA! Check out the video below for even more information about what Norwex in doing in the USA:
I can't wait to see what Norwex will do next as their story continues in the United States, and hope to see more and more homes drastically reduce chemical, paper, and plastic use because of Norwex's impact!
If you're passionate about companies that invest in the USA or helping others live more eco-friendly, healthful lifestyles, I would love to help you become part of Norwex's story as we spread the mission. Check out my FAQ Norwex page to learn more about becoming a consultant and then sign up over HERE.