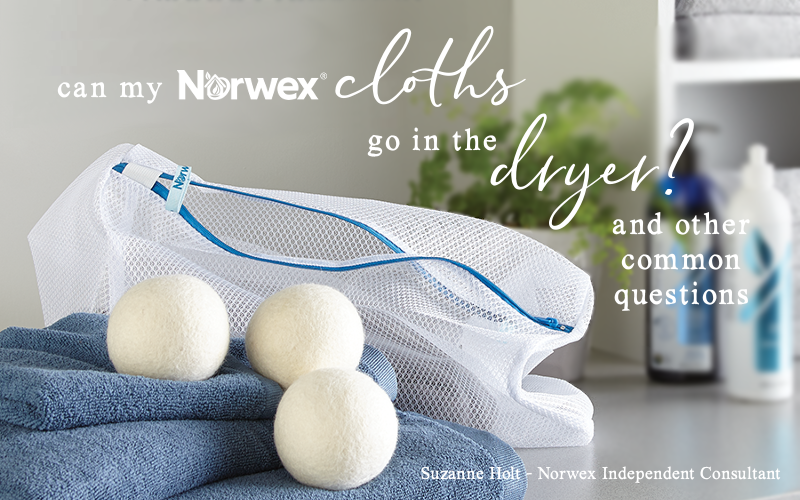 Questions I get asked frequently by new-to-Norwex customers include:
'Can Norwex cloths go in the dryer?'
'Should I be handwashing them?' 
'Should I use cold water to wash them?'
'I'm afraid I'm going to ruin them!' 
After purchasing Norwex microfiber cloths, people get a little bit scared that they're going to ruin their cloths. This leads them to only hand wash wash their cloths and hang them to dry. I'm not sure where the fear comes from, but these are TOUGH cloths! Not only do they have a two year warranty, but they're going to last a long time, and they're not easily 'ruined.'
There are a few simple rules to follow, and you most certainly don't need to baby them by only hand washing and hanging to dry! Norwex makes your life easier, so no need to complicate your life with special handwashing! Let's review what you can do, what you should do, and what is best to avoid, for the best microfiber experience!
Can Norwex cloths go in the washing machine?
Yes! Throw your Norwex cloths in the washing machine. These cloths pick up 99% of all bacteria from a surface, and they don't cross contaminate. Which means that they hold onto a LOT of dirt. You want your cloths to get a really good cleaning, and the washing machine is going to do that work for you!
Just remember that you don't have to launder them until they're heavily soiled. So if you did a quick clean up job, simply :
*rinse well under hot water (rubbing the cloth against itself as you do)
*squeeze out excess water
* hang to dry from its tag.
The BacLock in the cloth is going to work at preventing bacteria from multiplying as your cloth dries!
If your cloth is heavily soiled, because you used it for a really dirty job, or you've used it for a few days for multiple jobs, it's ready to get a really good cleaning in your washing machine.
Guidelines to follow when laundering:
Don't launder with fluffy, linty items, like fluffy towels or blankets. Throw it in with other Norwex microfiber, or add it to a load of bedsheets (WHY? Little lint balls will get stuck all over your microfiber. It'll still work, but will be both unslightly and impossible to remove each tiny little lint ball)
Hot water wash is BEST. Hot water is going to open up pockets of your microfiber and allow all the dirt it's holding onto to be released. If it doesn't get washed hot every time, that's fine. But wash in hot most of the time if possible, to get it cleanest!
Avoid bleach. Bleach will quickly break down the fibers of your cloth, so it's not recommended.
Do not launder with fabric softener. This will coat the microsilver BacLock, making it unable to self-purify your cloth! If you depend on a softener product, switch out to vinegar! Use it like you do your fabric softener, and you'll be ecstatic with the results. And no, your laundry will NOT smell like pickles when it's done! It will just smell FRESH.
Can my Norwex cloths go in the dryer?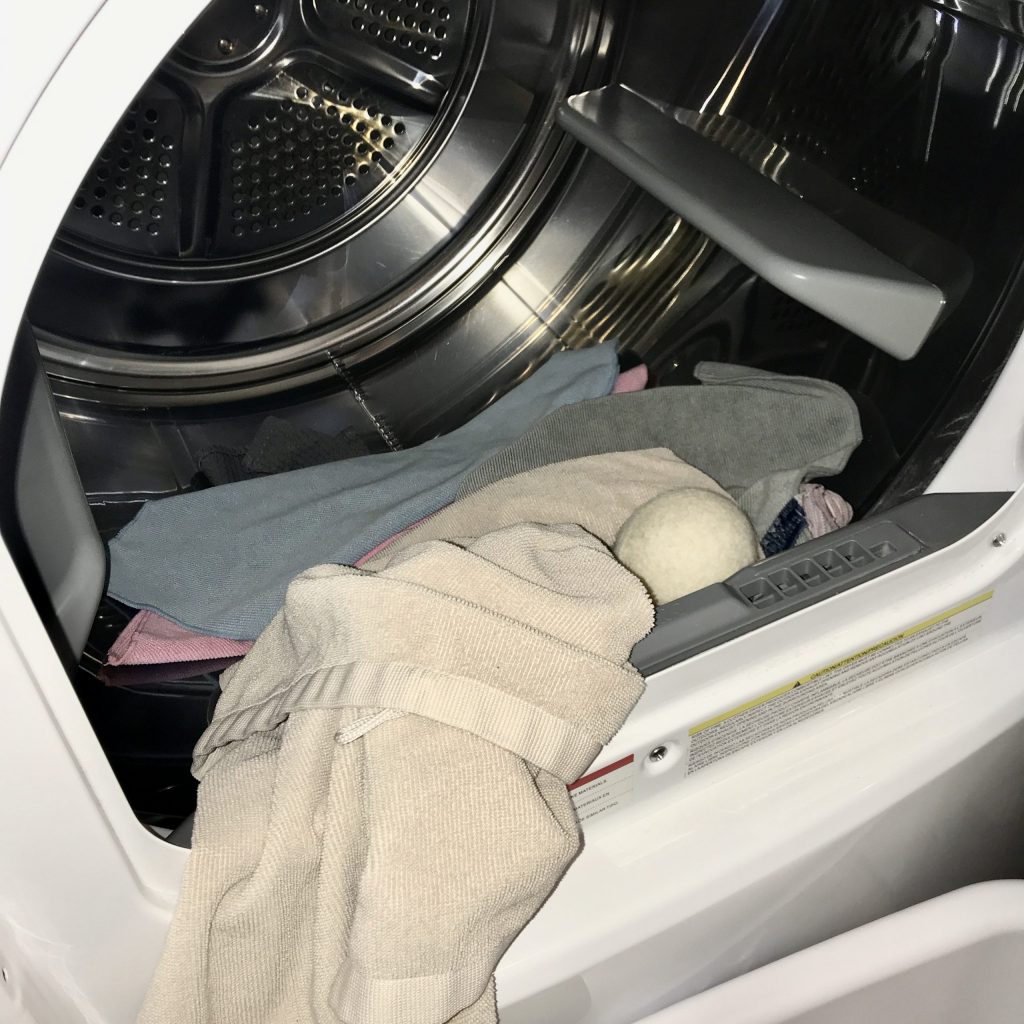 Yes! Heat is actually really good for the little pockets of your microfiber. Heat opens and expands the pockets in your cloths, so they have more room to hold more dirt. It will fluff your cloths back up, which also feel nice.
When throwing your Norwex cloths in the dryer, just make sure that you avoid putting a dryer sheet in with them. A dryer sheet is going to coat the fibers, covering up the little pockets that hold onto the dirt. This will cause your microfiber to not work as effectively. Follow the same rule in washing, and don't dry with fluffy, linty items.
But without dryer sheets, my loads are full of static!
The easy solution to this problem is to switch from dryer sheets to dryer balls. Dryer balls are going to create pockets between clothes, reducing friction (just avoid over drying your loads!). They'll also help your loads dry faster, saving you time and money!
My partner put a dryer sheet in with a load that had my Norwex cloths in it. Is it ruined?
Nope! Once in a while exposure to a dryer sheet is going to happen if you have dryer sheets in the house (perhaps it's time to get rid of them already?). I get this question from a LOT of my customers! The reality is, your cloths can handle the odd accidental exposure. Repeated exposure will definitely get the best of them though. So, if it happens, do a deep clean of your cloths. This will get rid of any coating left on your cloths, and at the same time, refresh them for you.
How to do a deep clean:
Put a scoop of Norwex Microfiber Cleaner Laundry Booster in a sink or large bowl of freshly boiled water
Stir it around to dissolve to booster
Add your cloth
Let soak until the water has cooled
Rinse well, then launder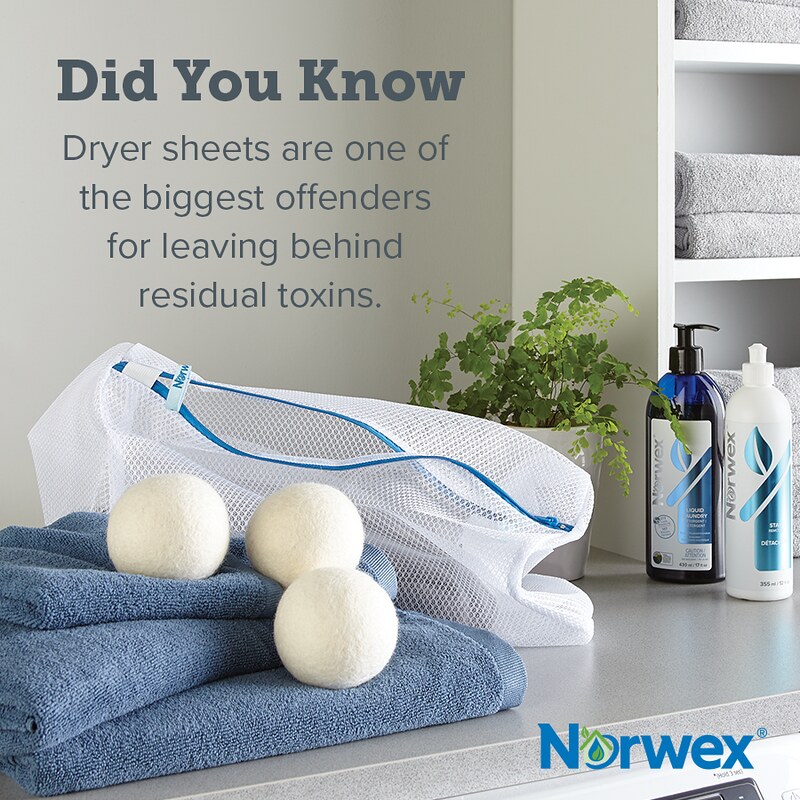 This method is also helpful to do a deeper clean of your Norwex to:
Remove deep stains from your cloths
Strip cloths of built up odors
This product is kind of like a deep clean at the dentist, except for cloths, not teeth. It's helpful to get that extra gunk off every few months 😉 You can also add a scoop of it to a load of laundry to just give cloths (or clothes, sheets, etc) for a little 'extra' clean!
So as you can see, laundering your cloths and throwing them in the dryer is recommended for your Norwex microfiber. You don't have to baby them, and you don't have to create extra work for yourself!
If you still have questions about caring for your Norwex cloths, please leave your question in the comments of this post, and I'm happy to share answers!
~Suzanne