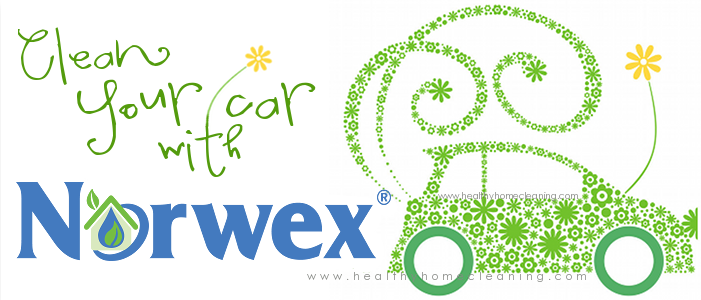 Winter here and is SO MESSY! It is also long. And cold. The end result is, if you live in lots of cold and snow, is a vehicle that hasn't been very well maintained!
But with Norwex, there's no need to dread the 'Big Spring Clean' of your car.
 Norwex makes it a QUICK process!
A previous post touches on "How-To" clean your car with Norwex products here. This post will highlight additional Norwex products that can get your car squeaky clean, while saving you time and the environment!
Spring Clean your Car with Norwex!
After dry dusting the hard interior surfaces of the car with the Enviro cloth, then wiping them down with a wet Enviro cloth, consider buffing your surfaces to a high-sheen using the Leather Shine, instead of Armour All. This is made with pure Bee and Carnauba Wax, therefore no man-made waxes or harmful chemicals, alcohol or lye! It smells WONDERFUL and natural. You can ALSO use it for any leather products – shoes, boots, purses, baseball mitts, couches, saddles – the list is endless, really. Another example of the versatility of Norwex! This product will also last you a very. long. time, since you don't need very much each time
*Note: This will make the interior of your car shine like you've never seen before. You're gonna love it!
Secret Tip!!! Keep a Mini Enviro cloth in your glove compartment to quickly wipe away dust while you wait in line at the drive-thru to KEEP your interior shiny and new looking! Time better spent than checking out Twitter ;o)
Clean the outside of your car using JUST water. This is crazy. While I love Norwex, and clean my house with just water, I was so doubtful and didn't believe that this would do ANYTHING. Now, I'm not a huge car washer. My Dad though – he loves it. I'm pretty sure that washing vehicles is his hobby! He owns a trailer and a big truck and brings both down south in the winter, so he needs to wash his vehicles year round. I knew he'd be the perfect person to test this out!
What amazed me is that he said, it worked! He used a bucket of water and the Car Wash Mitt to clean his trailer and his truck. As he went, he polished the vehicle dry with the Car Cloth. He said that he was impressed and liked that using no soap meant less spotting.
He did find that as he went though, the Car Cloth became very damp and didn't do the trick anymore. So, if you're going to wash large vehicles, like a trailer or a big truck, you'll want two Car Cloths.
If you're a car-washing junkie AND want to reduce the use of toxic chemicals or harsh soaps in the process, these two are for you!
Last but not least, you'll want to keep some Timeless Lip Balm in your car! I keep one in the dash for when I need a quick moisture pick-me-up before I head out. I love that I don't have to dig through my purse. I can never find anything in there (I guess I need to Spring clean my purse, too). The lip balm is also handy if you plan on making out in the car with your hubby.  Like at the drive-thru, after you've dusted your dash, and someone's ordered a crazy-complicated drink from Starbucks and the wait is just too long :o)