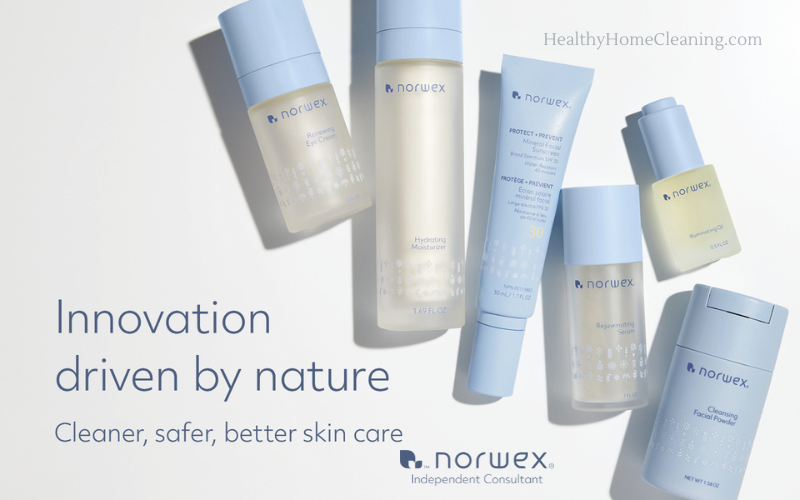 The New Norwex Skincare line is ready to shop, designed to address multiple dimensions of your skin's health without toxins and with budget-friendly, refillable packaging! Some of these products will look familiar to you, like the Illuminating Oil & Serum, but have received an updated packaging style. The Cleansing Facial Powder and Hydrating Moisturizer are new to the Norwex family of skincare. Let's walk through each of the new products that you'll find in the 2023 Fall Norwex Catalog!
In the Cleansing Facial Powder, the Nordic antioxidant blend nourishes and helps detoxify skin, removing free radicals and pollutants. The skin-loving prebiotics help balance and protect the skin's microbiome. You might be wondering "what is that?" You'll notice the dryness and irritation it brings if it is compromised, but when balanced this microscopic community of organisms act as a shield against external factors like pollution and harsh cleansers.
Cleansing Facial Powder contains a safe chemical exfoliant, gentle enough for daily use. Opuntia Ficus-Indica Flower Extract (prickly pear) boosts skin's natural exfoliation capacity and promotes cell renewal for an optimal barrier function. This product is packaged as a powder that activates into a foaming solution when you add water. It's not only a great solution for you, but for the environment! As a bio-based product, you are supporting renewable resources, and since it is waterless, you'll cut back on the energy needed to transport the product. Once done, the refillable sachet can be recycled while you reuse the main container. Once you need more, just order a refill!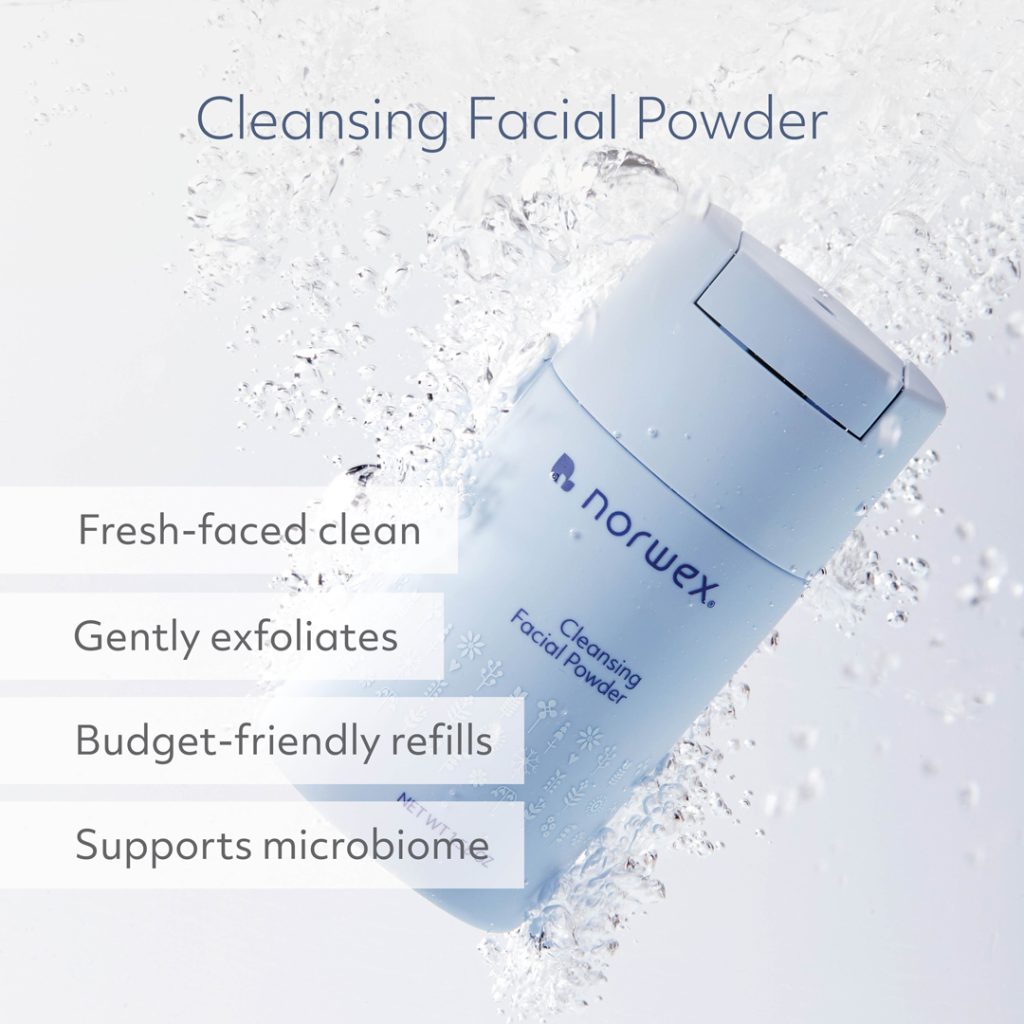 In your new skincare routine, the next step is treating areas that need attention. The Renewing Eye Cream targets the sensitive skin around your eyes. To soothe the appearance of tired, puffy eyes, Sodium hyaluronate (extracted from hyaluronic acid), and other Nordic antioxidants help lock in moisture, leaving the skin hydrated, plump and supple. The airless pump design prevents exposure to the air so the product inside is less prone to degrade, lasting longer. Plus, the airless pump ensures every last bit of product is removed from the bottle, thereby eliminating waste. Once you need more, just order a refill and pop into the main container!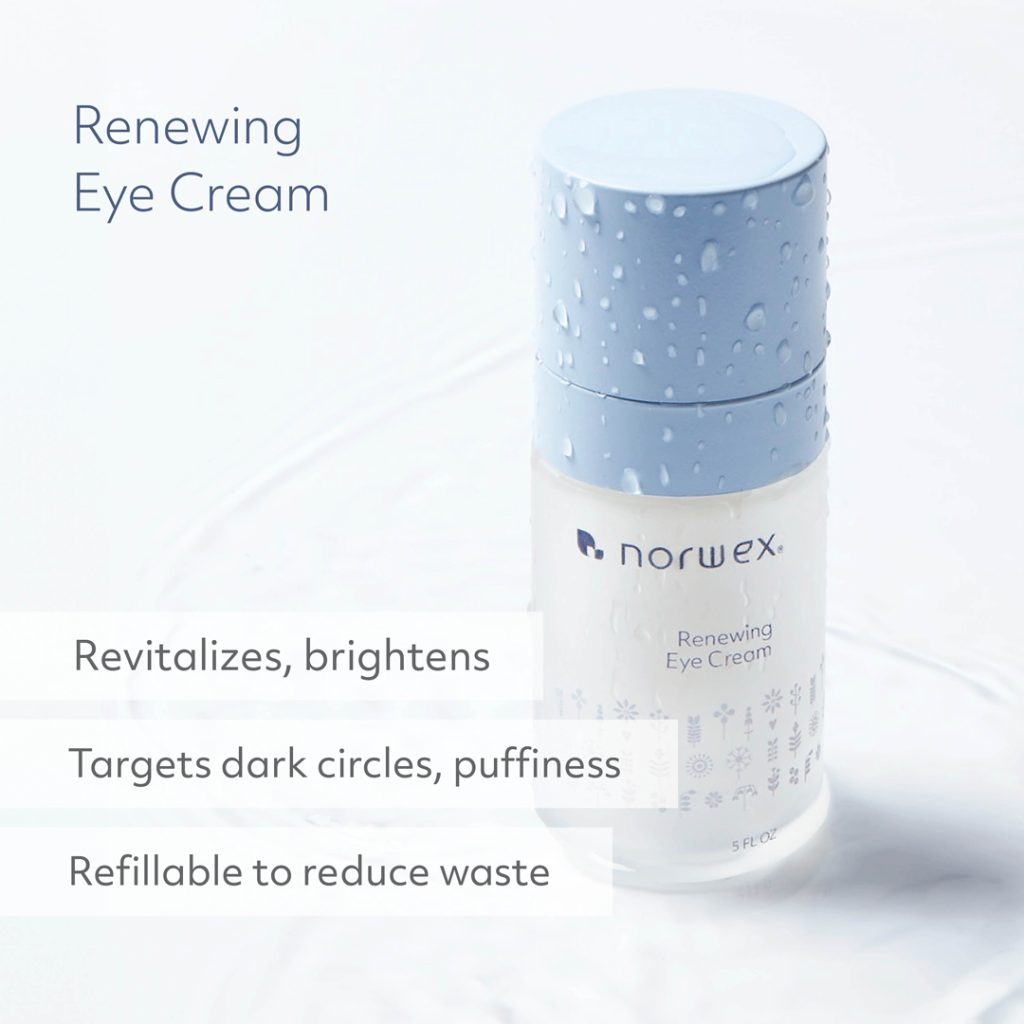 The other skin issue that you may want to treat is signs of aging to bring back firm, smooth skin. This Serum uses several sources to renew your complexion. The Nordic antioxidant blend nourishes and helps detoxify skin, and the glacial water provides pure & intense hydration. Alpha hydroxy acids (glycolic acid and lactic acid) help skin shed extra layers to reveal the new smooth skin, and 2 trademarked blends also bring the wrinkle and hydration relief. Again, this packaging is refillable so when you need more, just order a refill!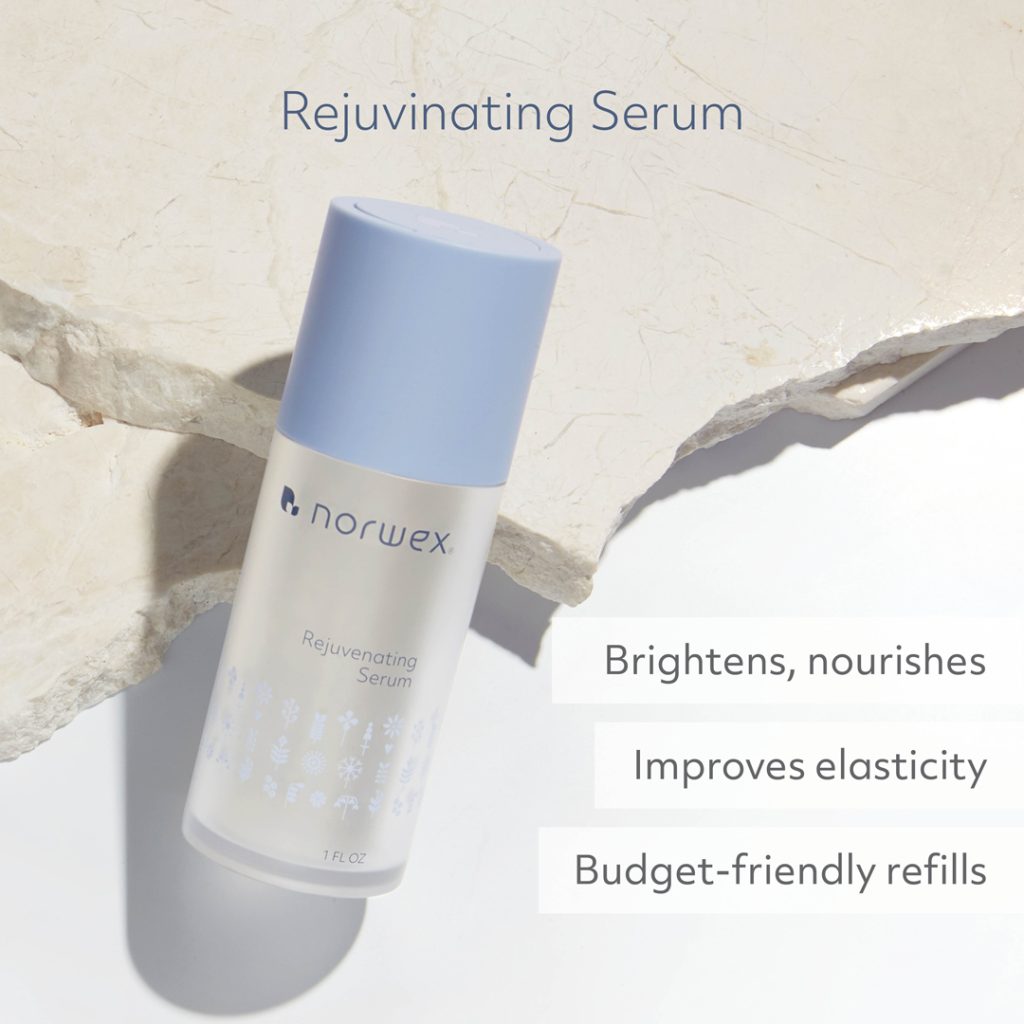 The next step of this updated skincare routine is to hydrate. Norwex now has 2 options- the Hydrating Moisturizer or the Illuminating Oil. Sodium hyaluronate (extracted from hyaluronic acid), Amino acids, Adenosine (often used in Korean skin care), and a cranberry seed oil work together to maintain balanced, hydrated skin. Once you need more, just order a refill for the refillable packaging!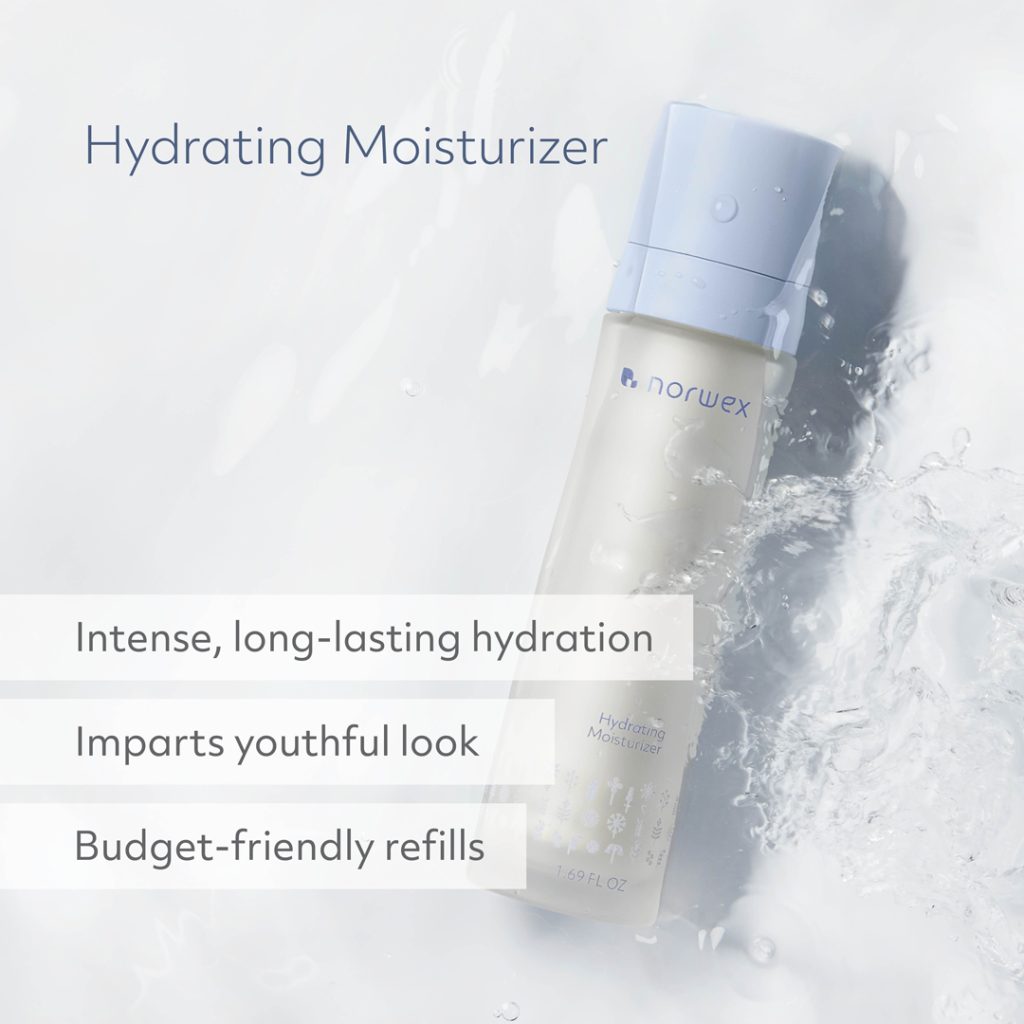 The Illuminating Oil is a step up in hydration, with 15 skin-healthy oils plus Nordic super-foods like bilberry, red algae, black oat and Arctic cloudberry, your skin will drink it in. With all the wear and tear our environment gives the skin, this blend gives back in so many ways!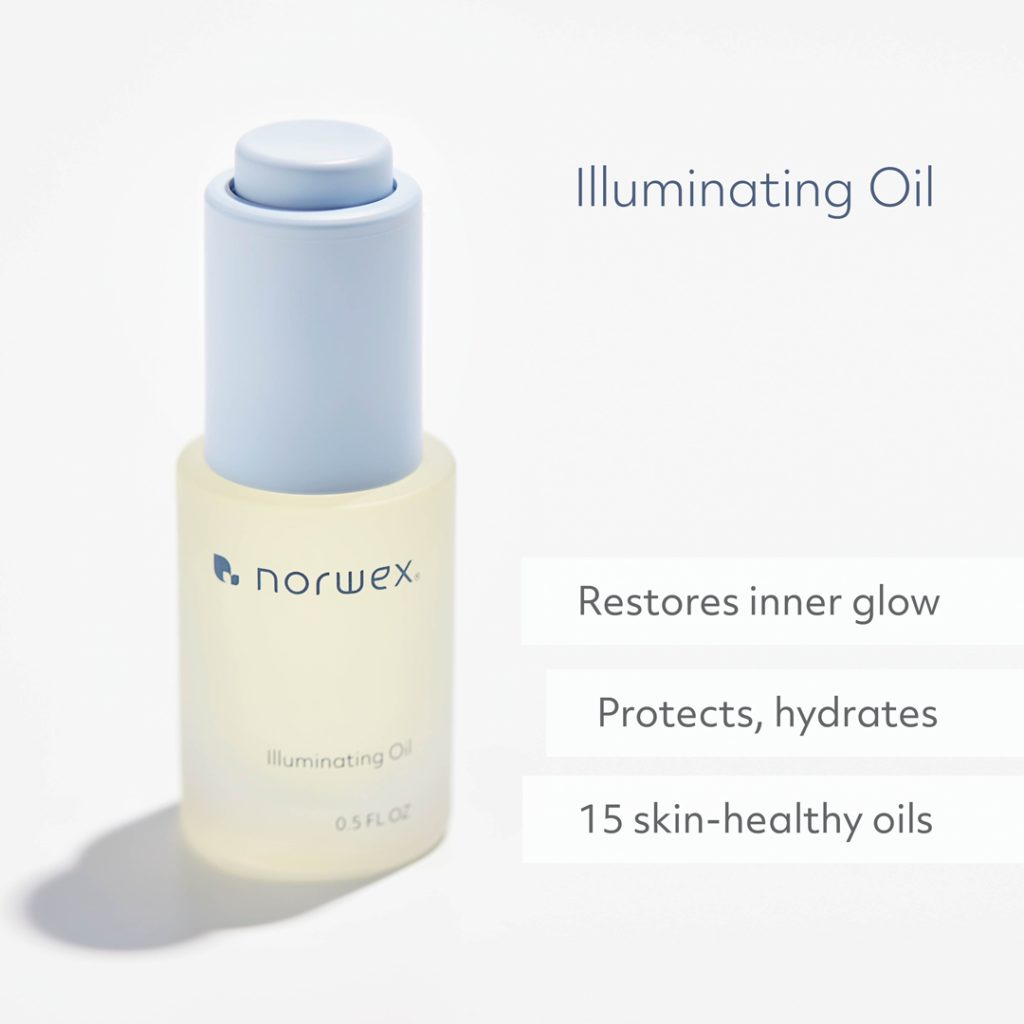 Once you've gone through the process of caring for your skin, now it's time to protect and prevent damage. The wrinkle- fighting formula is powered by non-nano zinc oxide and titanium dioxide, which sit on the skin's surface to detect damaging UVA/UVB rays, unlike chemical sunscreens that typically sink into skin and absorb UV rays. The Nordic antioxidant blend of organic cloudberry, elderberry, black currant and lingonberry protects skin from other environmental pollutants.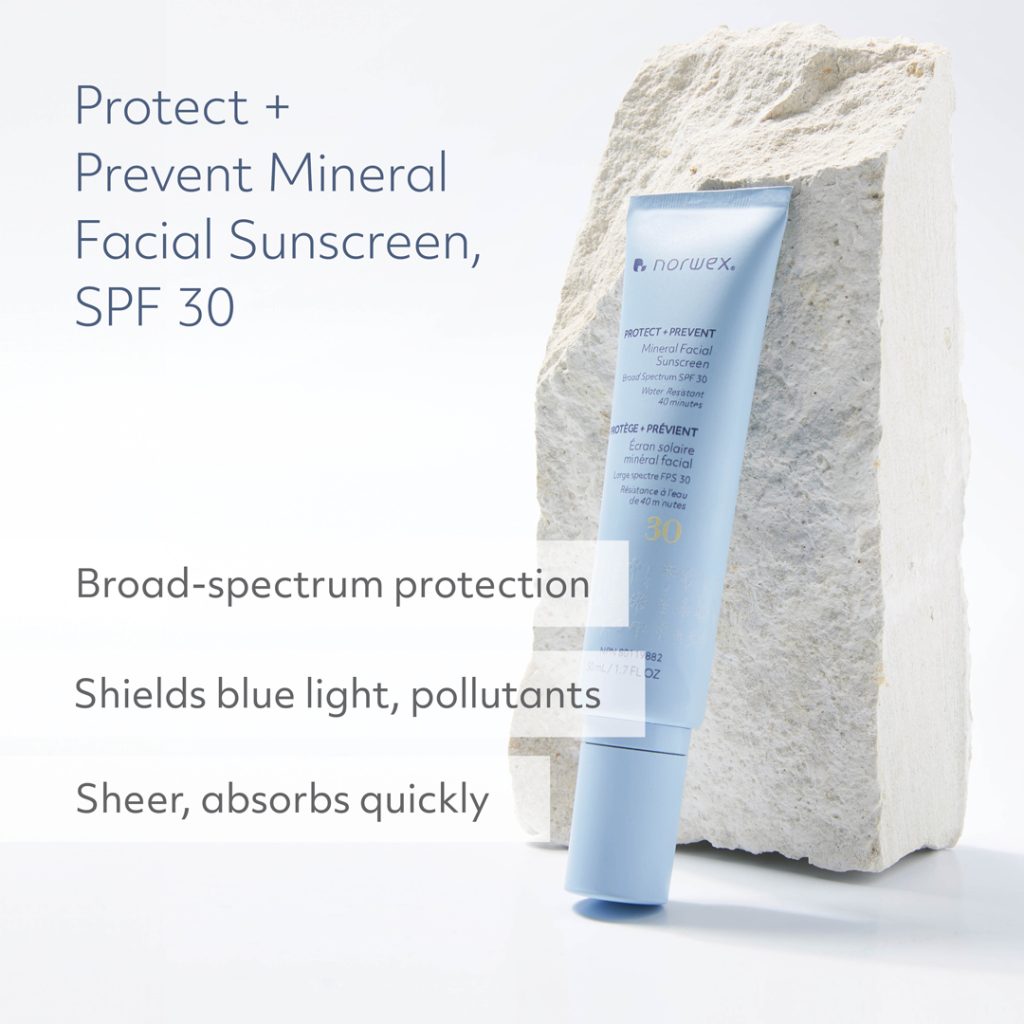 At the end of the day, you can clean off your skin with the Dual-Sided Makeup Removers! This pack of five dual-sided cloths are perfect for removing all kinds of makeup with water alone. The fluffy side takes away foundation, and the suede-like microfiber pulls off the gunky stuff like, mascara, eye liner, lipstick and more. Since they contain the BacLock feature, you'll be able to use them longer before washing as they keep away the microbes and odors.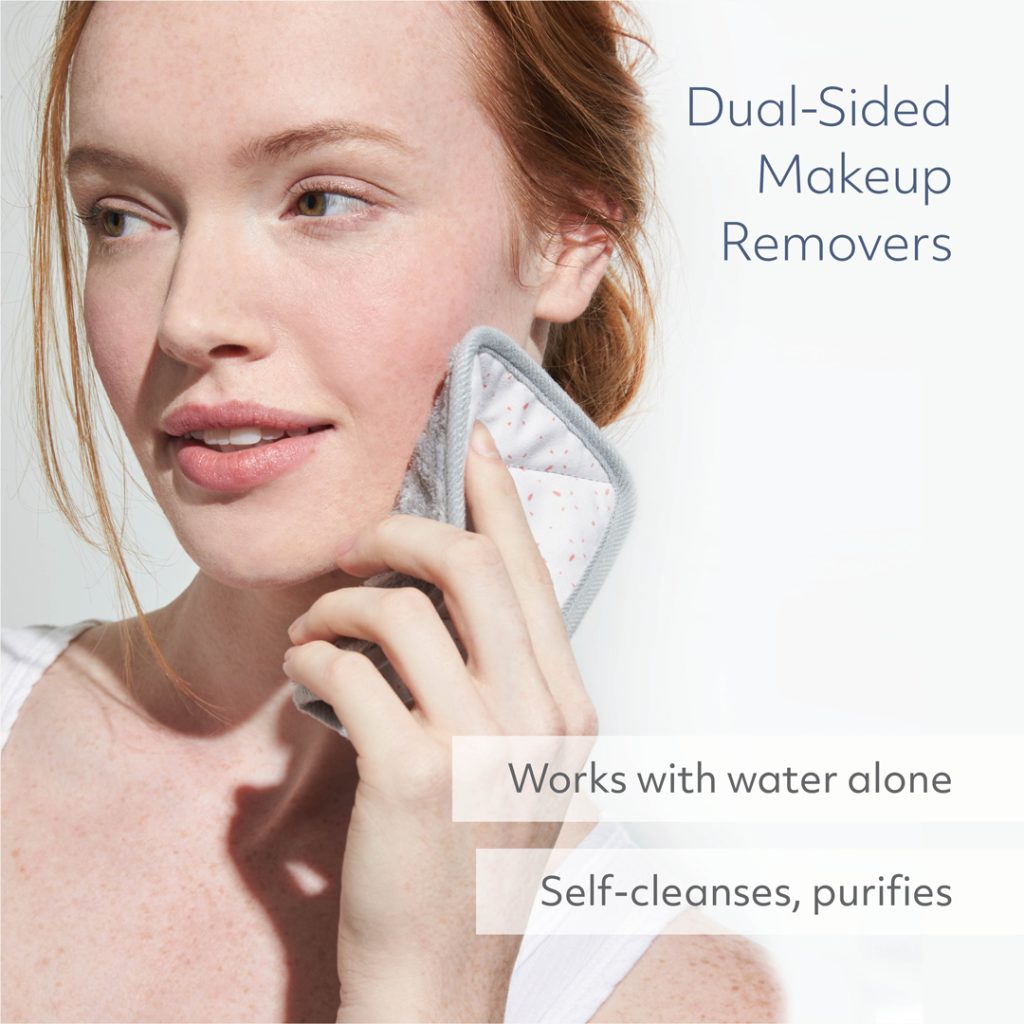 If you need a little reminder of the skin care regimen, check out this flyer!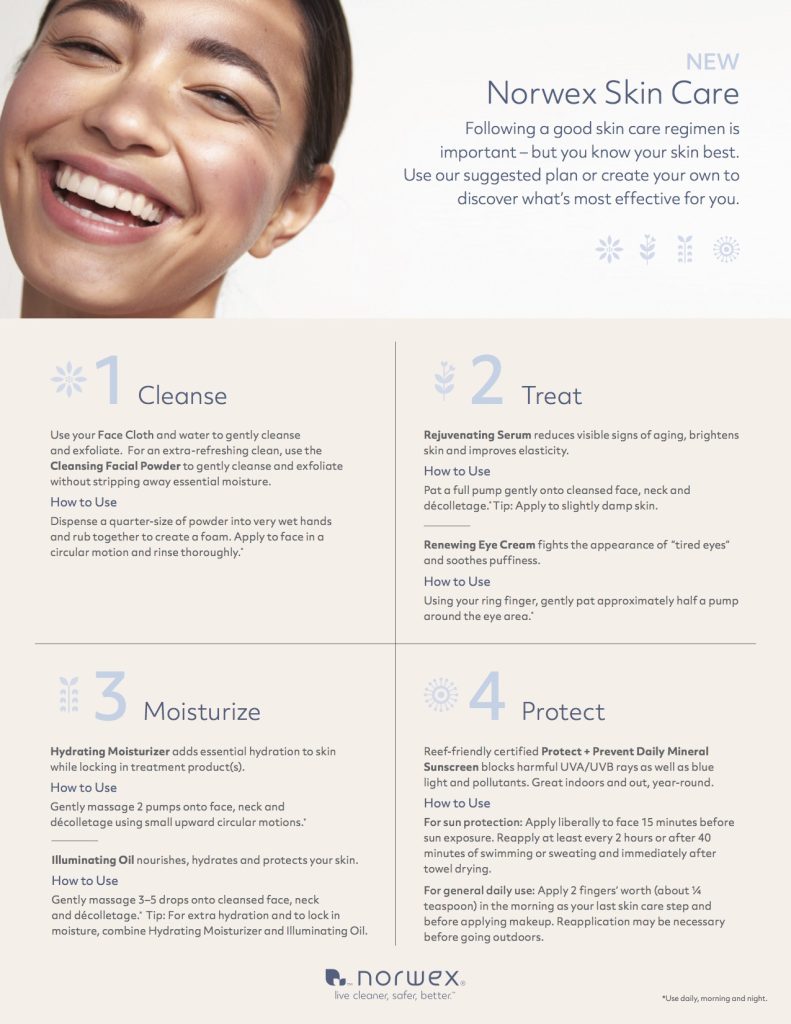 Which products are you most excited to try?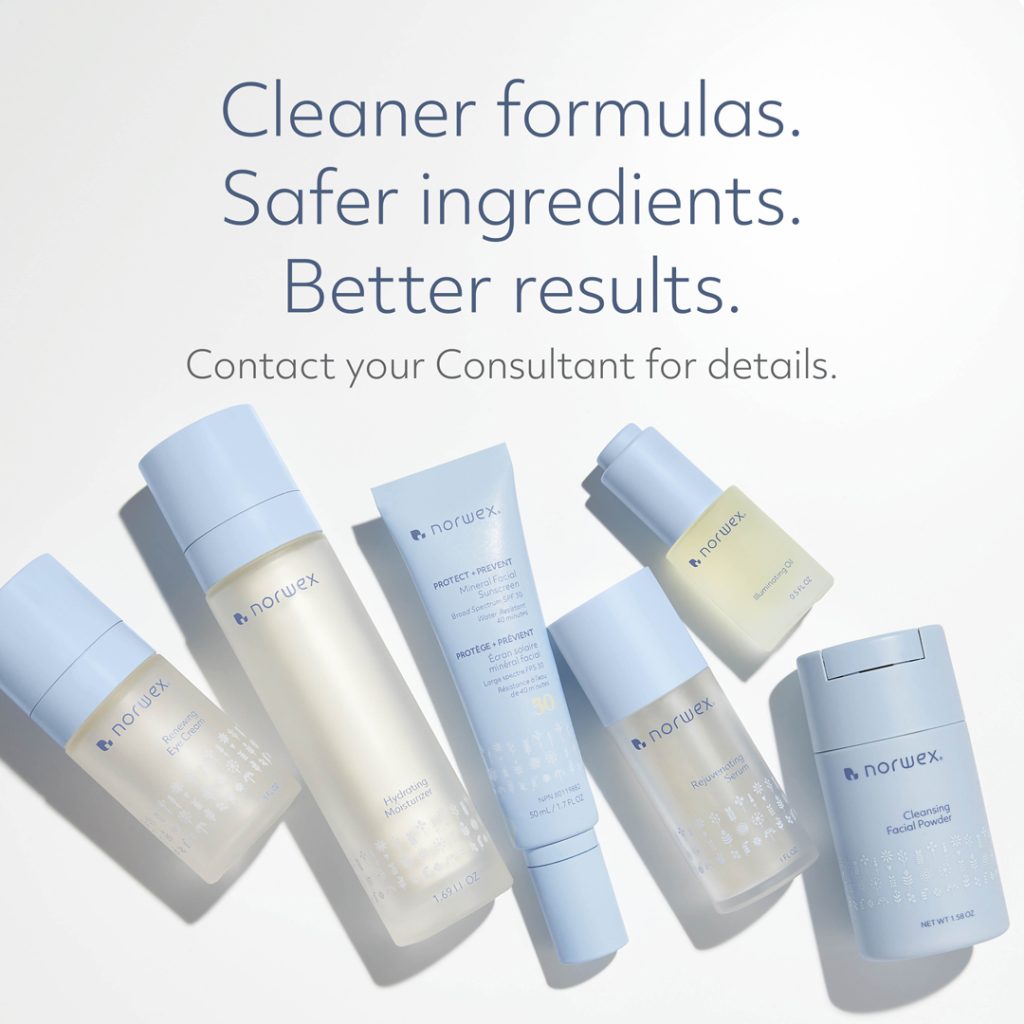 Check out the catalog link below to see the full new Fall Norwex collection. All of these new Norwex skincare products are now available to purchase! This post was just about the skincare products, but there was so much to share that I put it in a different post! Jump over to this post to learn all about it!
If you're loving all of the NEW Fall 2023 Norwex Products, consider hosting a party soon. Norwex hosts can earn free product and shopping spree dollars that can be used for these new products!