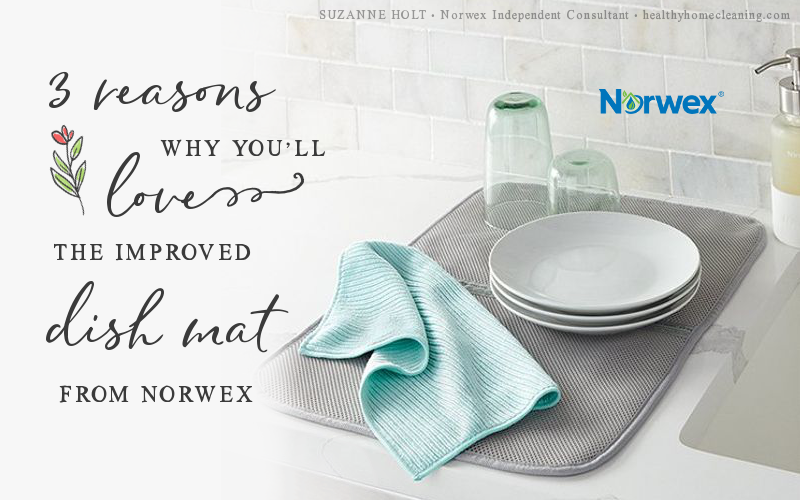 This Dish Mat from Norwex is an IMPROVED version of the original Dish Mat.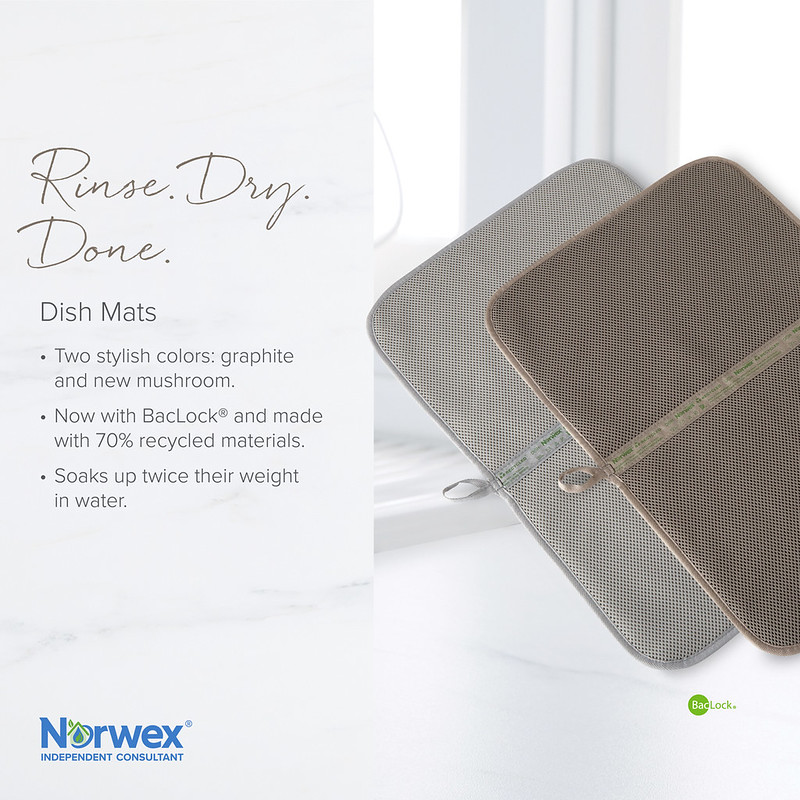 Here are the improvements that you're going to love:
It's now made with 70 % recycled materials.
Comes in two colors.
Now contains BacLock.
Recycled materials for a sustainable future
Norwex has gradually been working to create more and more of their products from recycled materials. Other products include the Counter Cloths, some colours of the EnviroCloth, and the Mop Pads, to name just a few! A common question I hear is, "Do the recycled materials make it feel different?" The answer to that question is NOPE! It's still soft, super absorbent microfiber that functions the same as if new material was used to create the microfiber strands.
BacLock means a cleaner dish mat
The Dish Mat now contains BacLock. This was a forever complaint against the 'original' mat, as it was prone to mildew. However, the BacLock now in this mat helps makes it mildew-resistent (perfect for something that's always wet)! It also offers protection against odors and microbes in the mat.
The same 'old' features you'll still love
There are other old features that stick with this improved mat that make it great for your kitchen.
Extra absorbent. It's able to absorb up to twice its own weight in water.
Mesh Layer. This allows for separation from the wet microfiber and foam, which allows for faster drying.
Loop for drying. When your dishes have been put away, hang it from the loop on a hook or cupboard handle. And, if you want to store it once dry, it will fold in half and fit in a drawer.
Two-year warranty.
Why Dog Owners will want TWO Dish Mats in their home
If you have a large dog that loses half the water in their dish every time they stop for a drink, add a second dish mat to your shopping cart. Then place it under your dogs water dish, and you're IN BUSINESS with this suber absorbent mat!
How to Shop
Want one or more of these mats in your kitchen? You can find them all in my shop.