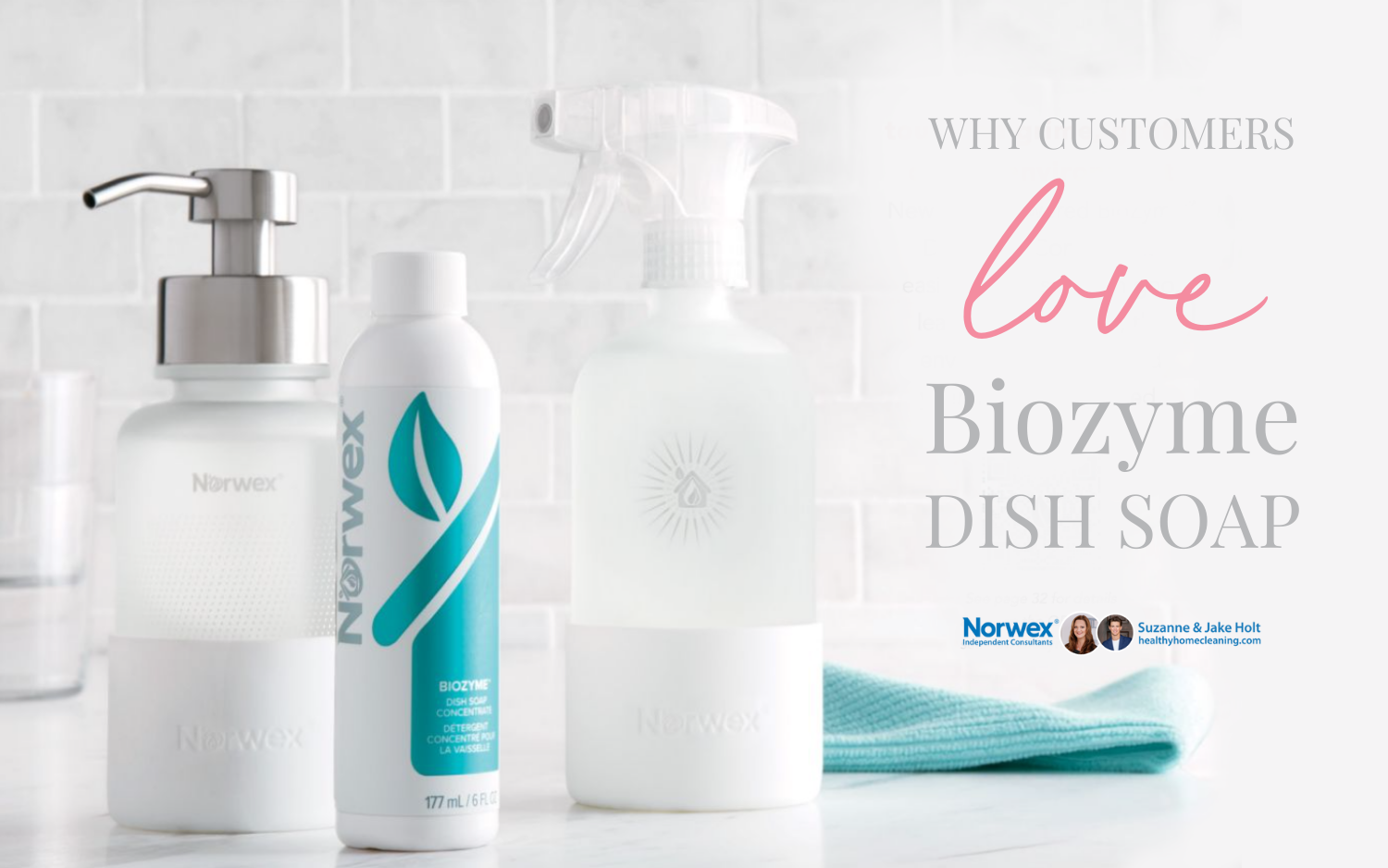 The BioZyme Dish Soap Concentrate is a USDA certified 100% bio-based, enzyme concentrate that is powerful enough in one pump of diluted solution to get dishes cleaned. The question is: does this enzyme based detergent actually work to clean dishes? I've been putting it to the test in my kitchen to find out, and I'm going to share the results with you!
How It Works
This concentrate comes in a 177ml bottle. Add two ounces of it to a pump or spray bottle, then slowly fill with water and swish around gently (this dilution works for a bottle sized 12-16 ounces). This works well with the Norwex Forever Glass Soap Pump or Forever Glass Spray Bottle. An amalayse enzyme cuts through stains, grease and baked-on foods naturally.
Since this is a concentrated product, you'll get three full 16oz bottles out of this one bottle. That means it will last you a long time (and the small bottle means less plastic waste!).
This solution is free from the following:
Phthalates• SLS/SLES• Synthetic dyes• Chlorine bleach• Ammonia• EDTA• Phosphates• Nitrates• 1,4-Dioxane
How to Use It
This dish soap is a little different. You don't add it to a sink of soapy water. Instead, you spray it on your dishes directly.
Shake before each use
Spray the diluted product onto a sponge or dishcloth OR, directly onto your dish
Wash with your cloth of choice then rinse your dish
Repeat this process on other dishes
So…Does it Work?
Yes! After using this concentrate for a few months, it has thoroughly cleaned any dirty dish I've tackled. It's even great on my extra-dirty Cast iron Pans. I've had no issue with dishes NOT being clean with the BioZyme Dish Soap.
Who Would Love This Concentrate
This dish soap is perfect for people who want to quickly wash one or just a few dishes at a time. If you're a family that washes as you go, you'll love the convenience of this type of soap.
Who Wouldn't Love this Product
This dish soap won't work for those that prefer to wash with a sink full of soapy water. If you typically let dishes pile up beside the sink, and like washing with a full sink of water, switching to this method will feel clunky.
I'm the type of person who feels the need for a sink of soapy water. The Biozyme Dish Soap Concentrate is a new way of doing dishes for me, and it's been a stretch for my head! However, I have a teammate who always gets family members to wash their dishes as soon as they're done using them (not stacking dishes and doing it all at once), and she's been loving this concentrate!
You can choose to add it this concentrate to a foaming hand pump or a spray bottle. I have tried both methods and personally prefer the spray pump (link to forever bottle). It's just easier to distribute the soap by spraying it, so I've switched to keeping a spray bottle of the diluted concentrate by the sink.
I still clean dishes with a sink of soapy water (using a different dish soap). But I have found that having a Spray Bottle of the BioZyme Soap by the sink is handy for those moments when I do want to do a quick wash of just a few things.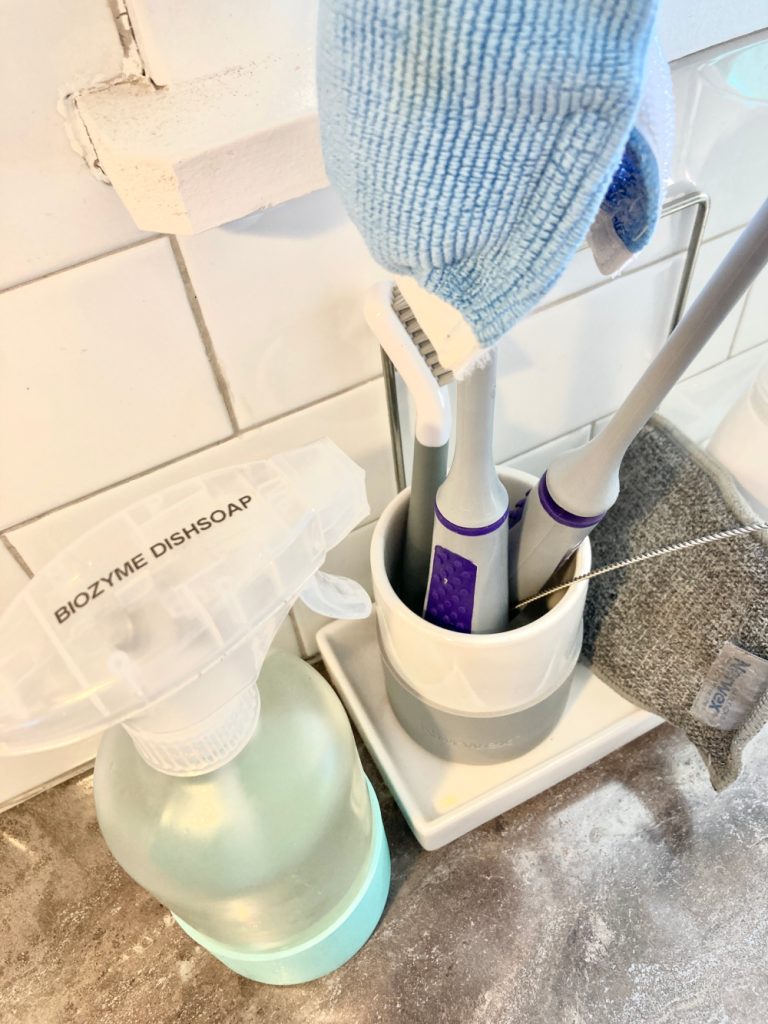 It Works Well With Other Norwex
If you're a big fan of Norwex products, you likely have some of their other cloths and sponges kicking around the house. I've tried this Dish Soap with a number of sponges, and I can testify that it works great with all Norwex cloths! My top two favorites to wash dishes with the BioZyme Dish Soap are
I just get them wet before I use them, spray the soap on the dishes, then wash away (rewetting for the next dish). Just give them a good rinse after you're done.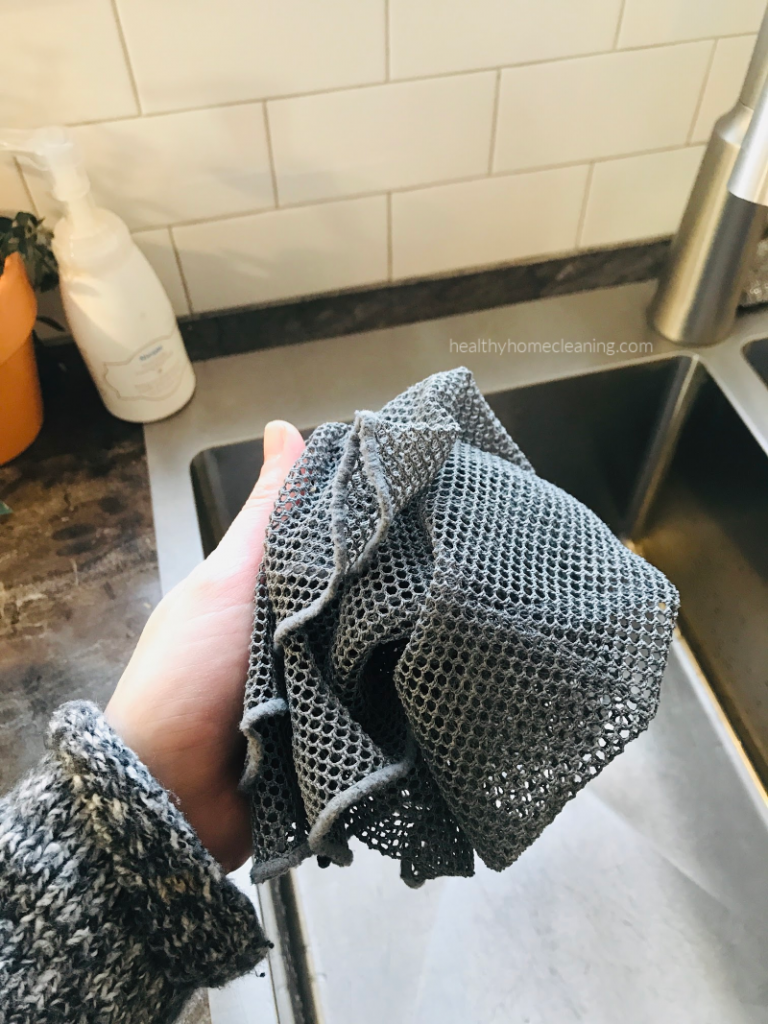 Sign Up for AutoShip and Never Run Out!
The BioZyme Dishsoap Concentrate is available in the Norwex AutoShip Program, so you can place your order and choose a recurring ship date for when you want it to automatically come to you again (so you never have to run out)! I love the convenience of this program, as well as the fact that you save 10% on all future shipments of your product(s).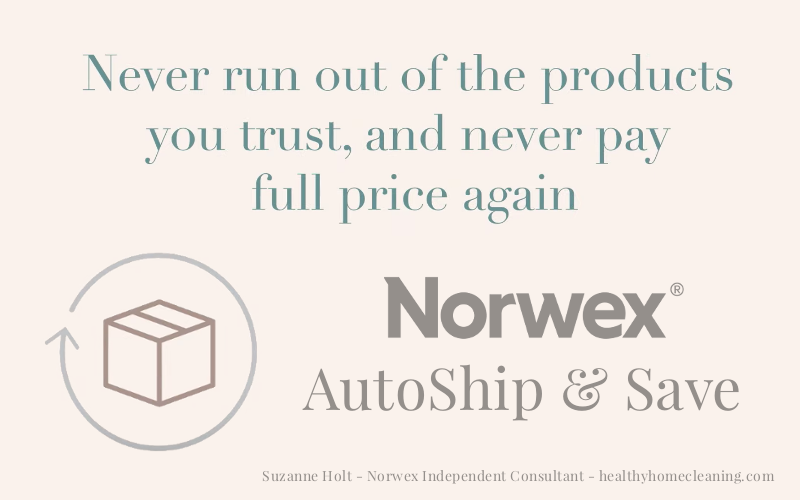 Bundle and Save
Another way to save on this product is to purchase your concentrate in a bundle the first time, choosing either a Foaming Soap Dispenser or a Spray Bottle to come with it.
My Review
Deciding on a star review for this review is challenging, as its function doesn't necessarily serve my home. Since I prefer a sink of soapy water for the method of washing dishes, I don't use this on a daily basis in my home, just every once in a while. However, when I DO use it, I'm happy with the results. If I base my reviews just on how well it performs when I do use it, it receives a 5 out of 5 stars from me! While I don't anticipate using this product on a daily basis in my home, I'm still going to keep a bottle around, for those days where I'd love the convenience of a quick wash!
If after reading this, you think you'd love the convenience of this product in your home, head to my shop to order some (and check out the autoship options!)
Order BioZyme DishSoap Concentrate for Your Kitchen