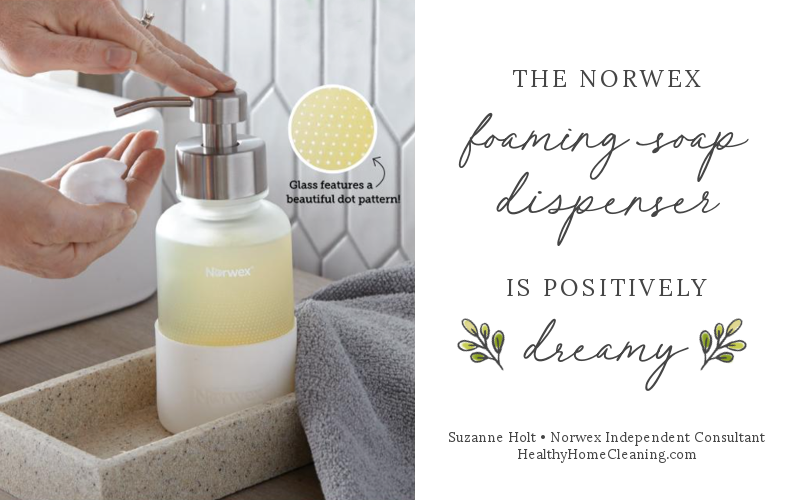 Soap dispensers are a thing that everyone who uses liquid or foaming soap have around the house. Usually, we just grab a plastic container when we've run out of soap, and toss or recycle the other empty container when we're done.
But what if you could instead keep refilling the same container? And not in an ordinary, plastic container. No. What if you could have a gorgeous GLASS soap dispenser to add a little extra beauty to your sinks? Let me introduce to you the Forever Foaming Soap Dispenser from Norwex.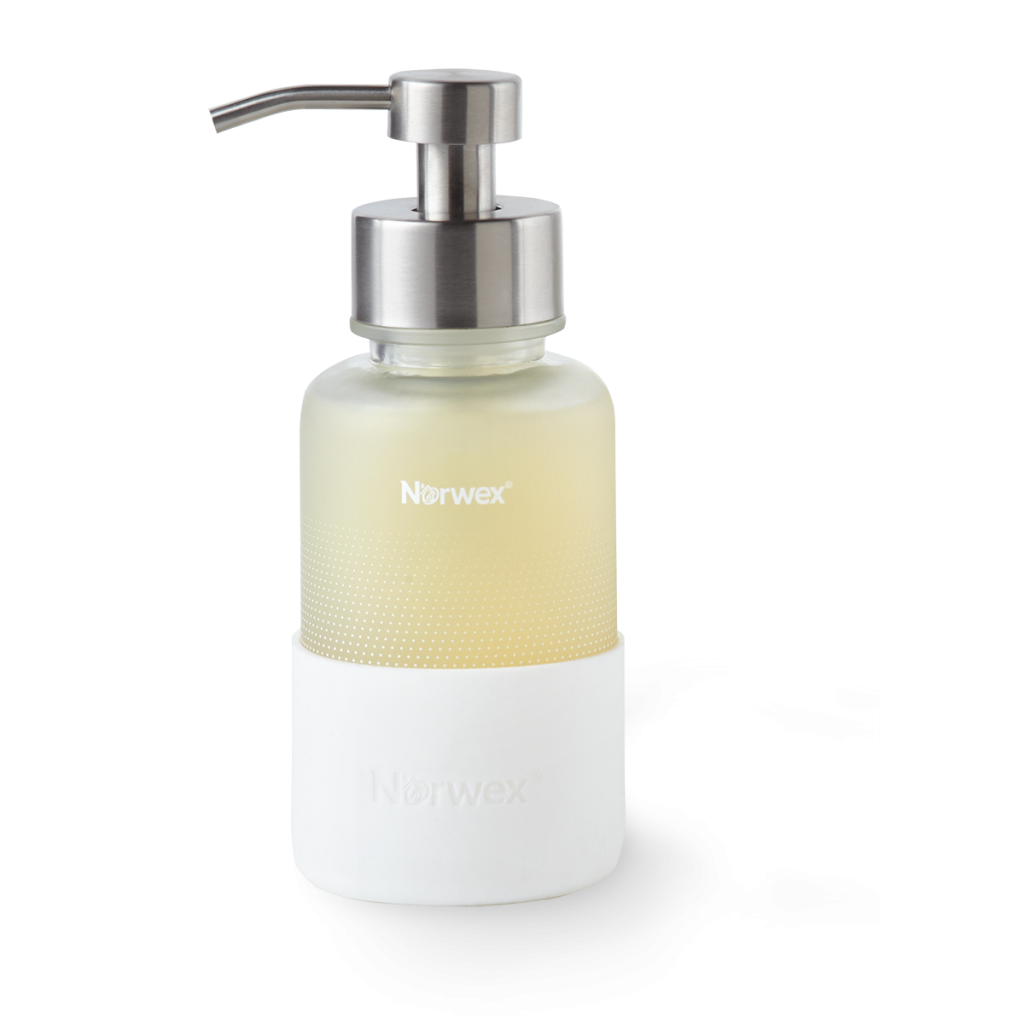 It's gorgeous and classy
Made of frosted glass (and it isn't heavy)
Brushed nickel dispenser (that shines up nicely with a Norwex Window Cloth)
Pump dispenser creates rich foam, helping to conserve hand wash and reduce waste
Silicone sleeve on bottom, that ensures it's non-slip
Holds 12 fl. ounces of liquid
Here's what I've been loving about this dispenser: it hasn't broken. LOL! How often do we grab a cute dispenser of some sort, only for it to stop working after a month? I've been using this since it was released in August, and it's still working great, with no issues! This product does have a 2-year warranty, so you KNOW it's quality!
Grab the Set and Save
You can also grab this glass foaming soap dispenser as a set. It comes with one Forever Foaming Soap Dispenser and a Refill Container of Foaming Soap (no dilution necessary). The refill container has 32 ounces of soap. You can choose between Peppermint Foaming Soap or Unscented Foaming Soap.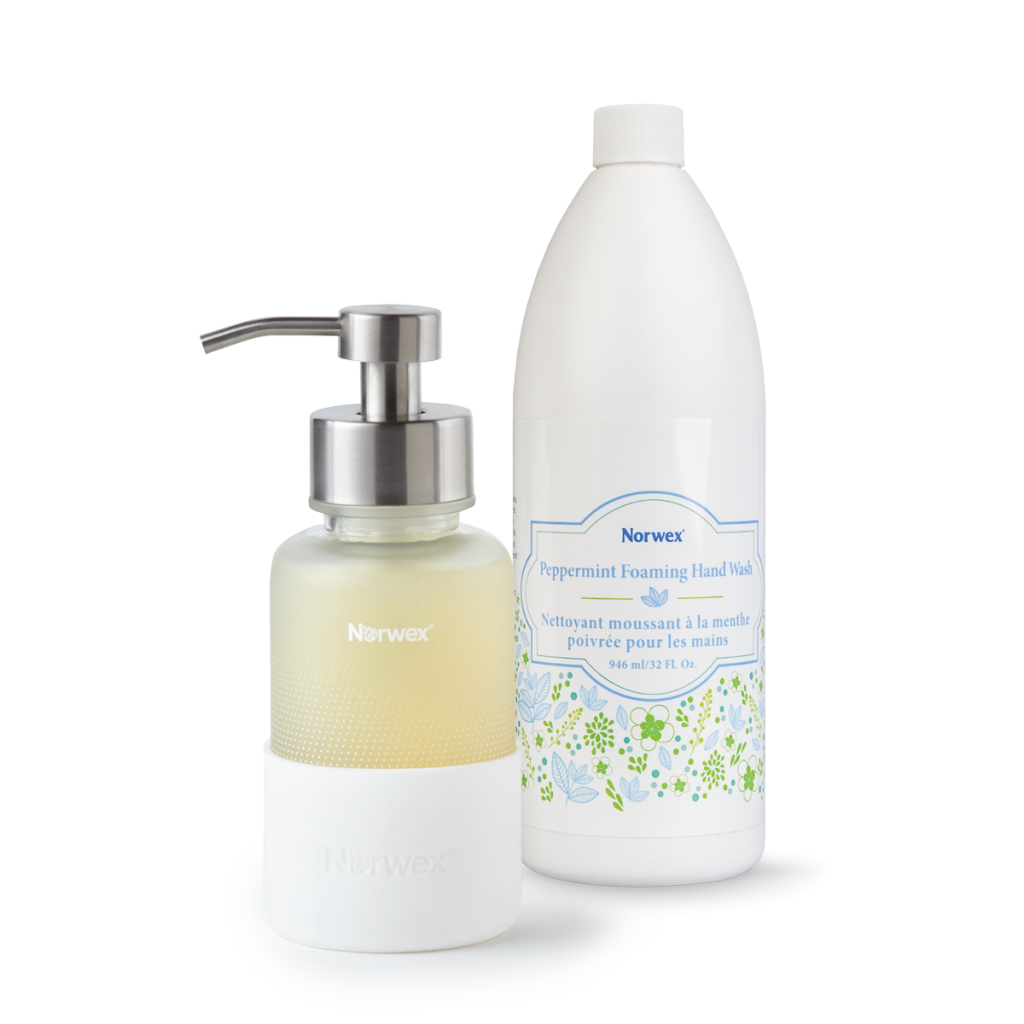 Why You'll Love the Norwex Foaming Hand Wash
Let's talk about the Peppermint Foaming Hand Soap. My family LOVES this scent. It's a bright, clean and refreshing scent. And it's made with REAL essential oils, so there's nothing artificial about the smell.
You'll love this soap because:
It hydrates, soothes and nourishes skin + thoroughly cleans.
Foam is non-drying to the skin.
Because it foams, a little goes a long way. There's less waste and the product lasts longer.
Features of the Unscented Soap
If you're sensitive to scent, this unscented soap is the perfect for you
If you're not a fan of peppermint, you can add your own scent to the unscented soap, using your own essential oils. Think of the possibilities, depending on the season, or your mood! You can add just a touch of scent, or a lot. It's totally up to you!
This glass dispenser is gorgeous enough that you'll want one for the bathroom sinks AND the kitchen sink.