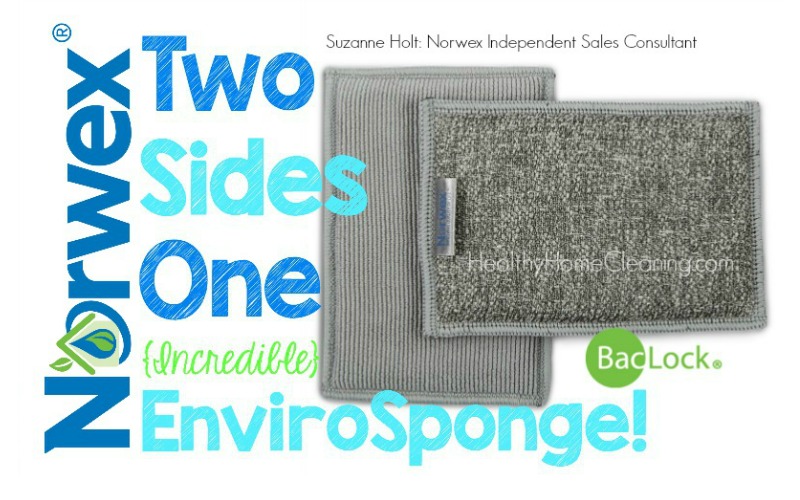 Did you know that the average kitchen sponge contains over 82 billion bacteria per cubic inch of space?
That is the same amount as…human poop (nytimes.com).
YUCK!!
The common advice until recently has been to microwave your sponge once a week to kill the bacteria, but scientists are now saying this makes the problem worse– "It may nuke the weak ones, but the strongest, smelliest and potentially pathogenic bacteria will survive." In fact, scientists are now suggesting "[w]hen people at home try to clean their sponges, they make it worse," (nytimes.com). The latest advice is to throw them away when they get stinky and use a new one.
In light of all this new research, I am SO excited that Norwex has released the brand-new EnviroSponge!
This is a sponge that cleans the kitchen surfaces and self-cleans afterwards!
It has two sides- one side is rough & scratchy and the other is Norwex's signature super dense & fine microfiber. You'll be able to pull up anything that has stuck or crusted to your counter and then wipe it clean right afterwards. Densely woven, superfine Norwex Microfiber physically removes up to 99% of bacteria from a surface using only water when following proper care and use instructions.
Once you've removed the debris from the counter, rinse the EnviroSponge off and let dry so it can self-purify by using the BacLock™ feature. BacLock™ describes how the microsilver embedded in the Norwex microfiber creates a harsh environment where bacteria cannot reproduce. Bacteria come to the end of their lifespan and die within the cloth. Practically, this means that your cloth won't stink with 82 billion bacteria per square inch! The Norwex EnviroSponge actually cleans itself of bacteria while regular sponges create an environment where even more bacteria breed.
Once the EnviroSponge starts to get stinky, throw it in the wash, and it will be ready for another round. In the meantime, you can use the other EnviroSponge from the two-pack. This pack is $19.99, which may seem like a lot for sponges, but they will really save you money in just a couple months because you won't be buying and throwing away regular sponges week after week! If you host a Norwex party this month, you could receive the EnviroSponge pack when you reach the $550 level. Are you ready to make the switch?
Save
Save