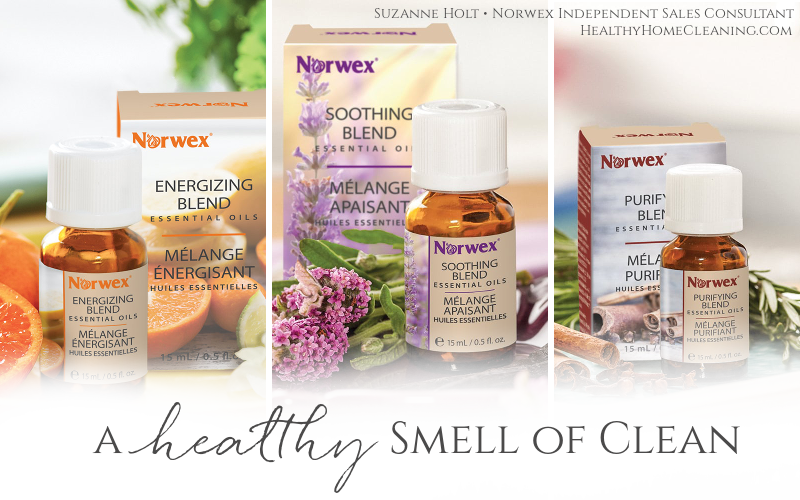 I love the ability Norwex has given me to toss the chemicals in my home, and still get a tough cleaning job done well.  We all love how easy it is to wipe a smeared window, or wipe down the bathroom in a jiffy, thanks to our Norwex cloths. But what happens for a lot of Norwex newbies, after they beginning using their EnviroCloth and Window cloth to do a lot of their cleaning, is that they'll tell me that they 'miss the smell of clean.' In fact, those who have never used Norwex, and are at their first party, will often bring up the issue of, "But it won't SMELL clean!"
I get it.  When I was young, and I wanted to ask my Mom for something that I thought she would likely lean towards saying 'no' to (usually a sleepover), I would clean the house after school. I did this because I knew that when she walked in the door, and was immediately hit with a waft of disinfectant (Fantastik and Spray Nine were the cleaners of choice in our household!), she would be in a GOOD MOOD. Yes, my mom KNEW the instant she walked in the house that the house was CLEAN, because of those smells. And I of course would sweetly ask her for my sleepover, and she'd say yes, because how could she not when she was drunk off the happy smell of clean?!?!
So, when you switch to cleaning with just water, or just dusting with a mitt that uses a static charge, you can no longer secretly manipulate the people around you to be in a good mood. Gah! What will our children use to manipulate us with now?!?!  Well, don't you worry. Today's children still have their chance to get a sleepover, even though we won't get any sleep, because there IS a natural way for children to manipulate without harsh disinfectants!
How To Bring Back the Smell of Clean
Since you don't use Window cleaner, furniture polish, or bottles of disinfectant anymore, you don't have a way for your 'nose to know' that things are clean. And yes, there is a very satisfying feeling to that smell. I think it's actually a good mental health smell. It's the smell of accomplishment; Of checked off items on your to-do lists. But: it's so gosh darn bad for you! Here's how to bring back the smell of clean naturally:
Essential oils!
Essential oils are extracted from nature, through careful steam distillation, resin tapping, and cold pressing. Pure essential oils are actually far more powerful than the botanicals from which they come. You can use essential oils for your physical wellness, beauty, inspiring your emotional state, and purifying your home.
Think about what smells you associate with 'clean.' Sometimes it's lemon. Orange. Pine? You can get your hands on all of those essential oils! Maybe something like eucalyptus, cinnamon or tea tree would be more reminiscent of your parents' favourite spray cleaner, like me!
I love that Norwex now offers Essential Oil Blends to help with this very thing! Essential oils and Norwex are a great match, because they're both natural, safe and effective. And you can definitely use the two of them together!
Norwex has three different essential oil blends to choose from. No need to purchase separate oils, and make your own blends or cleaners yourself! Once again, Norwex makes things easy!
Soothing Blend – A blend of Lavender, Vanilla, Chamomile and Sandalwood. Essentially: serenity in a bottle!
Energizing Blend – A blend of Orange, Lime, Mint and Rose. Essentially: sunny day in a bottle!
Purifying Blend –  A blend of Cinnamon, Cloves, Orange, Eucalyptus and Rosemary. Essentially: Fall in a bottle!
How To Use Essential Oils for Cleaning
There are three different ways to use essential oils with your cleaning, and bring back the smell of clean. You can use them on their own, or in combination with each other.
Diffuse Them
Add a few drops of your favourite oil to a diffuser, and diffuse into the air and add a fragrance that hits you with the clean-feels.
Spray Them
You can add a few drops of your favourite blend to a spray bottle of water. Simply spray the surface you're cleaning, and wipe down with an EnviroCloth. The oil won't harm your EnviroCloth! (test on inconspicuous area the first time you spray a new surface). Norwex has an aluminum spray bottle for this very thing!
Leave Them
Leave a Fragrance disc hanging in the room. Add a few drops of your blend of choice to this disc every day, or every few days. This will linger in the room and leave just enough of a light aroma and just make you happy!
So, make sure you show your kids how to use essential oils, so that they're motivated to manipulate you and clean.
(Yes, if my kids or husband wants to manipulate me with cleaning, I say to them, GO FOR IT!!!!!!!!!)
Enjoy the smell of clean!
~Suzanne