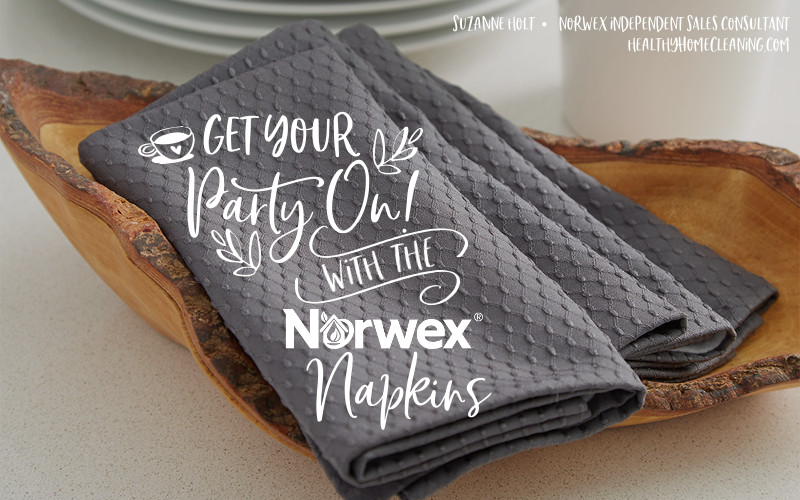 Who here loves to throw a good get together with friends or family, with all the fixins'? Do you love planning a delicious meal, getting out your nice plates, setting up centerpieces, and laying out fancy napkins and tablecloths? If you love a good party or fancy meal, then you would love the new Norwex Napkins!
These napkins come in a pack of four. The BEST part is their graphite colour. Not only is this a trendy colour, but you can accent absolutely everything with it (I daresay, even fluorescent pink)! And released in January; the new Peacock colour! This colour really brings a pop to the table. And if you're having a BIG party, you can use one of each colour, alternating colours between place settings, for a fun set-up!
These napkins are made out of microfiber, and are thin and smooth to the touch. They have a satiny feel. They also have a textured finish.
This finish adds a touch of elegance, and contributes to their durability.
Here's what they look like size wise, compared to our EnviroCloth (The napkin is on the bottom, fully underneath the EnviroCloth):
They are 17″ x 12.5″
Durable
I love that these are a fancy napkin that also wash well! I've thrown mine in the wash many times now, since they've been on my table, and they still look brand new. I make sure that I wash them with my other Norwex cloths (nothing fluffy like a blanket). They don't come out faded or picked at all. Which means – these don't have to be reserved just for special occassions and fancy parties, but are also perfect for everyday use! 
Absorbent
While these napkins are thin and smooth, they are actually absorbent. That surprised me, as I always associate fluffy with absorbent cloth. One of the kids knocked over a full, tall glass of water at the table one day. I used one napkin to absorb most of the spill. I needed another to get the rest (it was only partly damp). I loved that the first one, which was fully soaked, actually held onto the water (read: it wasn't dripping everywhere). 
BacLock
These napkins also contain our unique BacLock! This micro silver antibacterial agent goes to work to self-purify and inhibit odors from bacteria, mold and mildew growth within the cloth within 24 hours, so that it is ready to use again. Which means: if it's not heavily soiled, you don't necessarily have to launder it after every use! Which leads me to my next point:
Quick Drying
Since these are made of microfiber, they are quick drying. So, you can do a quick hand wash if they're not heavily soiled, with a little dish soap and water.  Hang up, and they'll be ready to use at tomorrows' dinner table!
Environmentally Friendly
This is the coolest feature of these napkins. They are actually made from 50% recycled materials! Each set is made from the equivalent of five recycled plastic bottles. Amazing!!! Not only that, but switching from paper napkins or paper towels at your meal will help cut back on paper use in your home (your chance to be a green superhero!) Did you know that a family of 4 uses more than 3000 paper napkins a year? (That's if each person uses 2/day). And yeah, that means you save money, too!
In Summary
These are elegant, yet durable napkins. They especially appeal to the partiers amongst us, as well as those looking to reduce the amount of paper products consumed in their home. And I must say that these make an excellent gift for that person who's always inviting you over to one of their fabulous dinner parties!
You can get yourself a set of 4 Norwex Napkins over at my shop, and get the party started!