Have you noticed this big new movement that's been sweeping across the nation, over plastic straws? This topic keeps popping up in my news feed, on my YouTube channel, and on the news. There's one particular video of a Sea Turtle with a straw stuck in its nose that you may have seen. There are many reasons why plastic straws are something people are talking about. And people are talking about trying to either radically reduce how much we're using them in North America, or try to get rid of them in their own lives all together.
What's the Big Deal Over Plastic Straws Anyway?
500 million straws are used in the US everyday. EVERY.DAY. That's a LOT of plastic everyday. And that's just one country. Wow! And plastic straws are the fifth most commonly found litter during the annual International Coastal Cleanup. Why does that matter? Straws are harmful to marine life because of their durability, buoyancy and ability to accumulate and concentrate toxins.
One person won't make a difference.
Some of you might think that one person reducing their plastic straw use isn't going to make much of a difference (so, what's the point. Right?) OF COURSE one person can make a difference! One is always all it takes for change to begin!
You can be the ONE who introduces this new concept to your friends. YOU can be the one to say 'no thanks' next time you're at a restaurant. That one 'no' can make your waiter think twice about handing out straws by default. Your ONE 'no' can be the one less straw in the landfill.
BUT I LIKE STRAWS!!!!
And it's okay that you like straws. I like them too!
I don't like cold ice touching my sensitive teeth, and straws keep the ice away from my teeth. Maybe you like to preserve your cute lipstick colour during your meal, and straws keep your colourful lips safe. Some of you want to slowly enjoy your drink, through small sips.
Maybe you find straws more sanitary when you're in public, because you don't trust the cleanliness of the glass you've been given.
These are all legitimate reasons to not want to give up straws. And I'm not saying that you have to give them up! There's a simple solution for this: reusable straws!
Just like reusable shopping bags have become a part of the everyday norm, and people carry them on their person, or keep them in the trunk of their car, YOU TOO can bring straws with you!
Yes, it may seem weird at first. Yes, your friends may give you strange looks. But people used to think that reusable bags were only for hippies when people first started using them! You're gasping right now, saying, 'no they didn't!' But if you think back hard enough, you'll remember that we all that it was weird and inconvenient, and wondered why anyone would 'go to all that work.'
So Many Options!
The beauty of this movement is that there are different reusable straw options available to you.  There's compact, foldable straws out there, for 'on the go'.There's sturdy, resusable, safe plastic available. There's also stainless steel straws out there for you!
Norwex offers a 4 pack of stainless steel straws that already have a bend in them. These are great at home (my kids use them all the time). They are especially nice for really cold drink, as the stainless steel will get super cold in an icy drink, and when you drink from it, it's nice and cold.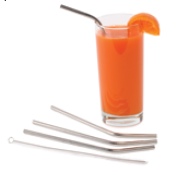 Large enough for smoothies and shakes
Dishwasher safe (!!!!!)
Separate straw cleaning brush available to make your life a heck-of-a-lot easier
Your kids will want to drink more water with these
What about when you're eating out?
You can carry these straws with you! Be the weirdo! (By 2019, you'll be the un-cool one if you don't carry a straw with you ?).  Keep them in a baggie in your glove compartment or purse. (Just embrace the fact that you're a world changer, k?) You can use a cute pencil case for this, or use a reusable wet bag.
Norwex has a reusable wet wipes bag with a water proof liner inside. This is also a perfect case for your straws. You can keep the clean ones in the dry front pocket, and any used ones in the lined 'wet' pocket! Throw a travel sized EnviroCloth in there for a quick wipe off of the straw, or the surface you're eating at!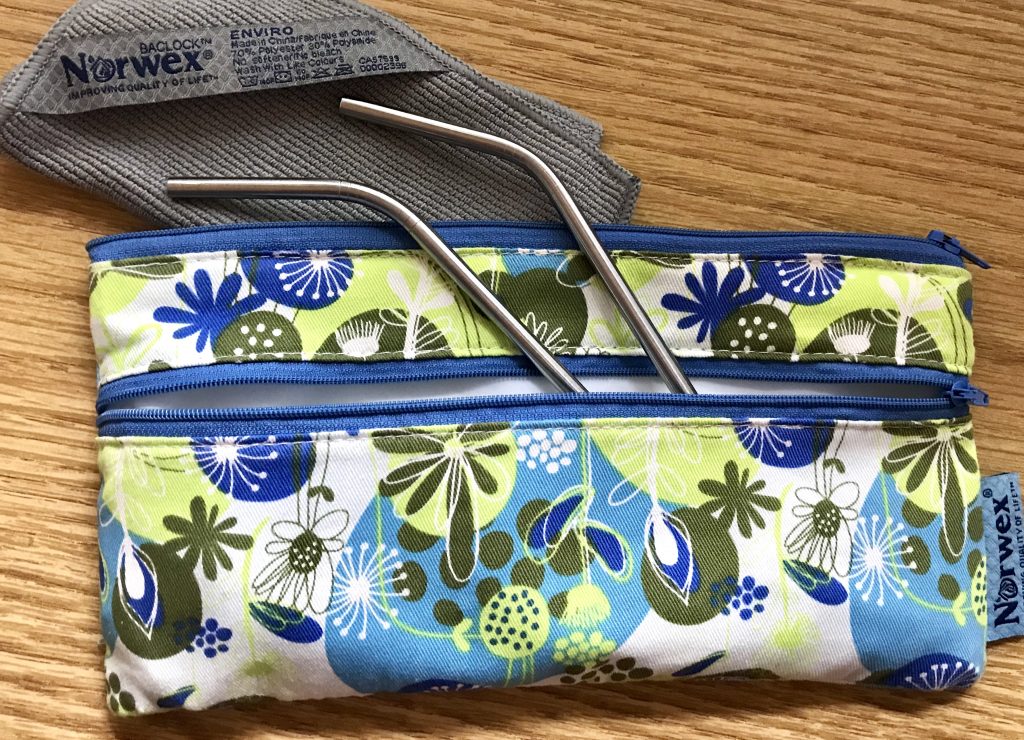 You can get a set of your own Stainless Steel Straws at my shop, and a Reusable Bag to go with them, too! 
Happy sipping!
~Suzanne