I've previously blogged about using the Norwex Laundry Detergent to clean your stainless steel appliances and get them shiny again. While it's an effective cleaning method, it can be little labour intensive. And annoying, because that effort has to be repeated often.  Stainless Steel appliances are always a bit of a 'thing' because they get dirty so quickly, and are so hard to clean! I love when they're shiny, and love to get them clean with the least amount of work AND no toxins.
Let me introduce you to an even simpler, faster cleaning solution for your appliances, with a NEW product released in 2019: the Norwex Stainless Steel Cloth. I'll show you how it works, how to care for it, and all the reasons why I am loving this cloth so much for my stainless steel appliances!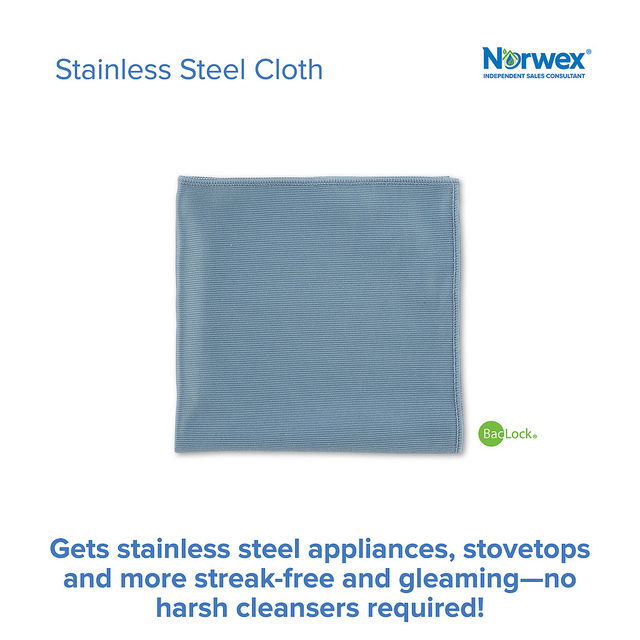 The Details:
This cloth is made with an exclusive weave of Norwex microfiber and is two sided. One side has a zig zag weave. This side is used to remove grease, dirt, and prints. The other side is a soft, suede like material. This is perfect for polishing, and helps leave a streak free shine on the surface.
How to Use the Stainless Steel Cloth
Get wet. Make it slightly damp.
Fold it in fourths and use the side with the zig zag lines on it to wipe the appliance down and remove prints, grease, food, grime, etc.
Flip it inside out and fold again. Now use the smooth, suede like side to wipe the surface again to get the streak free, high polish gloss.
Repeat on all appliances.
Rinse under water. Hang to dry by the tag.
How to Care For Your Stainless Steel Cloth
Rinse after use, and hang to dry
Once heavily soiled, run it through the washing machine and dryer.
Use the Norwex Laundry Detergent.
Avoid: bleach, fabric softener, and dryer sheets
What I'm loving
Easy to use. This requires no elbow grease, no fancy tricks. It really is just as simple as wipe with one side, wipe with another, done. If your appliances aren't really all that dirty, but need a quick polish, you can very easily get away with just using the soft suede like side.
Simple. There's no complicated method involved here. Plus, no additional product needed.
Fast. I love how easy it is to do a quick wipe down. Plus, you can use it to give other areas of the kitchen a quick swipe. Like the glass front of your stove, food splatters on your cupboards and drawers, or other small appliances you want to shine.
It cleans EVERYTHING. This cloth is going to get the strange marks and drips that show up on your stainless steel appliances, that nothing else would clean off. It removes them completely, when the EnviroCloth and WIndow Cloth never quite did the trick for me.
So Shiny. I never found anything to make my appliances as shiny as the stainless steel cloth has. It does an even better job, compared to the Window Cloth!
Disinfecting: Since this is made with the Norwex microfiber,  it's also removing 99% of any bacteria on the surface you're wiping, when following the proper use and care. That means it's doubling as a disinfecting wipe to give you a deeper clean!
Antibacterial. The cloth also contains Norwex BacLock. Once your cloth has been rinsed and hung, the microsilver in the cloth works to prevent the growth of bacteria as it dries, over the next 24 hours! No need to launder it after every use; only launder the cloth once it gets heavily soiled.
My Review
Since this product makes life so much easier, and way shinier, I can't help but put 5 gold stars on this product! I'm trying to think of some cons to share. But I truly cannot come up with any. I may currently be OBSESSED with this cloth!
You can get your own 5-star Stainless Steel Cloth from my online shop. Throw an extra one in your cart for a birthday gift for your girlfriend. She will genuinely LOVE you for it!
~Suzanne