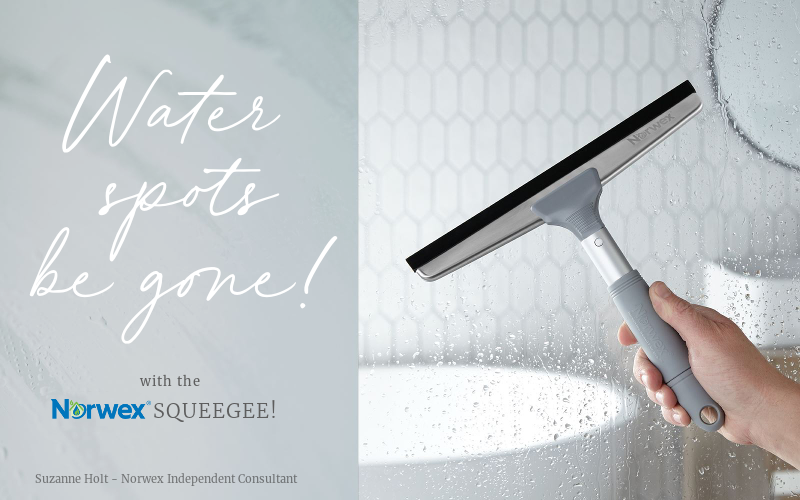 Scenario: You have a brand new shower. Its glass shower door is spotless. You feel so much joy. You begin taking showers. However, within a week, the glass shower door isn't so gloriously clear anymore. It's covered in water spots. A few more weeks in, and the clear glass is now cloudy. You are not looking forward to trying to scrub that thing back to its former glory!
How to Clean Water Spots
To remove all of that buildup, spray the door down with Norwex Descaler . Let it sit 10 minutes, then wipe (or scrub) off the buildup. But instead of now letting that build-up accumulate and need to scrub it down one day, you're going to stay on top of it with the Norwex Squeegee System.
After every shower, give the glass doors a wipe down after a shower with the Norwex Squeegee System. Removing the water, instead of letting it air dry, eliminates dried mineral deposits on the glass. It also prevents soap scum from accumulating each shower.
My friends, this may just be the game changer to your cleaning routine that you NEED. It's super quick, and painless (cross my heart!). You are about to enter the realm of less time cleaning the shower, and more time singing in the shower!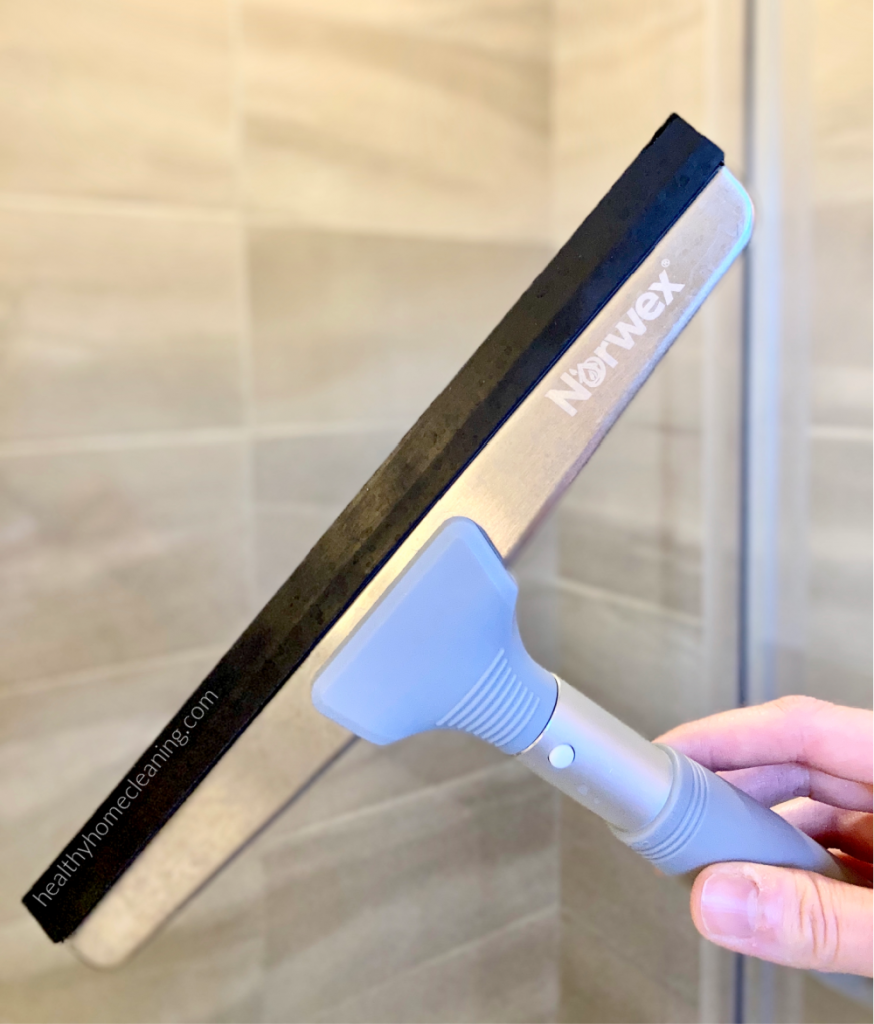 Stainless steel head ensures this is a durable product
Flexible rubber blade will work on flat and rippled surfaces
Multi-Use handle contains a hidden bristle brush for cleaning hard-to-reach nooks and crevices.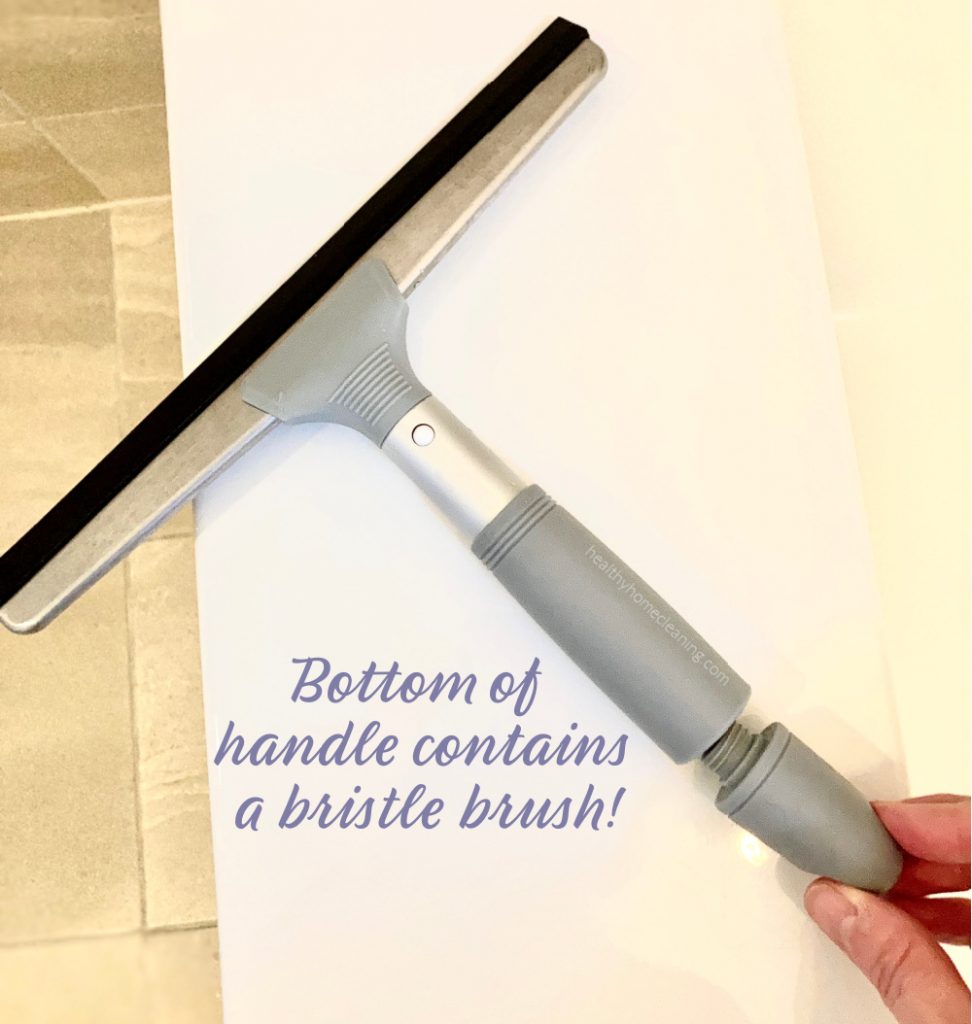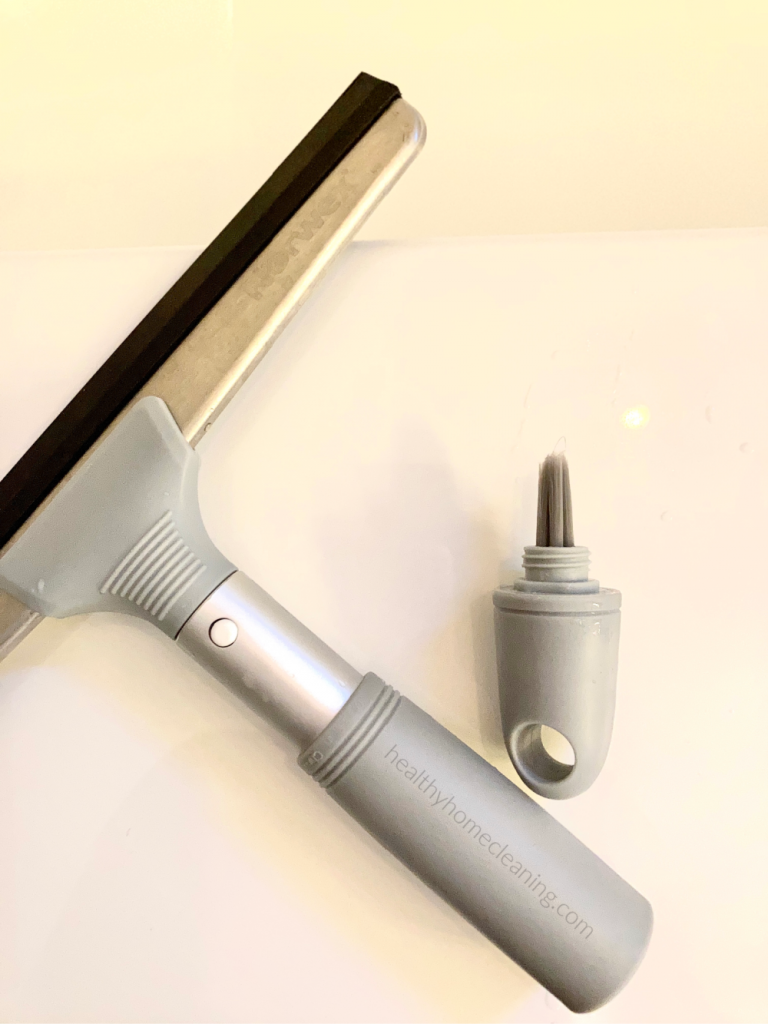 2-year warranty
Use it alone to clean windows, glass shower doors
It's compatible with the Norwex Mop handle. Which means you can reach hard to reach windows!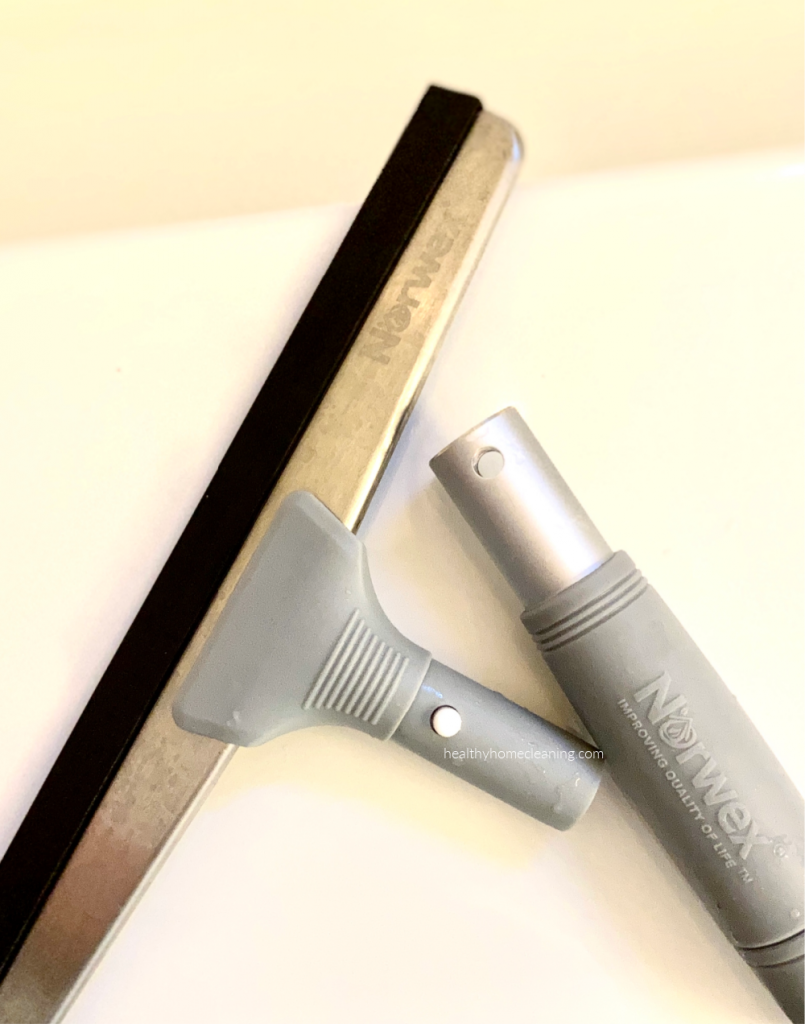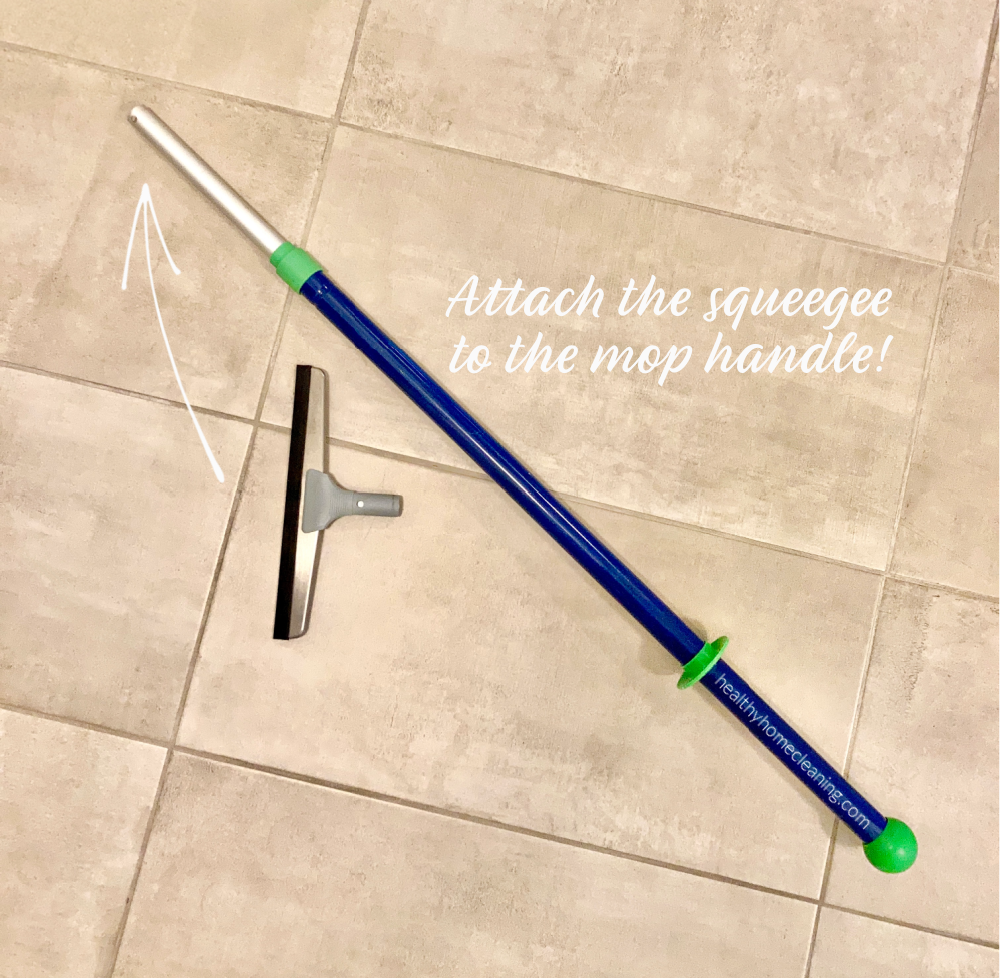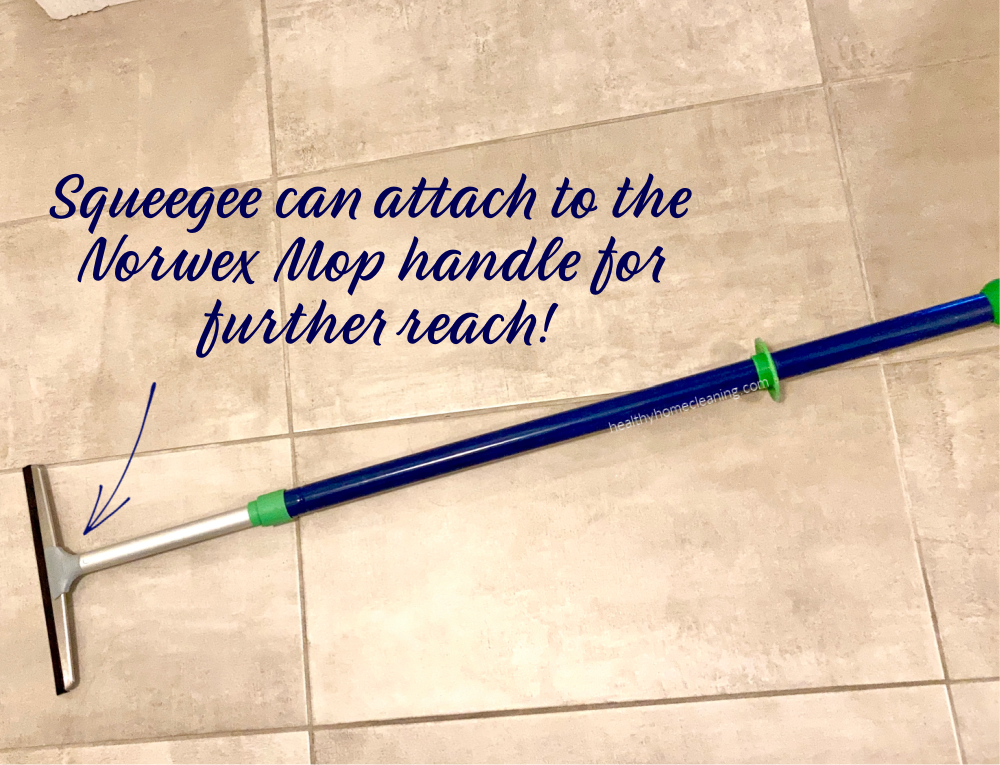 How to Use
Immediately after a shower, run the squeegee from top to bottom, or left to right, whisking away water. Use on glass, tile, marble or mirrored surfaces
To increase the effectiveness, wipe the blade with a dry EnviroCloth after each stroke, to remove excess water, before the next swipe. Then, buff and shine the surface with a Window Cloth or Window Cloth Mop Pad.
Rinse the blade and air dry.
Compatible with the Hand-Held Cleaning System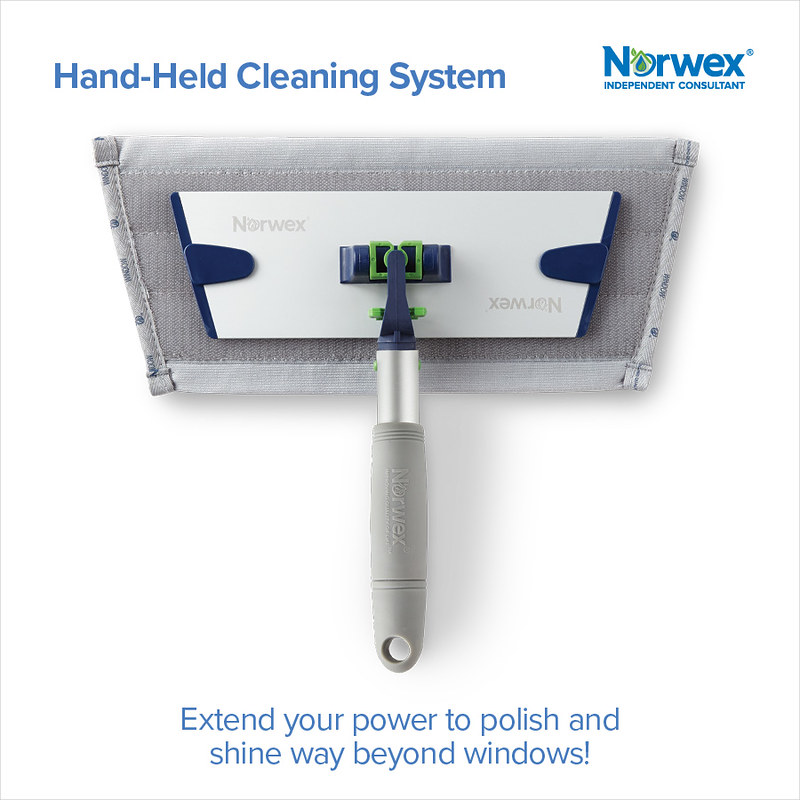 When you purchase the Hand Held System, it comes with a handle. However, if you already own the Norwex Hand-Held cleaning system, then this squeegee is compatible with the handle in that system, so you only need to buy the Squeegee itself, and grab the handle from your Hand-Held cleaning system.
Ready to Tackle Those Water Spots?
If you're ready to tackle the water spots on your glass shower door, head over to my shop and get a squeegee for your bathroom.
Enjoy your new life of luxury, free from spotty glass, tile, and mirrored surfaces, my friends!
~Suzanne