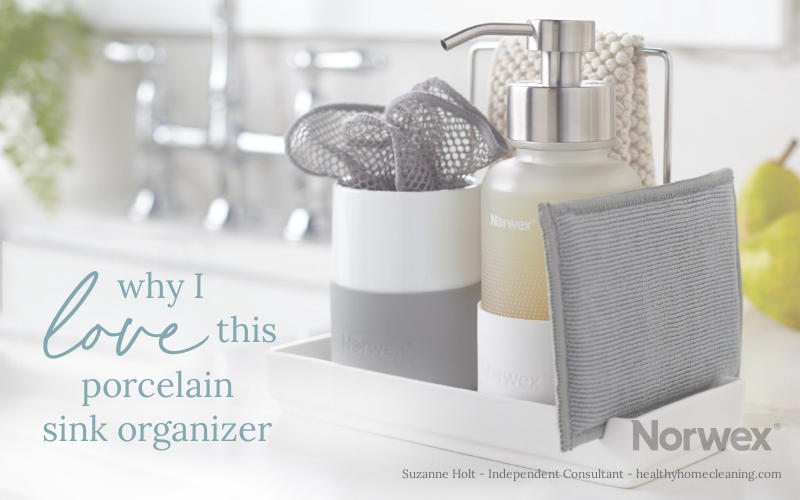 Let's get organized with this beautiful piece from Norwex! This Porcelain Sink Organizer features a rectangular porcelain tray, a cup with a silicone sleeve, and a metal rack for hanging a Norwex cloth (and other things) to dry. The tray features two notches on one end that are perfect for holding a sponge. All of these features mean this product aims to keep your sink an uncluttered area with a place for your essentials. I've added this item to my home (in multiple rooms) and I'm going to share the features of this product, what I love, and what I think could be improved.
Movable pieces make it easy to be multipurpose. You can put the cup on the tray, or set it beside.
Heavyweight bottom. This is an important feature for me. A lightweight product would tip easy. You don't have that problem with this!
All pieces are durable and quality made.
White design creates a clean look that fits with any decor
Dishwasher safe tray and cup. If you keep this by the sink, it's going to get dirty. It's easy to quickly wipe down, or do a deep clean of the tray and cup in the dishwasher. The silicone sleeve on the cup is removable (handwash this piece).
This is the perfect accessory for a Norwex-lover, since it holds other Norwex items such as: EnviroSponge, Spirisponge, Bottle Brush, Spirinette, Toothbrush, Lysere Toothpaste, Foaming Soap Dispenser, Makeup Removal Cloth, Counter Cloth, Dish Cloth, and more!
1-year warranty.
Versatile product that can be used in any room.
I am not kidding around with the versatile comment. This is my favourite part about this organizer. Here are multiple ideas for different ways to use this organizer (and they're not all beside a 'sink!')
Porcelain Sink Organizer 8 Different Ways
Photo credits: Joy Gardner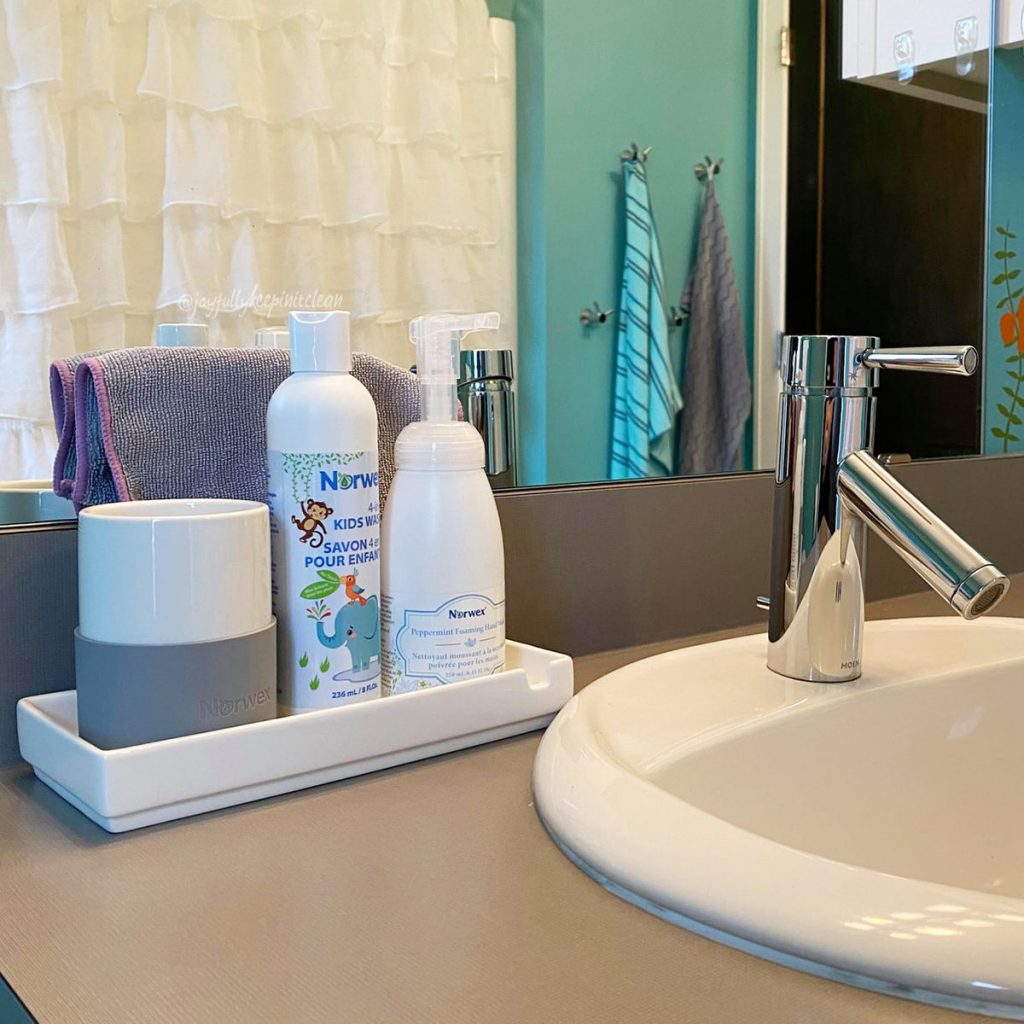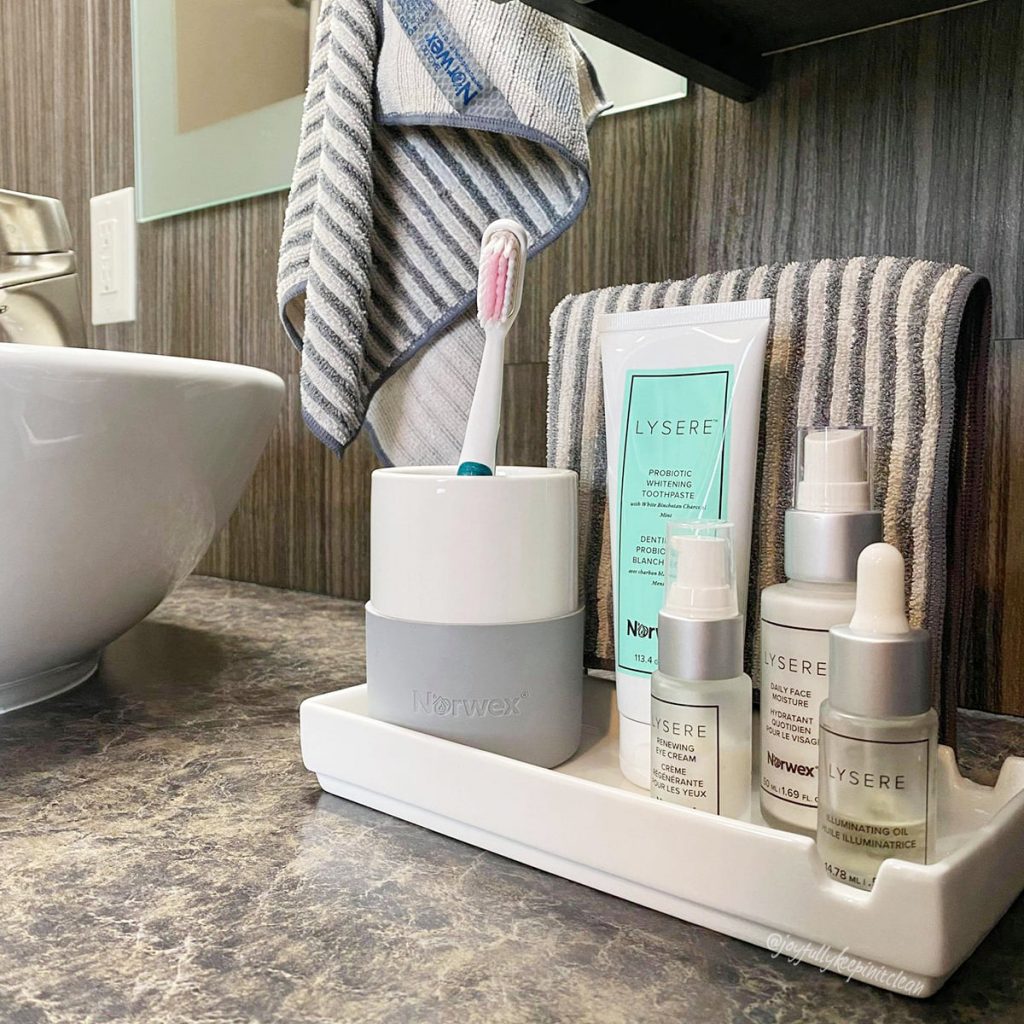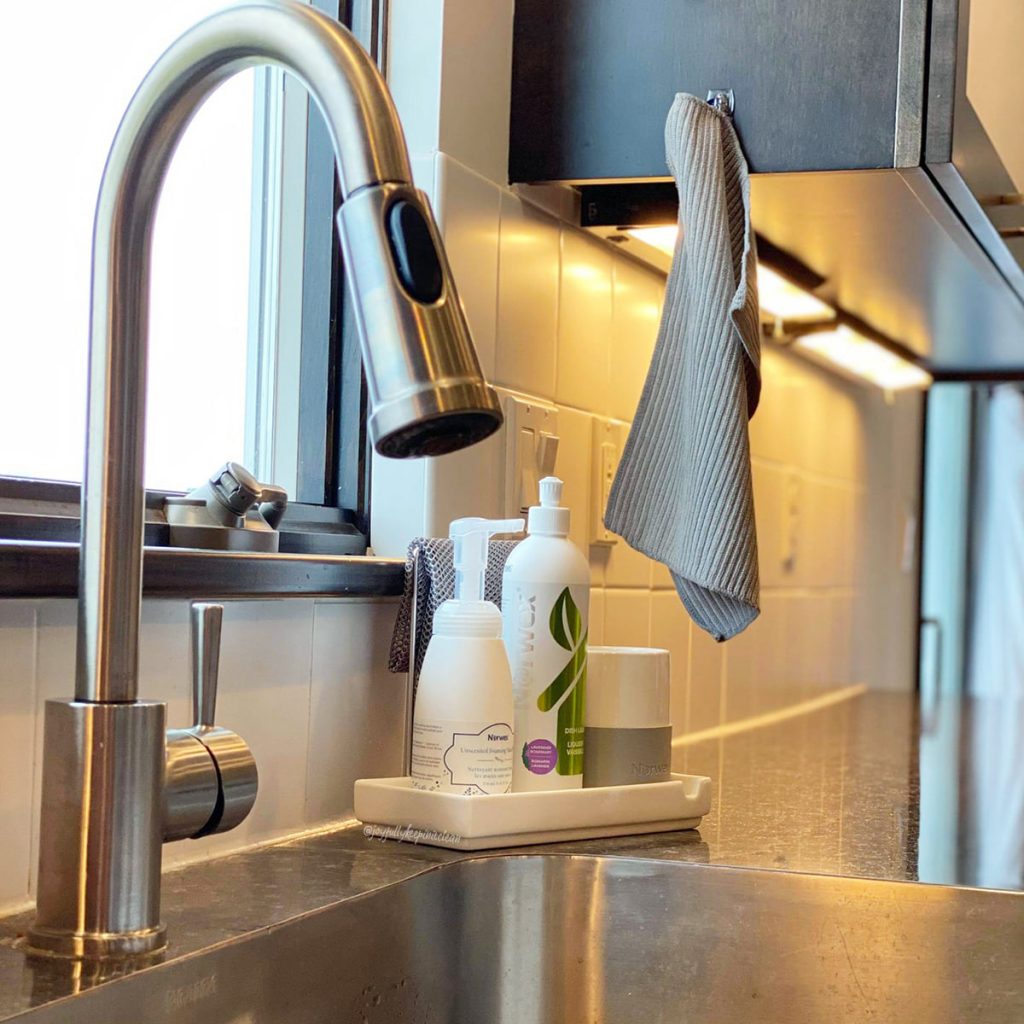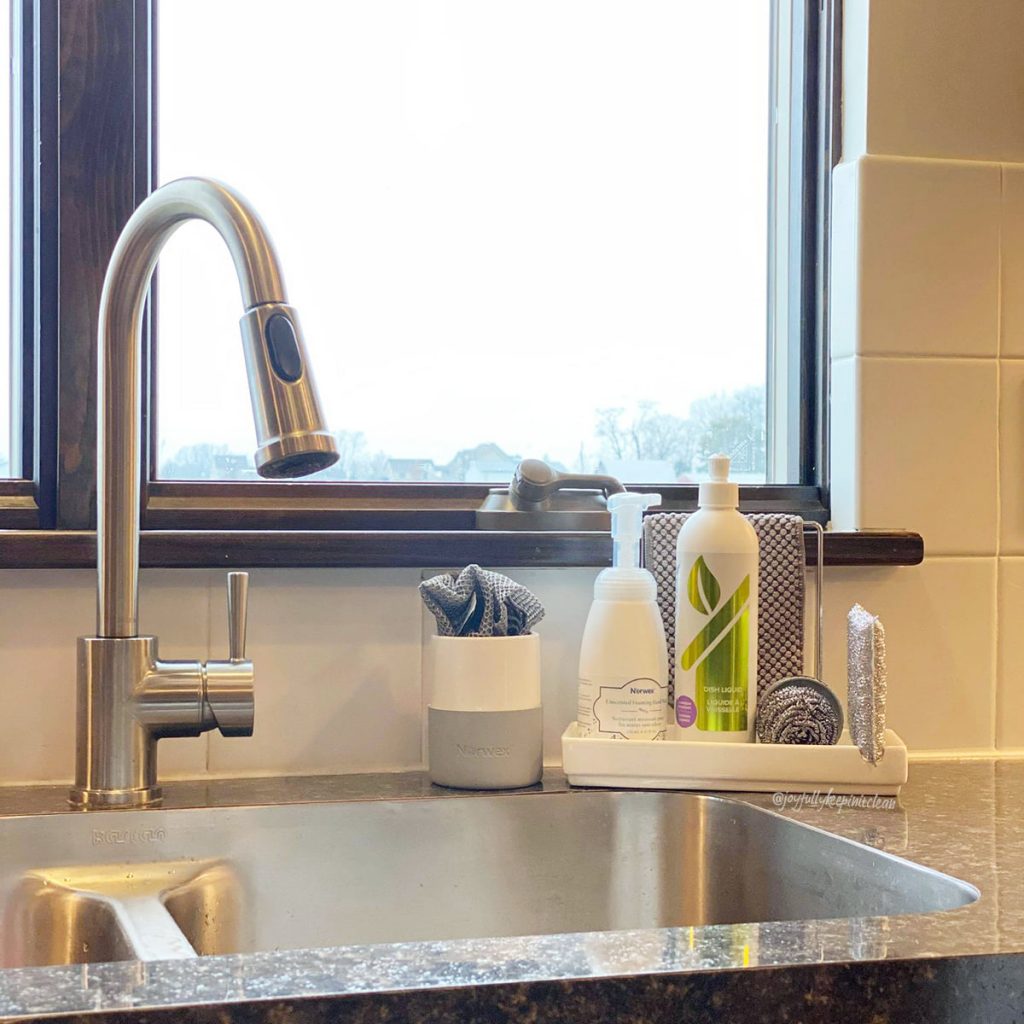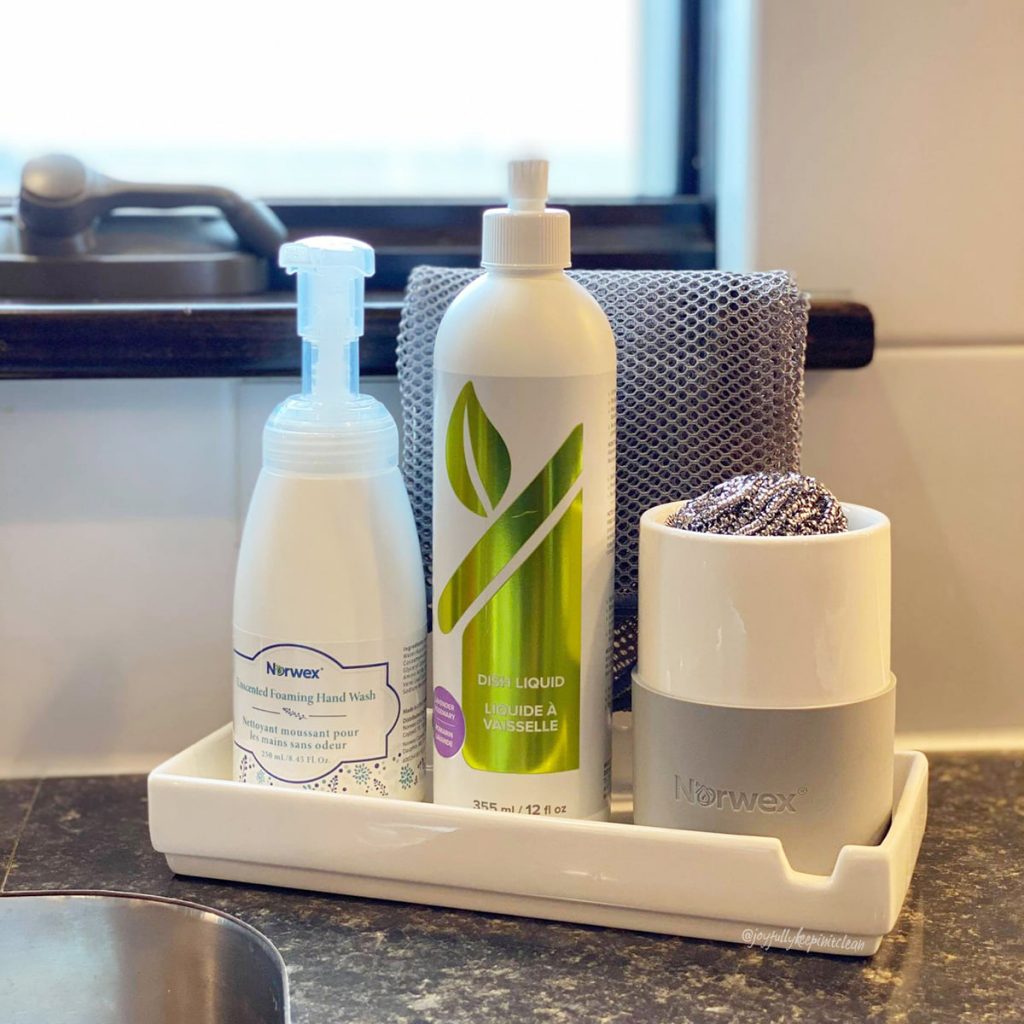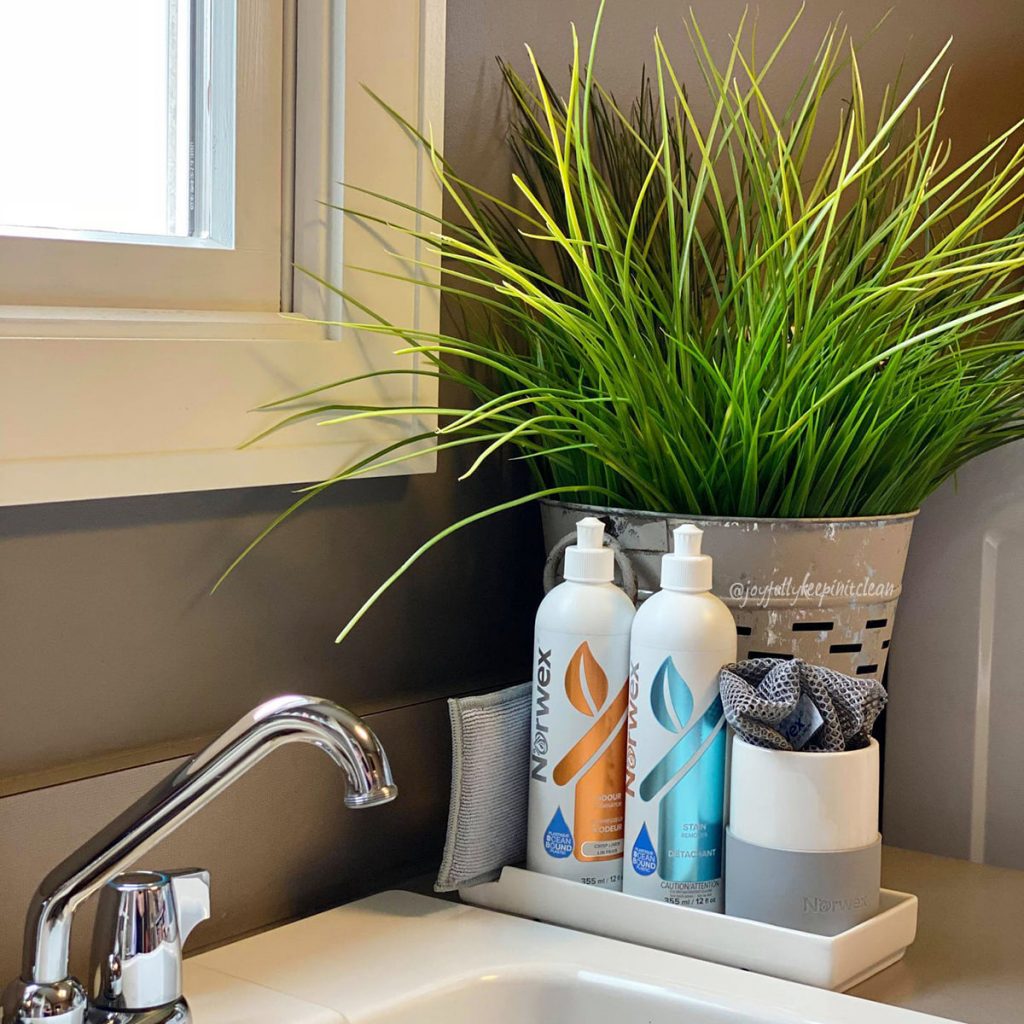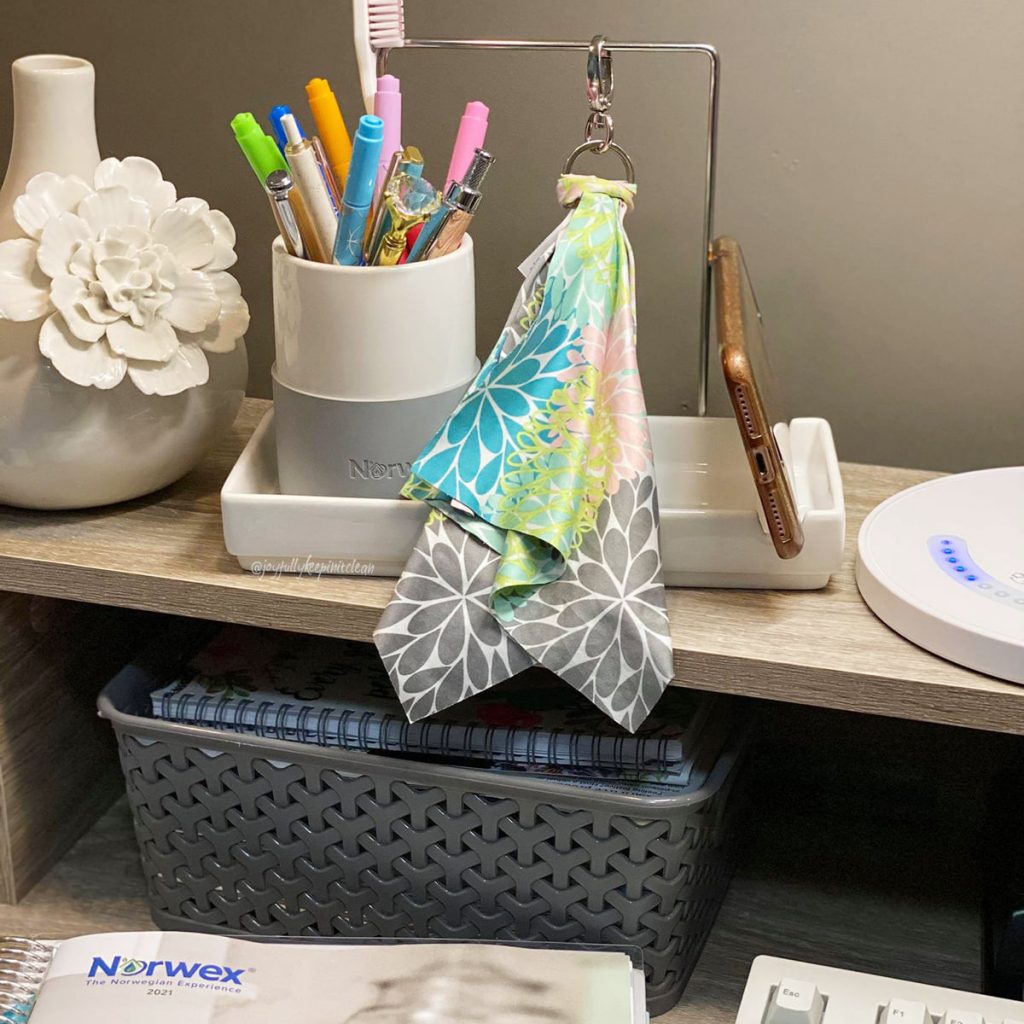 See what I mean about versatile?! There are so many different variations available for the bathroom, kitchen, laundry room, or office. Thanks to Joy Gardner for all of the inspiration and these photos!
One idea not shown, that I love, is to keep one on your nightstand. This is a great place for glasses, earrings, hair elastics, scrunchies,bracelets, coins, and pens and pencils. Can you tell that I keep a lot of 'stuff' on my nightstand, ha!
What I Don't Love about the Porcelain Sink Organizer
My one complaint about this product is that the metal rack isn't actually attached to the base. It is a separate piece that simply sits under the tray. If you need to adjust your organizer, it's awkward to move the unit, as the metal rack doesn't stay attached. You just place the tray on top of it (where there are two notches on the underside of the tray). I would prefer for this to be more securely attached.
My Review
With the Porcelain Sink Organizer being such a versatile product, it comes out as a shining product for me. I do think the product would be better if the drying rack could be better attached in some way. This knocks a star off for me. This makes the Porcelain Sink Organizer 4 out of 5 stars. While it's not a glowing 5 stars, I still have one in each bathroom of my home, plus my kitchen!
If you want one of these Porcelain Sink Organizers for your bathroom, kitchen, office (or all), you can purchase one or many from my website here:
Thank you for taking the time to read my review. I hope you found it helpful. Please let me know if you have any other questions about this product in the comments!