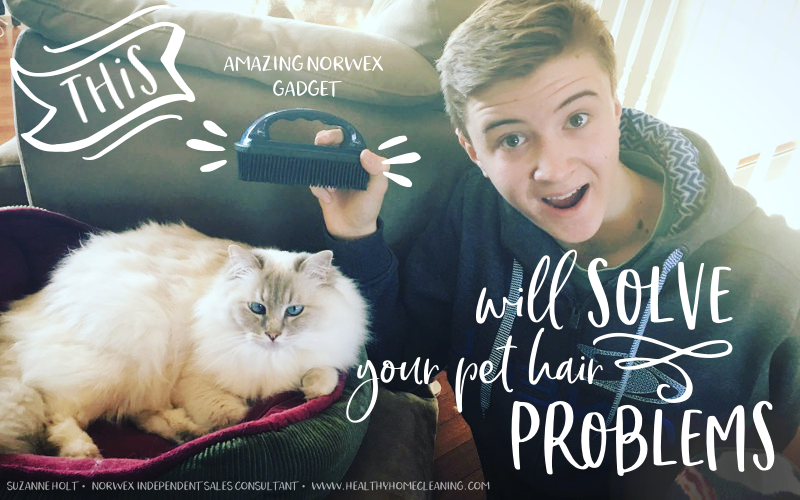 If there is one cleaning job that is a big one, it's dealing with the pet hair. Why does it have to be everywhere?!!? *whine.groan.complain* If it's not all over the floor, it's all over the furniture, or my clothes. It's also in the car. And in the baby's mouth (ha!). Cleaning it can be a nuisance too, because it's so….what's the word….clingy? It clings to fabric (yet runs away from a broom), and I dislike dealing with it!
But I'd love to share with you a tool that has helped solved my pet hair problems (other than getting rid of the dog ?). This tool is so effective at removing hair. It's not complicated. It's not expensive. And it can be used for more than just removing pet hair!
I'd like to introduce you to the Norwex Rubber Brush: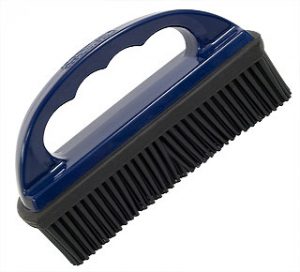 The Simple Tool That Will Solve Your Pet Hair Problems
This tool is usually paired with the Superior Mop System from Norwex. It's used on the dry mop pad, to brush dirt, hair and dust off the pad, and into the garbage. It makes the job quick and simple. Hair and dust clings to the rubber 'bristles' as they are brushed past them. Simply rinse it off in the sink when you're done.
Why I love this tool
It's simple and uncomplicated
You don't need anything else (ie. product) to make it effective
Can use it on all surfaces
You can use it for more than just hair and dust
Where to Use This Tool
I was astounded when I sat and made this list of all the ways and places you can use this brush. What a handy tool this is!
Dry Mop Pad: brush hair, dust bunnies, and dirt off the pad
Wet Mop Pad: brush dirt off the pad, in between rooms, that has been collected on the pad
Upholstery: brush pet hair off your upholstered couch, chair or even car seats. Simply brush in the same direction, to create a pile of hair.
Rugs: this is especially handy for low-pile rugs in the entry way that a vacuum just doesn't touch. It also works great on your car rugs! Start at one end, brushing from the top to the bottom. Continue along the length of the rug until the end. Gather the piles of hair you've created along the bottom.
ON your pet: give your pet a good rub down with this brush! Not only does your pet looooooooove the massage, but the brush will gather extra hair from the animal as you brush them down!
Clothes: yup, you can use this to remove pet hair from your clothes too! Norwex has a Lint Mitt that's perfect for your purse, but this rubber brush is handy at home!
Carpeted stairs: when the vacuum is just too heavy and awkward, or doesn't do a great job, the rubber brush solves your "hairy-stairs" problem!
Trunk of your SUV: You know how much hair is always stuck in the truck if you travel with your big hairy dog in the trunk of your SUV! You also know that a vacuum just doesn't suck up that hair, either! The rubber brush WILL do the trick for you here and help you finally clean it up!
Dusting Mitt: brush off dust build-up from your Norwex Dust Mitt!
It's not just for dust and hair
 Soft, flexible rubber bristles are the feature of this brush, it's also good for gentle scrubbing!
Boot trays and Car Matts: the rubber brush is great for getting in between the grooves of these mats! Simply use with soapy water and scrub.
Filters: this is great for brushing out the dirt and dust that has built up on the filter from your bagless vacuum! I've also heard of it being used to brush away the build up on the outside of an air conditioner!
Stains on clothes: if you have a stain that needs rubbing, apply stain remover to it, let sit briefly, then rub gently with the Norwex Rubber Brush, to rub out the stain. This is especially handy if the stain is on delicate clothing!
And More!
My personal experiences helped build this list, as well as customer experiences. It seems to always be growing. You wouldn't be limited to just this list. You'd discover even more uses for the brush once you get your hands on it. Trust me when I say that you want this versatile, handy tool for your pet hair and dust problems! You can get it at my shop. 
Happy Cleaning!
~Suzanne