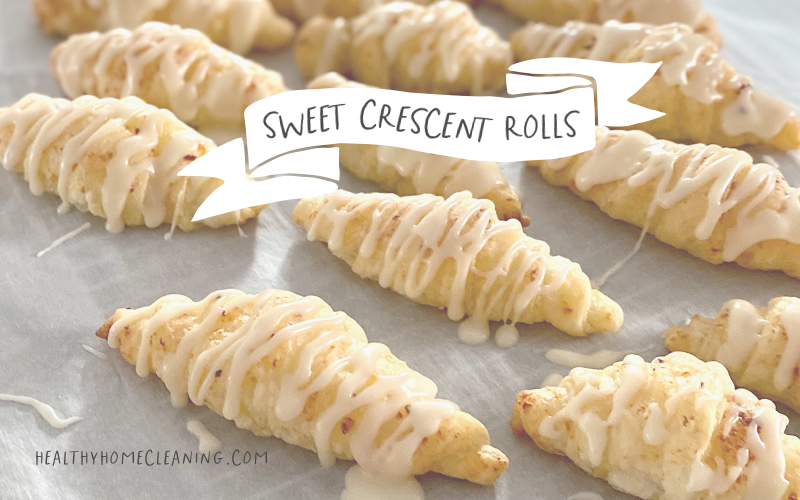 I love finding a recipe that tastes like it's straight from the skilled hands of a French pastry chef, but is actually fast and simple for anyone to make, and requires just a few simple ingredients! These cottage cheese crescent rolls are one of those recipes.
And yes, you read correctly, I said cottage cheese.
The dough for this recipe is basically a cheaters puff pastry. The cottage cheese acts as a leavening agent, and gives the crescents the tender and flaky crumb. They are decadent and melt in your mouth delicious.
Oh, and did I mention they are a PERFECT addition to your Easter meal? Well, they are. They're perfect for just about any day of the week.
Homemade Sweet Crescent Rolls
Making the Dough
First, mix together the softened butter and cottage cheese using the paddle attachment of your stand mixer.
You are not aiming to cream your butter to light and fluffy; all you need to do is combine the butter and cottage cheese. It will look clumpy, with the white curds visible.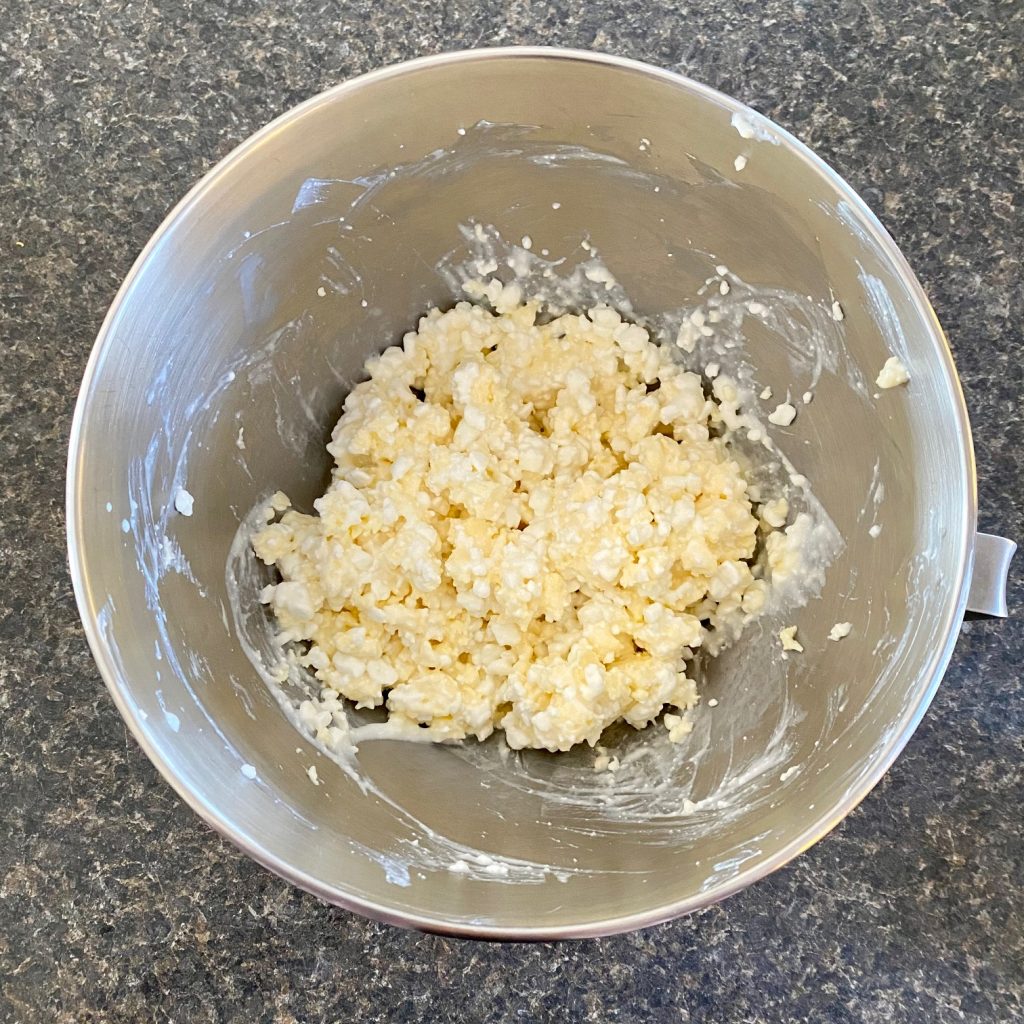 Add the flour and a pinch of salt to the bowl and mix until a shaggy dough is formed. If your stand mixer is like mine and leaves a bit of flour at the bottom of the bowl, mix a few times with a wooden spoon to incorporate all of the flour.
The dough will be sticky and shaggy.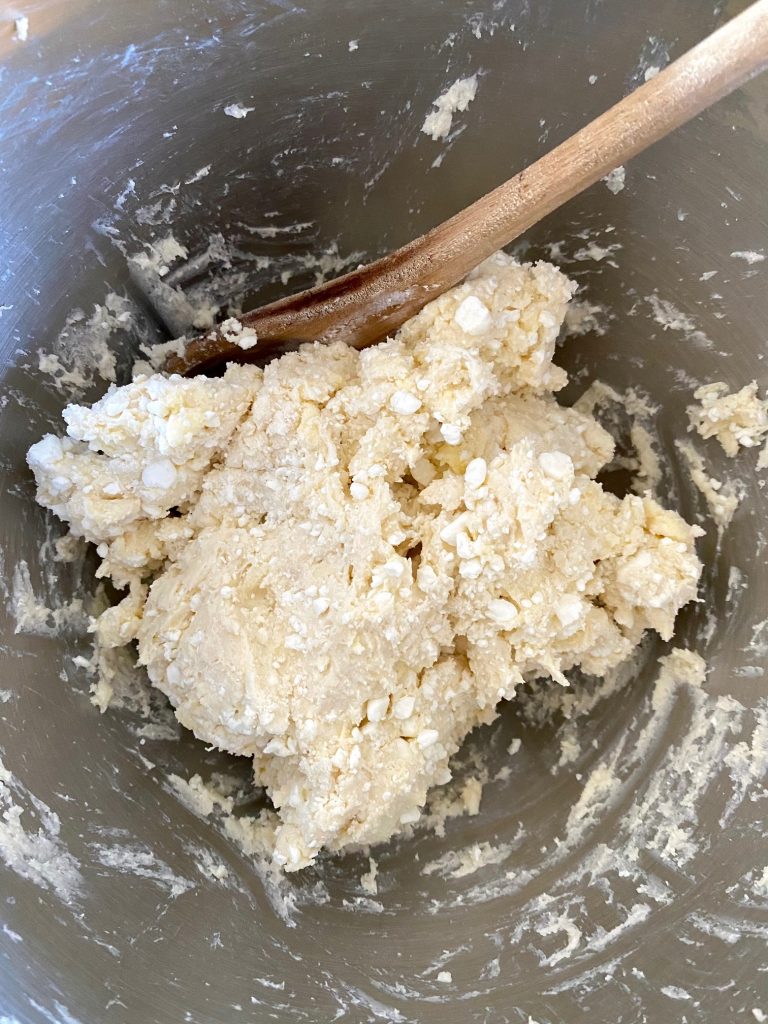 Do your best to divide the dough into 2 equal parts, and drop them each onto their own piece of plastic wrap, then gather the dough in your hands and form it into a ball. Return it to the plastic wrap.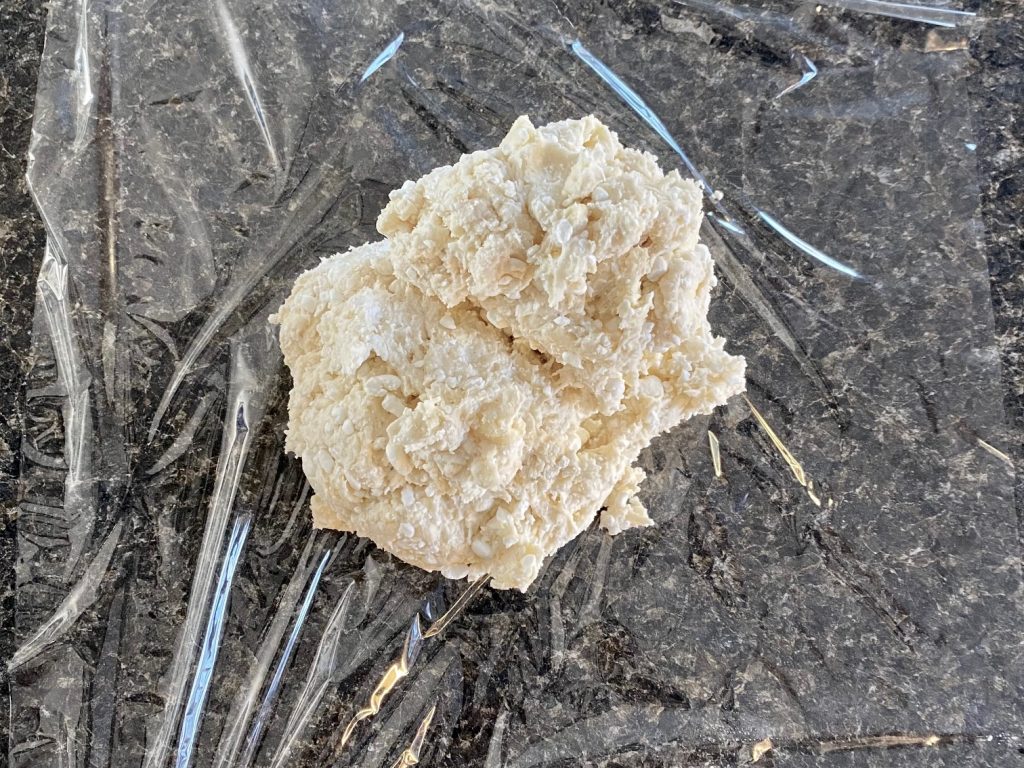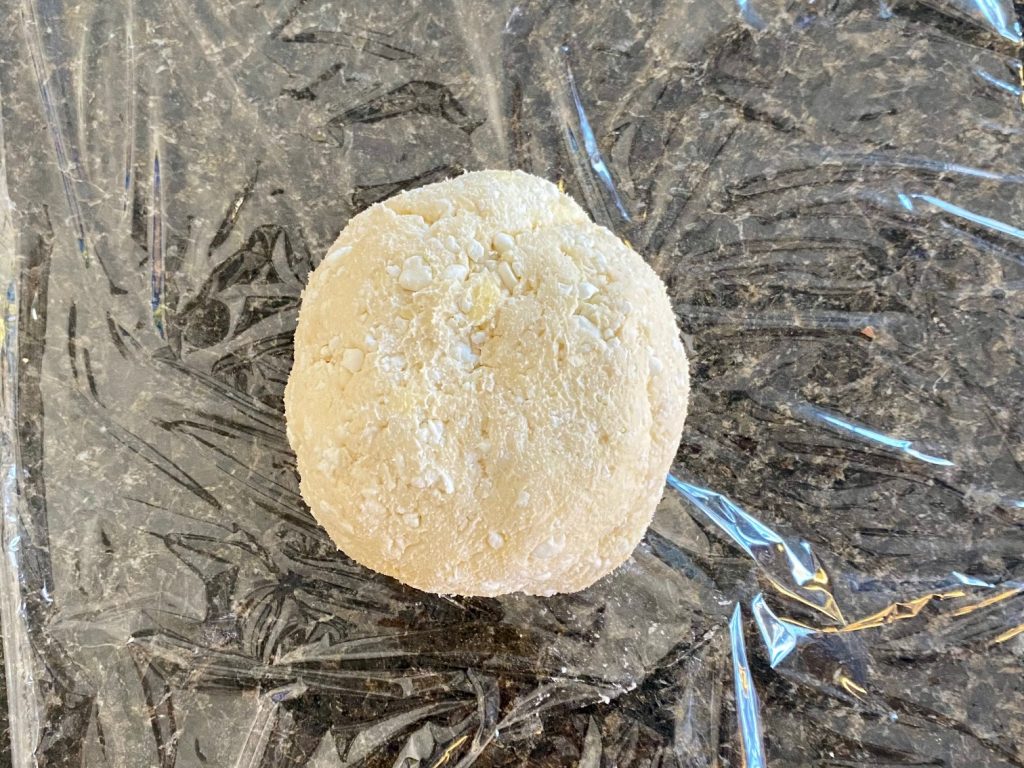 Wrap the dough tightly in the plastic wrap, and flatten into a disk. Chill the dough in your fridge for at least 4 hours or overnight. I've made this dough a few days in advance of when I planned to bake it – it keeps very well.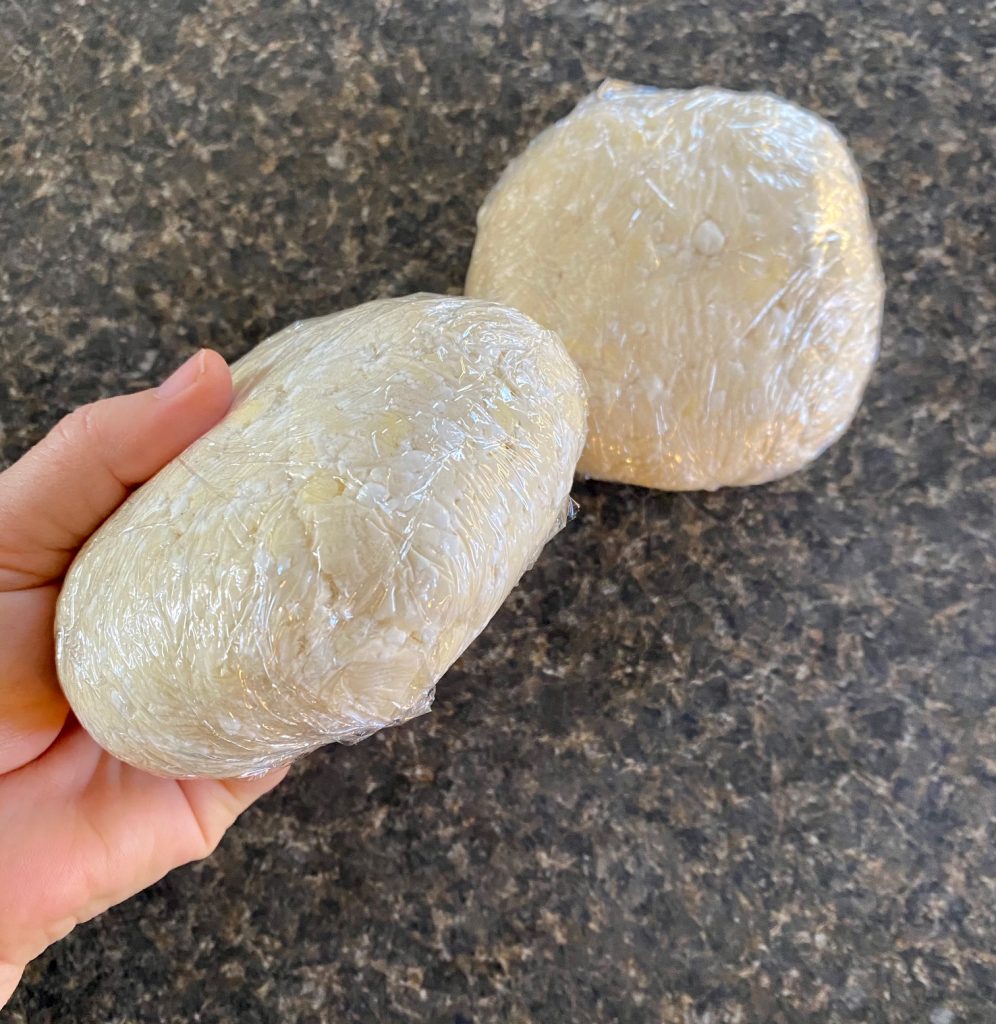 Baking the Crescents
When you're ready to bake the crescents, preheat your oven to 375°. Take one of the disks out of the fridge and remove it from the plastic wrap to a generously floured surface. Sprinkle flour over the top of the disk as well.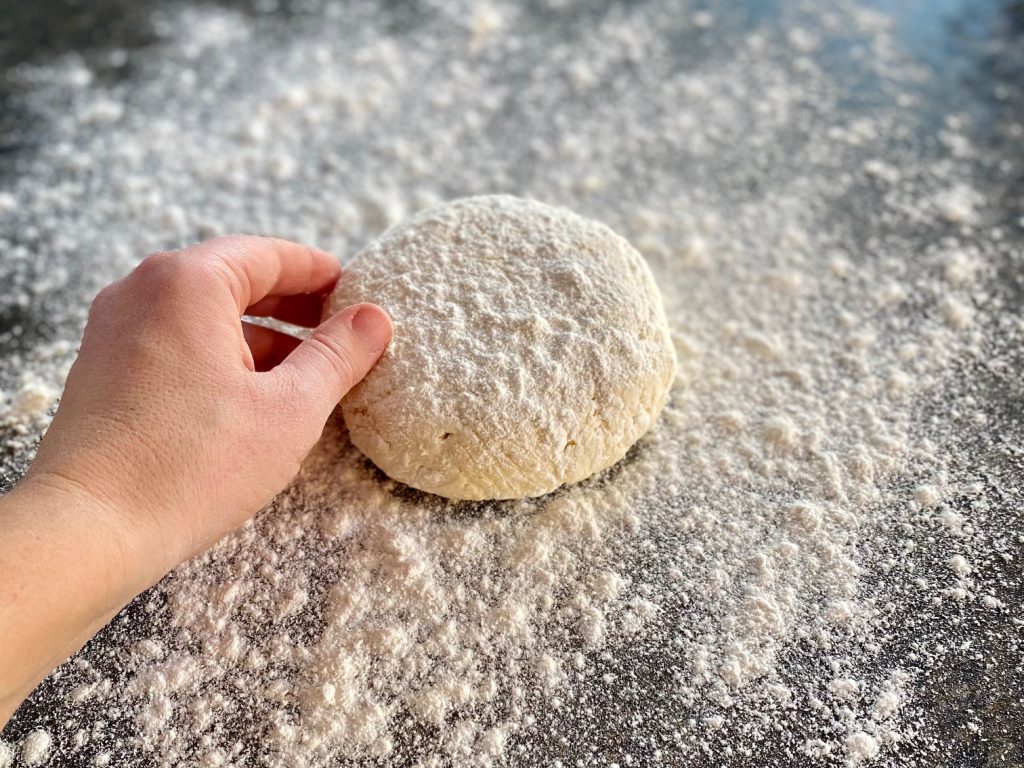 With a rolling pin, roll the dough out into a large circle – about 17-18 inches in diameter, lifting and turning the dough to keep it from sticking to the counter. Feel free to throw more flour on and under the dough if you need to.
The crescents are best if the dough is rolled nice and thin.
I have never been able to roll this out into a perfectly round circle – my circle (if you want to call it that) is always jagged and uneven. Thankfully these crescents are extremely forgiving when they bake, so the uneven-ness doesn't matter one bit.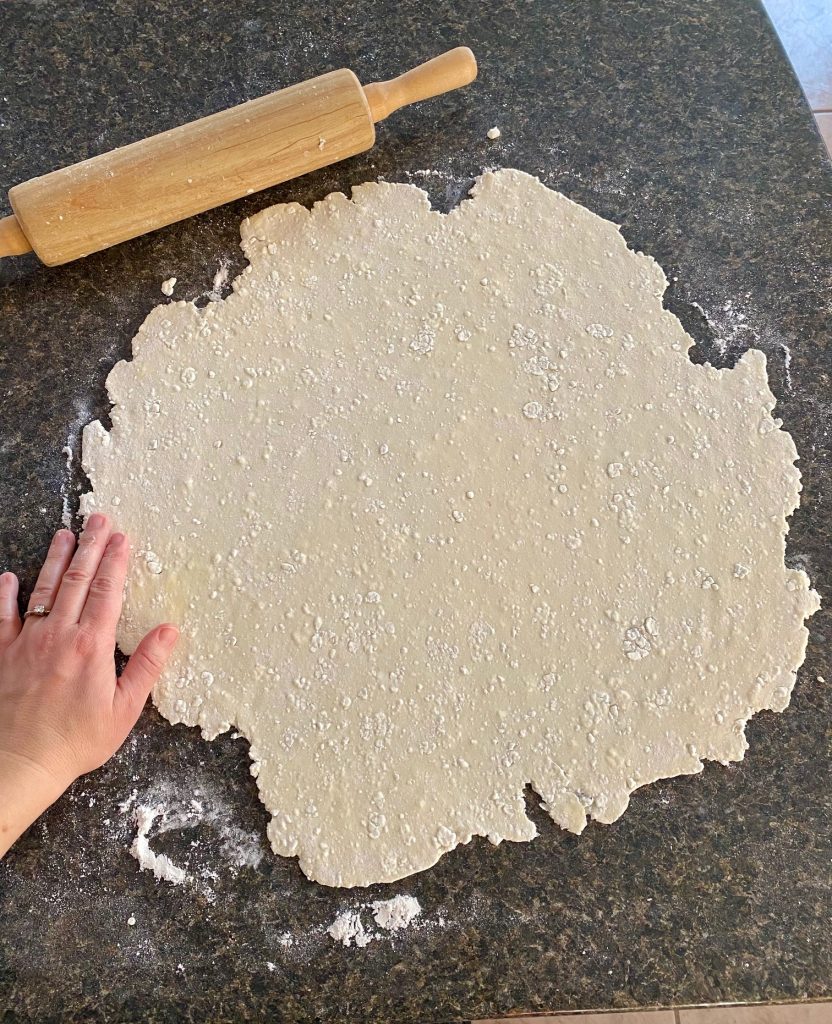 Using your pizza cutter (a sharp knife will do if you don't have one) cut the dough into quarters, then cut each quarter into 4 wedges, for a total of 16 triangles.
As you can see from the pictures below, my wedges are far from being a uniform size. I have learned not to despair about uneven triangles! Sometimes I do a little cut and paste – removing a bit of dough from the wide end of one wedge, and squishing it onto the wide end of a much smaller wedge. It's definitely more of an art than a science, and as I've said already, these crescents are, thankfully, very forgiving.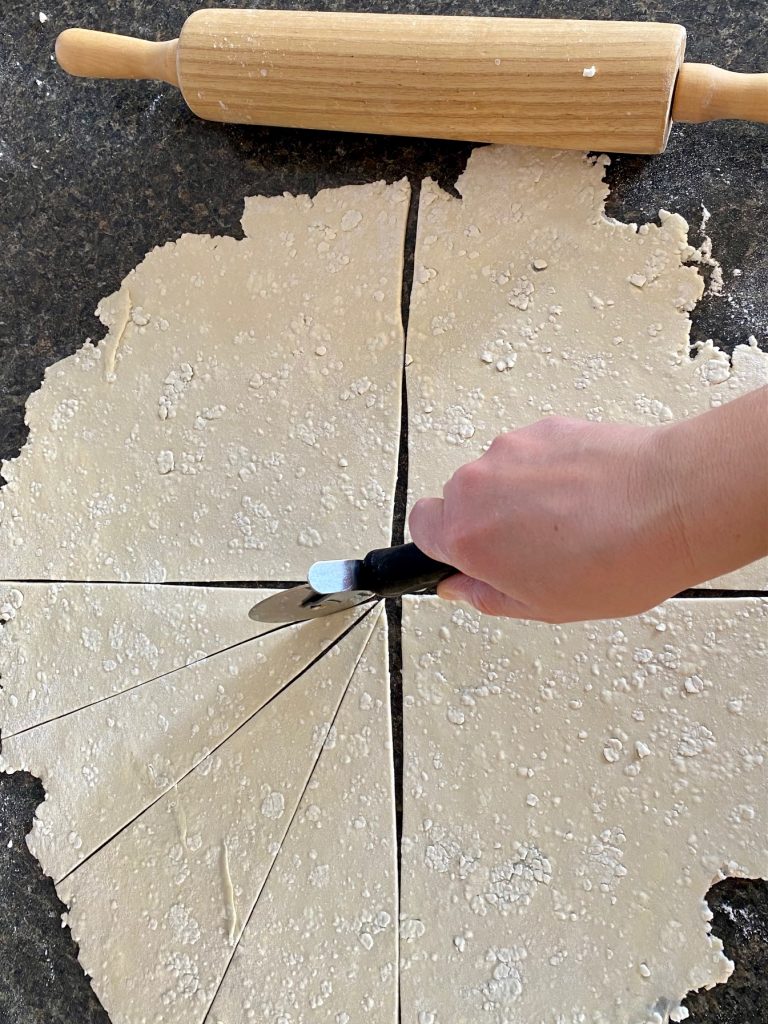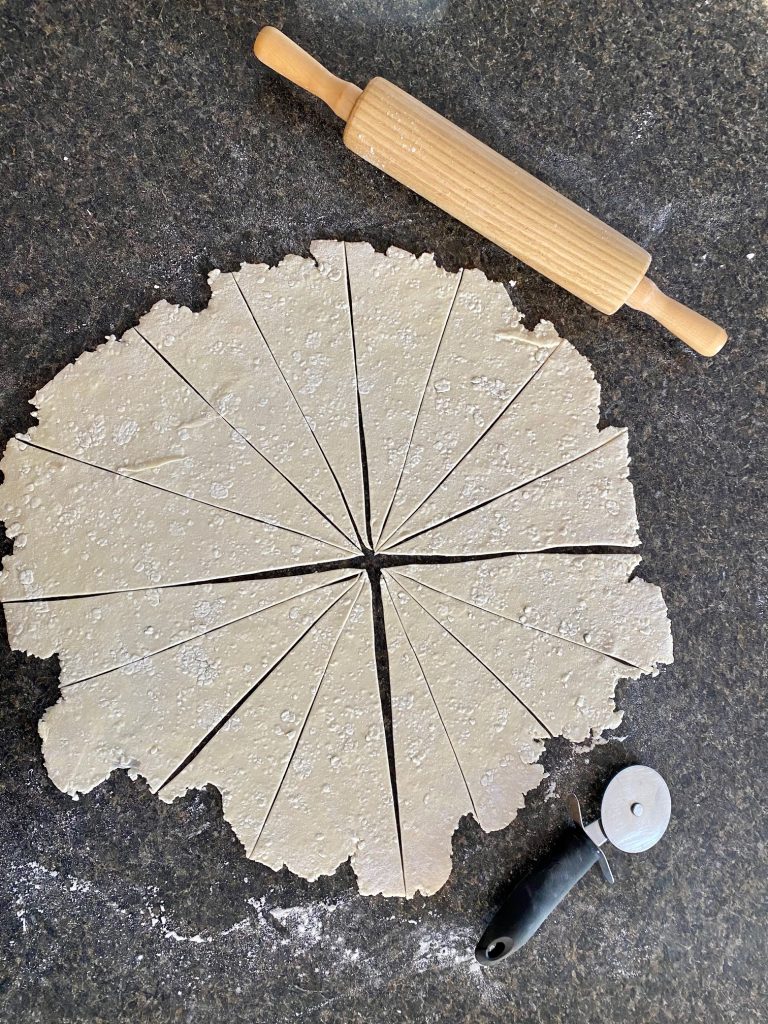 Now it's time to roll them up. Starting from the wide end of each wedge, roll each towards the center, doing your best to get a nice tight roll.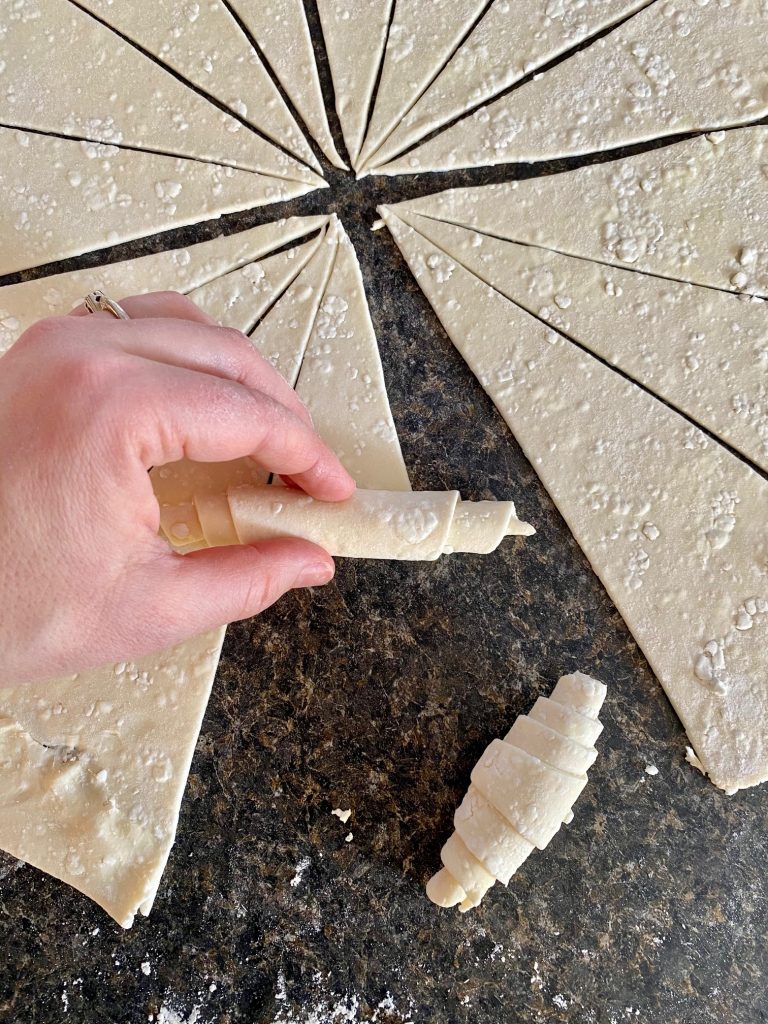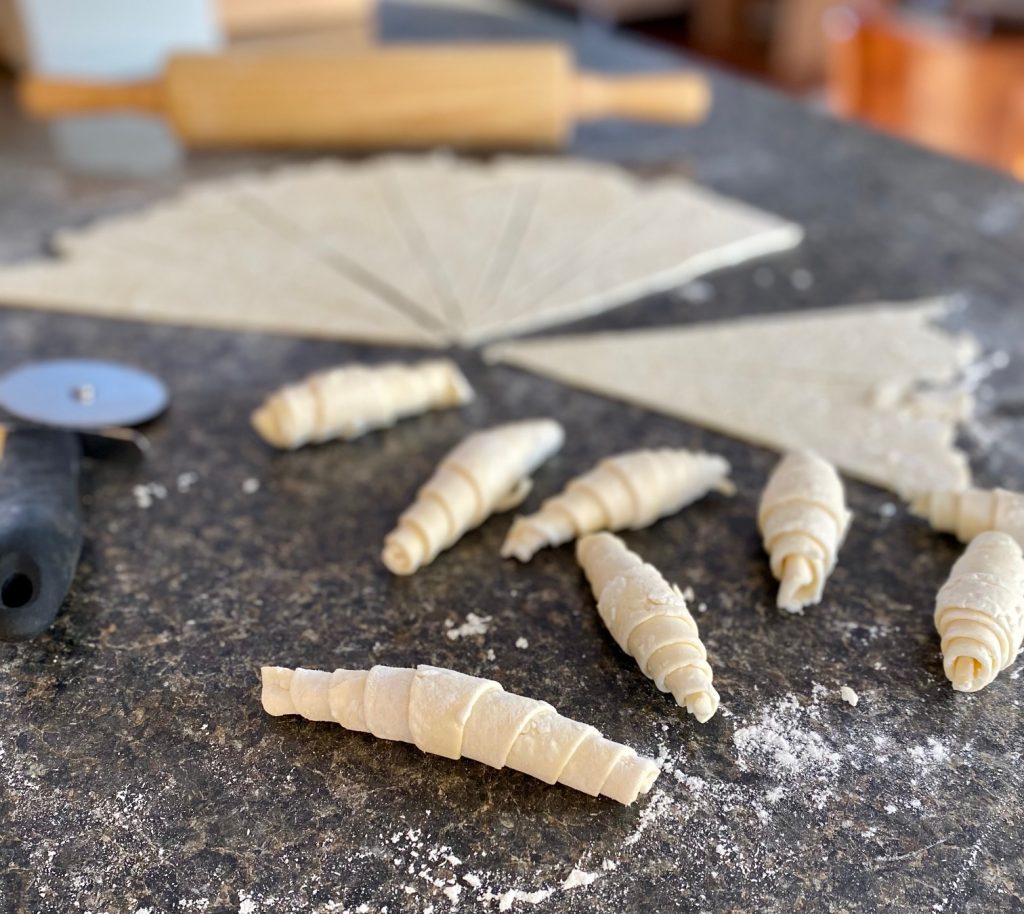 Continue along until all of the wedges have been rolled, and place them on a parchment lined cookie sheet, seam side down, about 1 or more inches apart.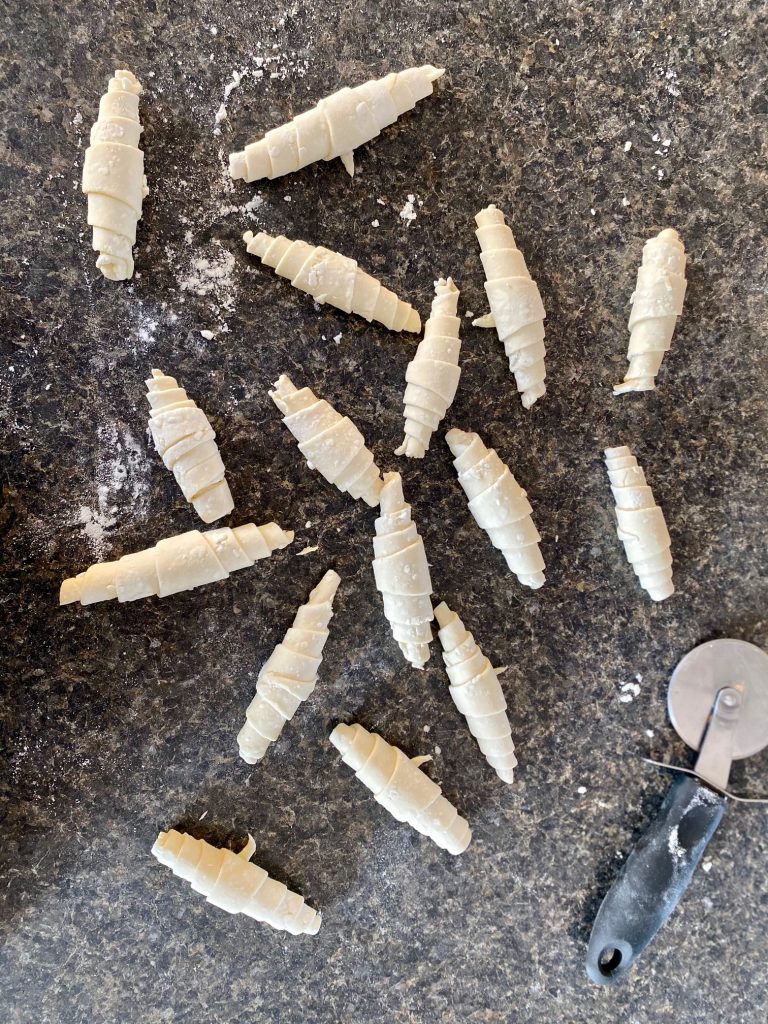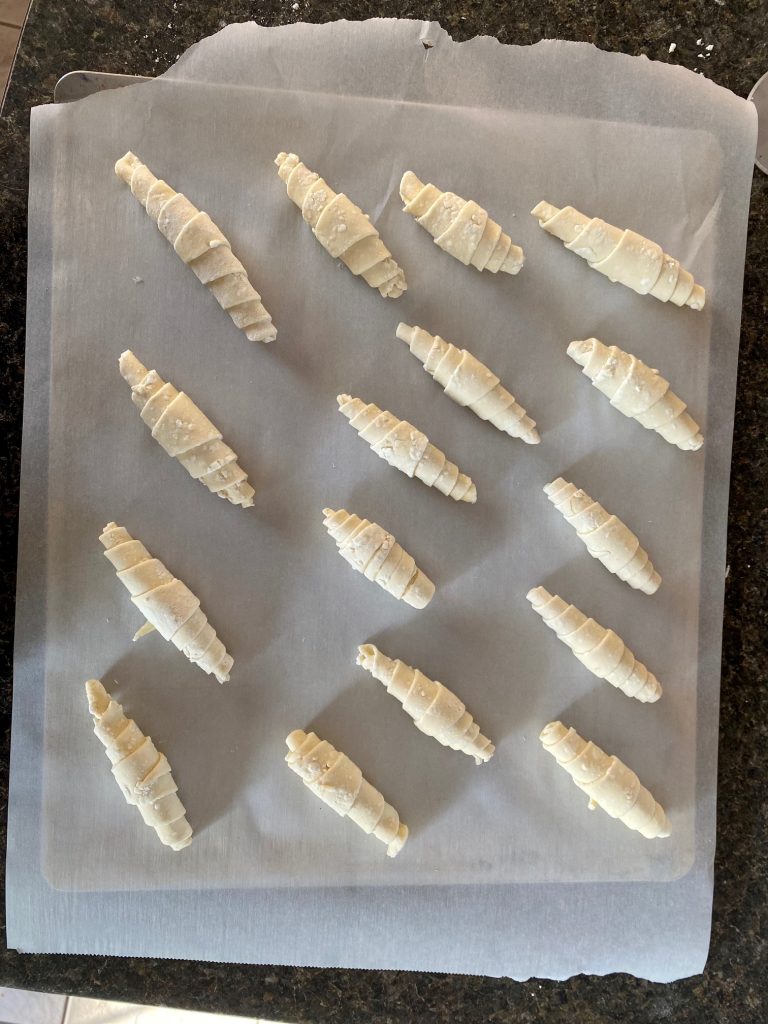 Bake for 25-30 minutes in the center rack of your preheated oven, until deep golden brown.
Do NOT under-bake. This is really important – if under-baked, the crescents will be doughy in the center rather than flaky.
In my family's opinion, these crescents are actually more delicious if they are slightly overdone – the ends and the outer layer get a little crispy and paired with the soft, flaky inside and the sweet icing drizzle, it's perfection.
If you're baking both disks of dough, you should prepare your second batch (roll out, cut, and roll into crescents) while the first batch is in the oven.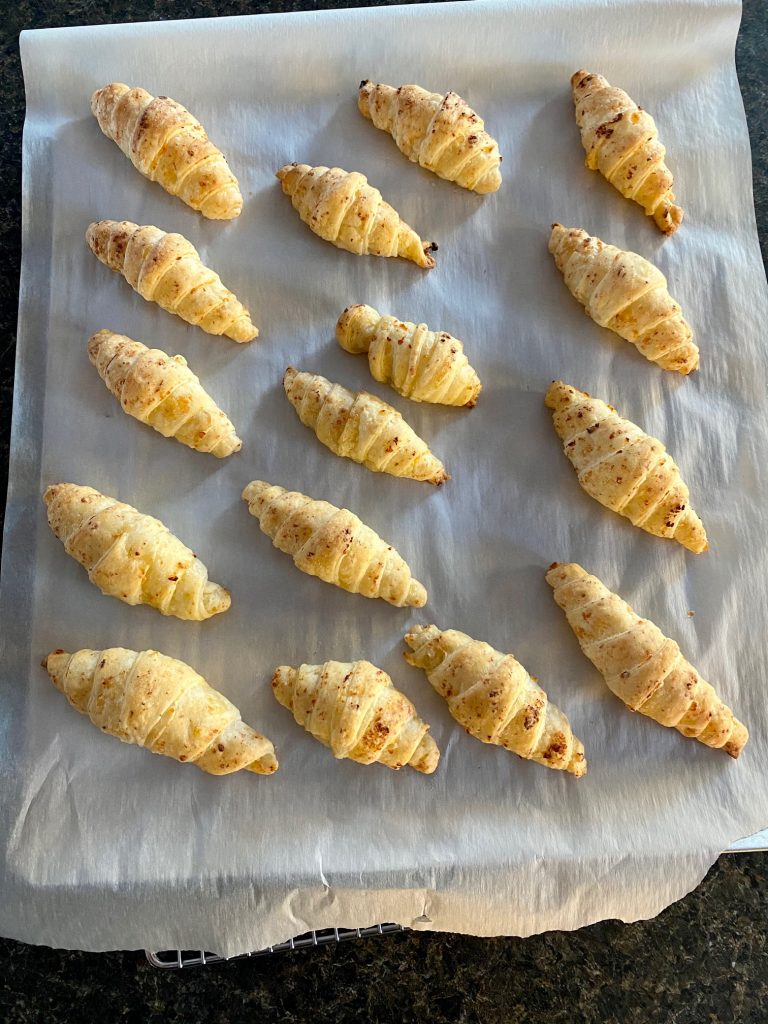 Remove to a wire rack to cool.
The Icing
This is a really easy and delicious drizzle. I love it with vanilla, but it's fantastic flavored with almond extract as well. Sorry – I didn't take any photos while I was making the icing, but it's simple.
Put your butter, cream or milk, and vanilla in a small-medium sized pot, and over medium heat, melt the butter – don't boil it. Once the butter has melted, remove the pot from the heat and wisk in the icing/powdered sugar until smooth and a little runny.
Put a piece of parchment under the wire cooling rack (or just leave it under the crescents to begin with), and drizzle the icing over the still-warm crescent rolls.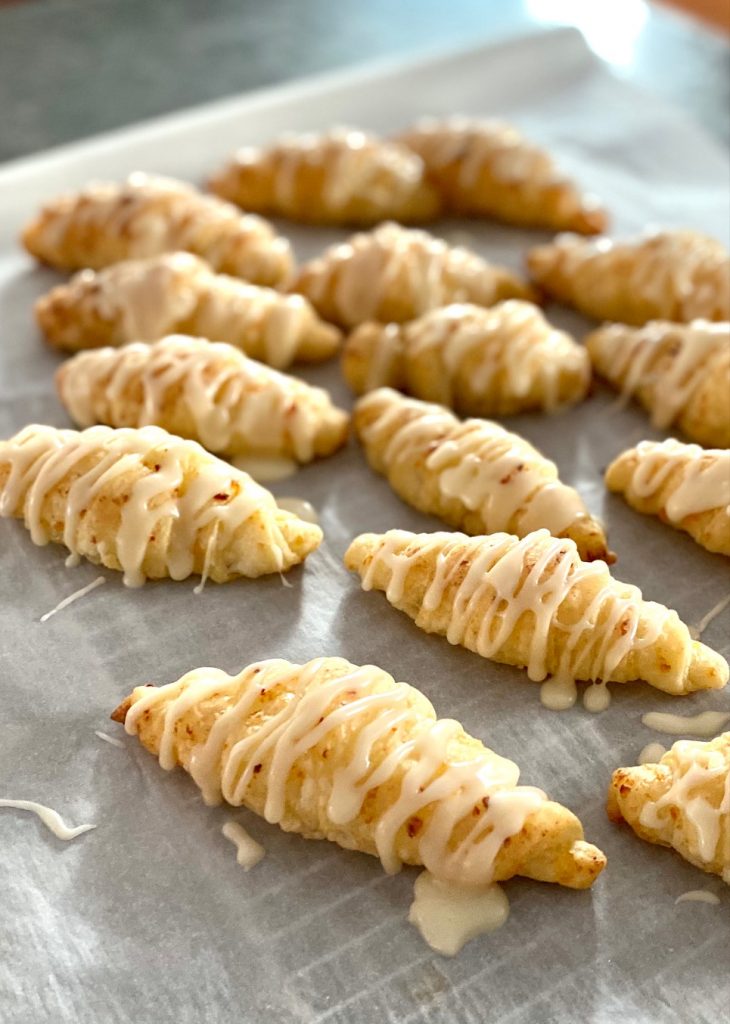 Eat one, or two, or all of them. These crescent rolls have been known to make grown men weep with joy. They're that delicious.
Just look at all of that tender flakiness!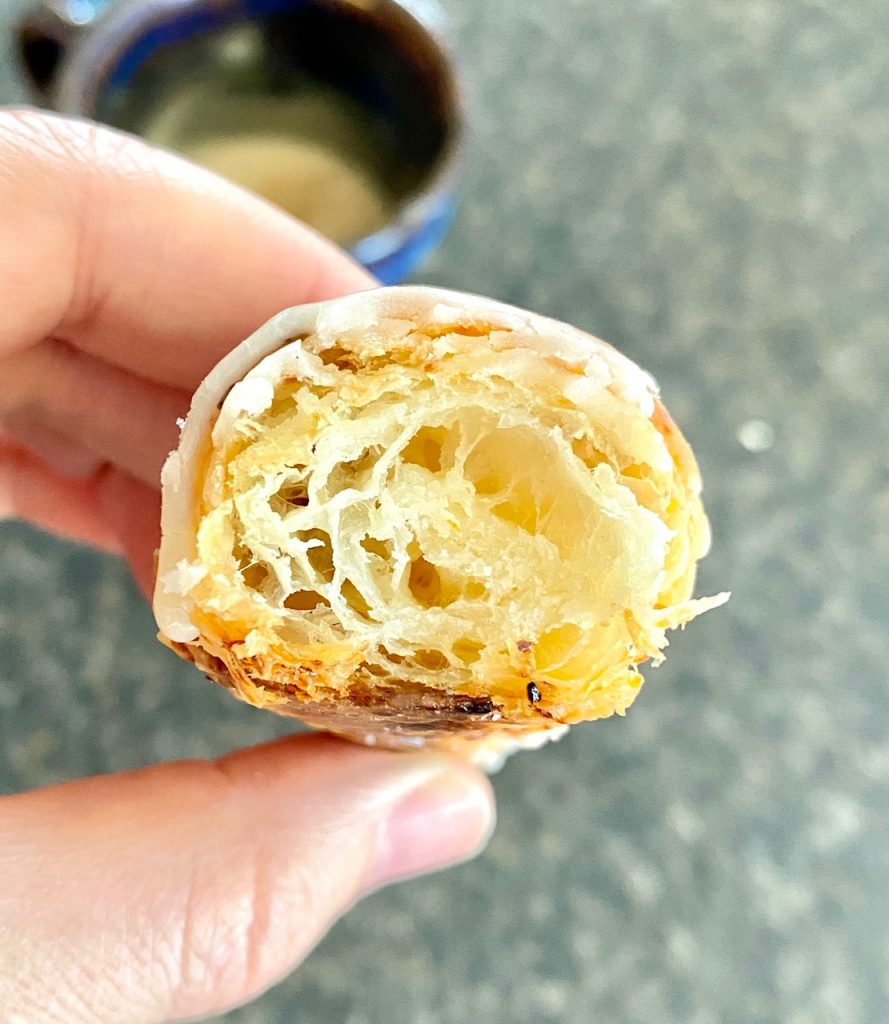 Make them for your Easter brunch, your kids graduation celebration, or just because. They are that simple and that good.
I'd love to hear if you make them and if you love them as much as I do!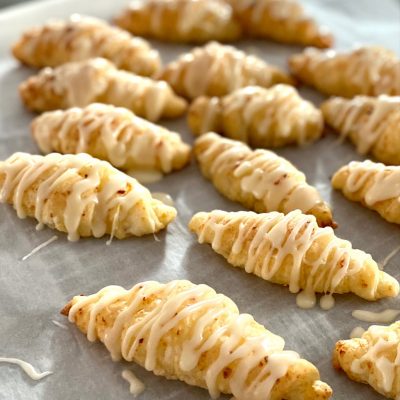 Homemade Sweet Crescent Rolls
Made with 3 simple ingredients – flour, butter, and cottage cheese – and drizzled with a sweet vanilla icing, these flaky and tender crescent rolls are perfect for a special occasion, dessert, or just to have around as snack!
Equipment
Stand Mixer or Hand Beaters

Rolling Pin

Pizza Cutter

Cookie Sheet

Plastic Wrap

Small Pot
Ingredients
For the Dough
1

cup

salted butter – softened

226g

1½

cup

small-curd cottage cheese

375g

2

cups

all-purpose flour

240g

1

pinch

salt
Icing
3

Tbsp

butter

melted

2

Tbsp

cream or milk

½

tsp

vanilla or almond extract

1¾

cups

icing/powdered sugar
Instructions
Mixing the Dough
In the bowl of your stand mixer, using the paddle attachment, mix the butter and cottage cheese on medium-high until blended (or use hand beaters).

Add the flour and the pinch of salt into the butter-cottage cheese mixture. Mix it until the ingredients come together to form a sticky, shaggy dough. You will still be able to clearly see the curds of the cottage cheese – it's not a smooth dough.

Divide the dough into 2 eaqual parts and wrap each in plastic wrap, forming a thick, round, flat disk.

Refridgerate the dough for at least 4 hours, or overnight, if making the day before.
Rolling the dough & baking the crescents
Preheat the oven to 375° and remove one of the disks of dough from the fridge. Remove the plastic wrap from the dough.

On a generously floured surface, roll the disk into a 17-18 inch circle. Do your best to roll the dough into an even circle, but don't stress if your circle is irregular or has jagged edges – this dough is VERY forgiving.

Using a pizza cutter, cut the circle into quarters, then cut each quarter into 4, creating 16 wedges. It's good to try to keep the wedges as close to the same size as possible, but if some are bigger than others, it's ok. Again, these crescents are forgiving.

Roll up the wedges, starting at the wide (outside) end, and put them seam side down on a parchment line cookie sheet, about 1 or more inches apart.

Bake on the center rack of your oven for 25-30 minutes, until golden brown. It's important not to under-bake the crescents. It is much better for these to be a little darker golden than not baked long enough.

There will be dark brown spots on the crescents from the bits of cottage cheese on the surface of the dough – this is normal and delicious!

Cool the crescents on a wire rack.
Making the icing
Put the butter, milk or cream, and vanilla in a small pot on your stove on medium heat until the butter has melted. Do not boil.

Gradually add the icing sugar to the melted butter mixture and wisk until smooth.

Put a piece of parchment or wax paper under the cooling rack to reduce mess. Using a spoon, drizzle the icing over the warm crescents.
Notes
These crescents are best eaten the day they are made, but they can be stored in a sealed container if you happen to have any left over. 
The dough can be made a few days in advance and kept in the fridge until you're ready to bake the crescents.