Moist, decadent, and rich chocolate cake, passed down from my Mom to you!
It was a rich moment this summer (pun intended!) to watch my mother teach my 13 year old son how to make our generations-old chocolate cake recipe. Moments like this remind me of the hard work that was instilled in me at the family farmhouse. This is a place where things have always been handed down to the next generation. These two qualities have been significant in growing my Norwex business, showing me how to teach others, and instill hard work in them.
I love the way my mom makes her chocolate cake. No one can make it like her! My husband has Celiac disease, and we've happily discovered that this recipe can be modified to make it gluten free. When we substitute all-purpose flour with Mom's Best Gluten Free Flour Blend, the cake is still perfectly light and still moist!
I'd love for you to have access to the deliciousness of my mother's chocolate cake. It's all anyone ever wants for dessert in our family!
Mom's Notes for the Best Cake
Make it Moist: Coffee is the secret ingredient to make a moist cake. You can use boiling water, but adding 1 cup of brewed coffee to your recipe, instead of just boiling water, makes this cake top-notch moist!
Make it Extra Moist: There's more you can do to up the moistness of your cake! Let your cake cool, then freeze before assembling and frosting. Let it come to room temperature before serving. Sometimes, I don't have time for this step. But whenever I do, I take advantage of it, because it makes an even better cake!
Size Doesn't Matter: You can use either a 9×13 inch pan or 2 layer cake pans for this recipe. It just depends on which shape you would like!
Easy Removal: To ensure easy removal from your pans, let the cake cool for ten minutes once it's been removed from the oven. Then, take a butter knife and run it along the inside edge of the cake pan to loosen. Place a cooling rack on top of the cake pan and quickly turn the pan over, dumping the cake onto the cooling rack.
A Cheat on the Frosting: The recipe lists a delicious peanut butter frosting recipe, but we sometimes use Pillsbury Chocolate Fudge Frosting because it's gluten-free (and it can save you some time if you need to feed some hungry party guests! ).
How to Make Sour Milk: This recipe calls for soured milk. To make, put 1 1/2 tablespoons of white vinegar in a measuring cup, then add enough milk until the total amount of liquid is 1 cup.
My son Andrew made his first double-layer gluten-free chocolate cake almost immediately when returning from the farm. He loves to bake, and he wanted his dad to be able to enjoy the chocolate goodness.
Split the batter into two 8×8 or 9×9 pans (round or square!) when making a double layer cake.
I hope you enjoy this special recipe. Let me know how it turns out for you!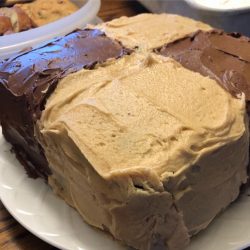 The Best, Tried and True Chocolate Cake
This chocolate cake recipe is rich and satisfying! Gluten free flour can be substituted if needed. This recipe has been in our family for years and I'm glad to share with you!
Equipment
2 layer pans or 1 9×13 in baking pan
Ingredients
The Cake
1/2

cup

butter

room temperature

2

cups

granulated sugar

8

Tbsp

cocoa

1

tsp

vanilla

2

eggs

2

cups

flour

use gluten free flour, if desired

1

tsp

salt

2

tsp

baking soda

1

cup

sour milk

see notes

1

cup

hot coffee

or boiling water
The Peanut Butter Frosting
1/2

cup

peanut butter

2

Tbsp

butter

room temperature

1/4

cup

milk

1 1/2-2

cups

powdered sugar

1/2

tsp

vanilla
Sour Milk
1 1/2

Tbsp

white vinegar

just under 1

cup

milk – use enough to fill 1 cup total of the white vinegar and milk
Instructions
The Cake
Preheat your oven to 350° F.

Coat a 9×13 inch pan with butter. If using two cake pans, coat with butter, then press waxed paper on bottom of pans. You can use your fingers and a little pat of butter, but I find it easiest to just grab the block of butter and rub it all over the bottom and sides of the pan.

In a large sized bowl, cream the butter and sugar together with a mixer, until combined. Slowly and carefully, mix in the cocoa powder. Add the vanilla and eggs to the mixture and continue mixing until combined.

In a separate medium sized bowl, combine flour, baking soda, and salt. Slowly mix in some of the flour to the wet mixture. Next, slowly mix in some of the sour milk. Continue alternating, until all ingredients are combined, ending with flour.

Stir in the hot coffee or boiling water. Pour into the pans and bake for 35-40 minutes or until a toothpick comes out clean.

Remove from oven and let cool for ten minutes.
The Frosting
In a large bowl, combine all ingredients. Slowly and carefully stir together until combined. Spread over the cake, once it has cooled (if time allows, freeze cake before frosting. Let come to room temperature before serving)