Safe For Your Family
The complete selection of Norwex Microfiber EnviroCloths allows you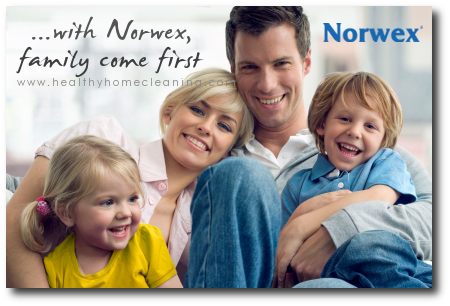 to clean completely using just water, so you can be certain that your home is healthy and safe for your family.  Norwex household cleaners are made from raw materials, are biodegradable and safe, while Norwex organic personal products provide you and you family with a natural way to stay clean.
"I bought the Norwex Body Pack and they work amazingly!! I have very sensitive skin so I can't use make-up remover without getting a rash. I bought these cloths and they remove the makeup without any soap or make-up remover.  My skin is left clean and rash free! It even takes off water proof mascara with just water! I love these cloths and would highly highly recommend them to anyone." (Nikky, Rothesay, NB Canada)
Norwex Cleans Better
Simply put, Norwex cleans better than the traditional chemical cleaners and cotton cloths and sponges.  Not only does the Norwex system clean everyday dirt and grime more efficiently, but it also removes the accumulated residue of chemical cleaners, which actually attract more dirt to the surfaces in your home.  Not only will your home be dirt and germ free, but it will also be free of the harmful chemical residues that traditional cleaners leave behind.
"I love cleaning my house with Norwex…it's faster, cheaper AND their products clean better than the other stuff I used to use.  My white smooth top stove had rings of burnt on food that stubbornly refused to come off with anything I'd tried until I used a Norwex Spirinett.  A little scrub with a Spirinett and water, and and my stove looked new again!"  (Jen, Rothesay, NB Canada)
Norwex Saves You Time
The Norwex cleaning system has been proven to reduce cleaning time by 75% or more!   If you normally spend 4 hours every week cleaning your home, you could cut that down to 1 hour or less!  Imagine the great things you could be doing with the other 3 hours!
Norwex Saves You Money
The average household spends $450 – $600 a year on chemical cleaners and cleaning supplies.  By reducing the use of these items, you can eliminate up to 90% of your cleaning costs! 
"The Norwex cloths have helped us reduce our expenses for cleaners.  We really like how well the cloths work on windows.  Goodbye Window Cleaner!"  (Shelly, Saint John, NB Canada)
Safe for the Earth
By choosing Norwex, you are helping to protect our world from the ever growing tragedy of pollution and toxic waste.  God has given us this earth to preserve and steward wisely.  By reducing the chemicals we each use in our homes and work places, we can make a huge difference!   Think Globally Act Locally!
Norwex is a Company with a Conscience
Norwex is a distributor of Fair Trade Products.  This means:
Producers receive a fair price – a living wage. For commodities, farmers receive a stable, minimum price.
Forced labor and exploitative child labor are not allowed
Buyers and producers trade under direct long-term relationships
Producers have access to financial and technical assistance
Sustainable production techniques are encouraged
Working conditions are healthy and safe
Equal employment opportunities are provided for all
All aspects of trade and production are open to public accountability