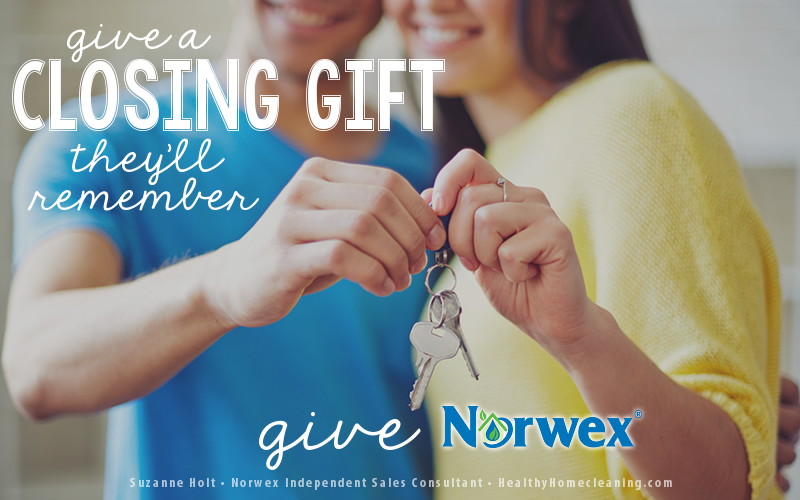 Norwex Offers Real Estate Closing Gifts That Make a Lasting Impression
Attention real estate professionals!(not just realtors and real estate agents but mortgage brokers, property managers, and real estate developers too!)
Real estate agencies have a zillion restrictions placed on them in terms of how they can market their business. Here are my thoughts on what I believe is an incredibly effective real estate marketing strategy and an under-utilized opportunity. Closing gifts can be an effective tool in building a solid foundation for your business! The right real estate closing gift creates a lasting impression on the receiver, and gives you an opportunity for referrals and future sales.
Why give a real estate closing gift?
Real estate is often an emotional roller coaster, and when you've closed the sale, it can be such a relief. But wait! While other agents, managers and brokers consider their job done and might send a thank you note, you can gain a valuable advantage. Go the extra mile and give your client or tenant a real estate closing gift they'll use and enjoy in their new home.
Of course, sending a "thank you" note is a solid business practice. Many companies do this to show appreciation, and it's certainly better than sending nothing at all. By all means, do send the note of thanks, but send it along with something useful!  Imagine how special your clients will feel if a unique gift is delivered right to their home. That's what closing gifts are all about – a way to say "thanks" and be remembered for years to come. As one realtor puts it:
I consider it a matter of professional courtesy and respect to show your appreciation at the end of what can be a frustrating and emotional experience for the client.
What makes a good closing gift?
A good gift is something that will be appreciated by your clients as useful and practical. One challenge though, is selecting a gift that meets budget constraints and is neither inappropriately generous or so frugal that in undermines the goodwill it's intended to create.  Other challenges are that it's time-consuming to shop for each client and it's sometimes hard to know what your client would like as a gift.  Norwex solves this problem by offering real estate professionals an easy closing gift idea: the Norwex Gift Basket!
Imagine – No more shopping 'til you drop for gifts you can't afford and your clients may not like or appreciate! Everyone who tried Norwex loves it, and it's a perfect thematic tie-in for real estate professionals. What better gift to give than one which can be used by your clients to keep their prized new possession – their home – clean and healthy?
What is a Norwex Gift Basket?
This is a simple basket or container of your choosing, into which you put a few of the Norwex must-haves for any homeowner.  Norwex has already put together different packages of their products, just to make your job easier:
Or you could be creative and put together your own collection of Norwex items that you think will be appreciated by your clients!
If you were a brand new homeowner, wouldn't you appreciate a gift basket full of things you could use to keep your new home sparkling clean? And wouldn't you remember the giver fondly?
How is a Norwex Gift Basket Cost-Effective?
If you join Norwex as a wholesale consultant/distributor, you're able to purchase your products at a 35% discount. These are wonderful products at an amazing price!  When you add a Norwex catalog to each basket and your clients try these products, they'll be back for more.  Your wholesale ordering number also acts as your consultant number if you decide to sell Norwex for profit.
An EnviroCloth Speaks Volumes!
Clients aren't the only ones who can receive closing gifts from your company. You could also consider all those you've worked with throughout the sales or rental process. There are closing lawyers, lending institutions, mortgage companies, home improvement specialists, appraisers, insurance agents, housekeepers, etc. All those who contribute to making your real estate sales possible would love to receive a thoughtful little closing gift from you (like an EnviroCloth or Window Cloth). Also, don't forget to send a gift to those who refer others to you!
How does the Norwex stuff get to my clients?
Delivering your gift personally one to two weeks after the closing, though not always convenient, can be a very valuable marketing strategy! This approach allows you to check on your clients "to be sure everything is going okay", and it ensures that they feel you went the extra mile for them!
TIP: Norwex products can be delivered to any North American address, so if your clients are living elsewhere, send them a little note thanking them and telling them to watch the mail for a special delivery!
The Marketing Benefits of Real Estate Closing Gifts
The benefits of giving closing gifts are tremendous. One reason you'll want to make this a normal practice is it will increase your real estate referrals dramatically.  Imagine the increase in leads of potential buyers and sellers if you suddenly have everyone you work with referring you sincerely to others!
Your current clients will be much more likely to give you those valuable referrals if you take a little extra time, after their closing, to show them how much they are appreciated! And when the time comes for them to buy again; they are more likely to "look you up" for the job!
Examples:
The client refers you because the purchase went smoothly AND they received a unique and useful closing gift from you.
The closing attorney works with many people in real estate, even potential real estate buyers or sellers. You're the real estate agent who stands out because you show such appreciation for the attorney.
The person who cleans the homes or apartments for you may have family and friends who are interested in buying, selling or renting a home.
More Benefits for Rental Property Managers
If you're a rental property owner or manager, giving a housewarming gift basket to a tenant is a great way to say "thank you" and to let them know you'll be there when they need you. This helps with both new tenant referrals and resident retention. You can also give gifts to those who work with you to clean or repair the rental property. The home improvement specialists who do property maintenance for you may also do the same thing for others who are getting ready to sell their home. Because of your thoughtfulness, you always come to mind when real estate conversations arise.
Another benefit is the potential of repeat business when your clients get ready to buy, sell, build or rent again. The way in which you treat clients during and after the sale will make an everlasting impression. A closing gift tells your clients that you value them and appreciate their business.
How do I become a Norwex Consultant/Distributor?
I'd love to help you with this! For more information or to get answers to your questions, please don't hesitate to contact me.

Click Here to visit my FAQ page for potential consultants and to if you're ready to sign-up now, click here!