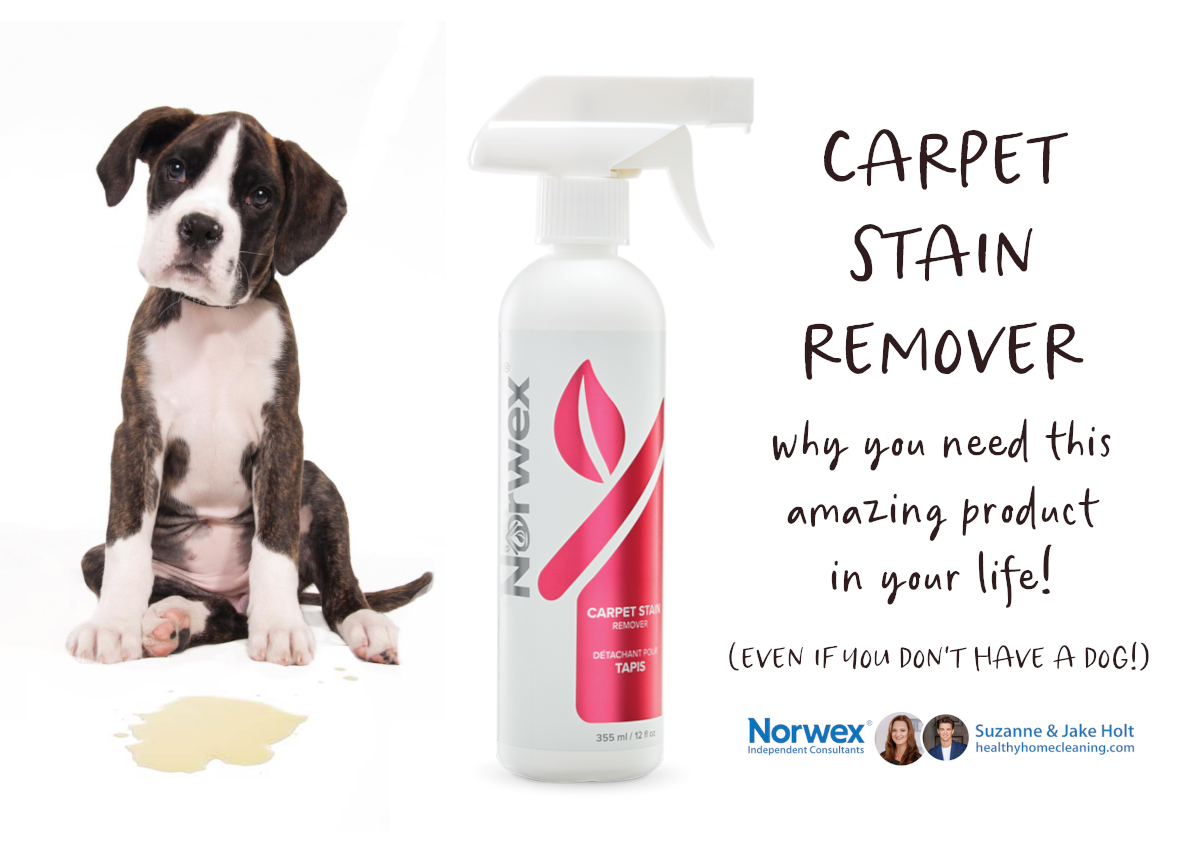 We all experience stains, especially if you're a parent – spaghetti sauce on the couch, red wine spilled on an area rug, dog pee or cat puke on the carpet, or orange juice spilled on the car upholstery. Getting rid of stains hasn't always been easy, and usually required the use of harsh chemical stain removers.
Thankfully, Norwex has a safe and healthy solution – the Norwex Carpet Stain Remover Concentrate. It's one of the most used Norwex products in our house and, in my opinion, the BEST carpet and upholstery cleaner available.
What does it do and what's so great about it?
1. It does exactly what it says it does – the rich foam quickly penetrates and removes stains (and accompanying odors), without the use of harsh chemicals.
Typical carpet spot removers usually contain large amounts of chemical-based surfactants and sometimes solvents. They often leave a soap residue which attracts additional dirt, resulting in stains that seem to re-appear. In contrast, the Norwex Carpet Stain Remover is an enzyme-based cleaner that removes all organic matter, and it "eats" through red wine, baby stains, sick kid stains, urine stains, and any protein-based stain you can think of. And it leaves no sticky residue behind, so stains don't come back.
You can literally watch it happen! It works where chemical cleaning solutions fail and is truly amazing. Listen to this customer's experience with the Carpet Stain Remover.
"My dad tripped while holding a full glass of red wine, which spilled across my parents' brand new white wool rug in what can best be described as a blood-spatter pattern. By the time I got to my parent's house, the stain was a few hours old and my mom had tried blotting it with a wet cloth and soda water. We sprayed a generous amount of Carpet Stain Remover on the stains, and then waited 10 minutes so that we could blot them. By the time the 10 minutes had passed, the stains were almost invisible. By the next morning, the stains were totally gone. It was incredible."
2. It keeps working for hours, even days, after the initial cleaning. This 75% biobased formula contains enzymes, Yucca schidigera, & Orange Extract in the cleaner that continue to do their work on the stain after you've scrubbed. So even if the stain doesn't fully lift out when you first clean it, just wait a couple of days and give the spot another blot or scrub with a damp enviro cloth, and you should see come right out. You might not even have to give it another scrub, it most likely will just fade away over a day or 2!
"My cat puked on my cream colored area rug. I cleaned up the mess as best I could with a stain remover from the grocery store, and while the stain lessened, it was definitely still visible and unsightly. A couple of months after the incident, I hosted a Norwex party, and showed the stain to the consultant. She sprayed it with the Norwex Carpet Stain Remover, let it sit for about 10 minutes, then gave it a scrub with an Enviro Cloth – the stain faded but was still there. She told me that because of enzyme action, the stain remover would continue to work over the next couple of days. I was truly amazed that within 3 days, the stain was COMPLETELY gone – it just faded away! When I look at the rug now, I can't even tell where the stain was. I now have a bottle of it, on hand, all the time."
3. It's free of harsh chemical surfactants and uses only safe ingredients. I've already talked about this in the last 2 points, but I think it deserves to be highlighted. This stuff works amazingly AND is NON-TOXIC.
Where you can use the Norwex Carpet Stain Remover Concentrate:
carpets in your home, including area rugs
VEHICLES – yes, this is a car lover's dream come true.  It's great for all upholstery in cars, trucks, vans, and camping trailers.
upholstered couches & chairs – please check in an inconspicuous area first though.
anywhere that your PET may have made a mess.  The Norwex Carpet Stain Remover is a MUST for all pet owners who have carpets in their homes, or who travel with their pets in their vehicles.  This product does an incredible job of removing pet urine, vomit, waste, and unpleasant odors from carpet stains without leaving any residue. Another great enzyme product for housetraining pets is Norwex Sportzme, which I've written about here!
Spot Cleaning:
Shake well
Pour entire bottle (2 fl. oz.) into empty spray bottle (I totally recommend the glass Forever Bottle with Sprayer).
Slowly fill with water and shake well.
Blot any wet stain with paper towel or a dry enviro cloth to soak up excess moisture. Spry the Carpet Stain Remover directly onto the stain. You can just leave it be, but I always gently rub it into the stain (I just use my fingers). Allow the foam/cleaner to sit for 5-10 minutes, then gently blot (I sometimes rub) the stain with a clean, damp enviro cloth. If, in a couple of days, the stain is still there try using a damp enviro cloth to rub the stain again. If that doesn't remove it, repeat the whole process again.
Is there anything that's not great about it?
1. Since it's made with natural, safe ingredients (which are more expensive to source) the Norwex Carpet Stain Remover Concentrate is pricier than store-brand stain removers. I will counter with this point though – the Norwex bottle will last longer because you don't have to use very much of it, and because it actually works, you've not wasted your money on a dud product.
2. It doesn't remove all kinds of stains, specifically ones that do not contain protein (are not biological in nature). Ink, for example, would only come out of my beige microfiber couch using rubbing alcohol.
Is this a 5 star Norwex product?
Without a doubt, this is a 5-star product! I always have it on hand in our house (we have 2 boys and 2 dogs), and I use it frequently, and actually start to panic a little when I run out! I would wholeheartedly recommend this product to anyone and everyone – I truly love it.
Purchase Products In This Post: