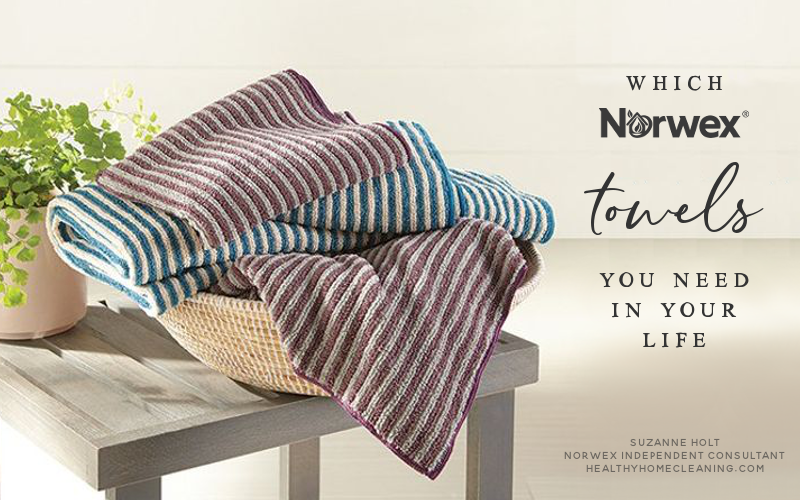 Norwex has multiple options for body towels and hand towels. In fact, when asked about towels, it's not exactly a simple answer, since there are more than 8 different options! I'm going to help you understand the similarities and differences between the towels available from Norwex, so you know which ones to choose for your home!
4 similarities between all Norwex towels that are important to note
All towels contain BacLock. BacLock is an antibacterial agent for self-cleaning purposes. The agent inhibits bacterial odor, mold and/or mildew growth within the product. What this means for you: all the towels self-purify between uses, so they're not gross smelly towels! You also save money and time, as you don't need to launder them as frequently as a traditional towel.
All towels are super absorbent, thanks to the microfiber material. They are more absorbent than a traditional towel, holding several times its weight in water.
Their microfiber material allows them to dry quickly in between uses. That means no damp towel next time you reach for it!
All towels have a two-year warranty.
How to Decide on Which Towel(s) You Need in Your Life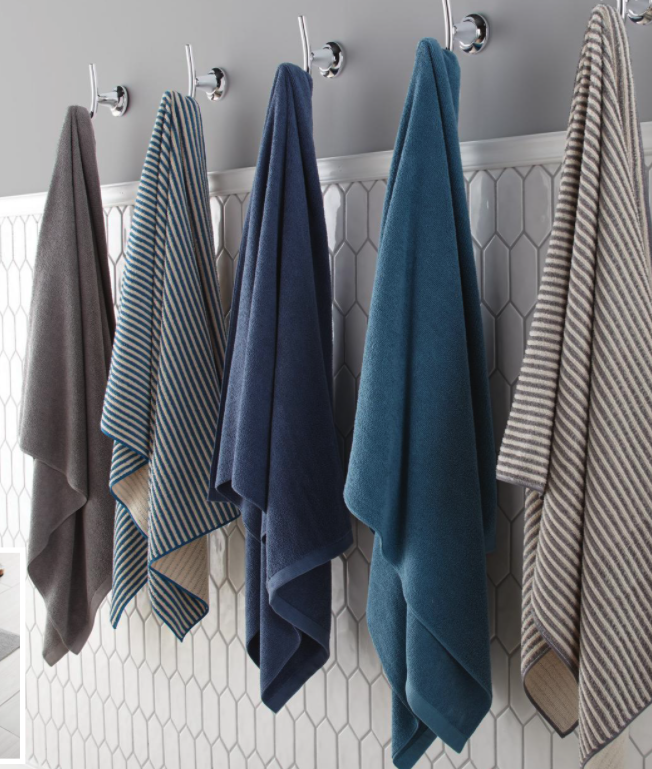 Lightweight, thin towel
55.12″ x 27.56 "
Generously sized for adults
To use, pat body with towel to absorb water
Comes with a loop to hang on a hook between uses
Great for camping (but NOT the beach, as it holds onto sand)
5 color choices: Lavender, Teal, Graphite, Vanilla or Denim
Fluffier feel and slightly thicker than the solid print Bath Towel
55.12″ x 27.56″
Same size as the Bath Towel, sized for adults
Dry body off with either a rubbing or patting motion
Comes with a loop to hang on a hook between uses
Great for camping (but NOT the beach, as it holds onto sand)
2 color choices: Teal and Vanilla Stripes, or Lavender and Graphite Stripes
Hang on a rod or ring or use the loop to hang from a hook
Comes in the same solid colours or striped colours as the other towels
27.26″ x 13.78″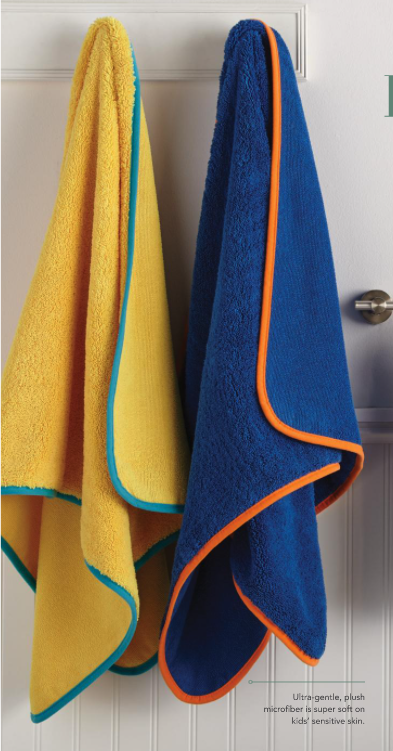 2 bright colours: Royal Blue or Yellow
47.24 " x 27.56″
Extra fluffy on one side, soft on the other
Trimmed around edges with bright colors
Fluffy chenille hand towel, with a fun animal at the top, and a slender chenille towel on the bottom.
Velcroed loop to attach to rod in your bathroom
3 animals to choose from: Purple unicorn, Green Dragon, Grey Kitten
4.3″ x 13.8″
Size is ideal for ages 2-12. Fun factor makes it appropriate for all ages though
Kids will try to bring these to bed to snuggle with!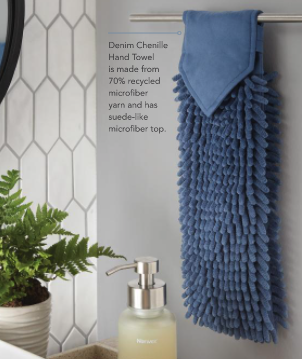 Fluffy towel with absorbent chenille nubs
Loops to hang on a towel or oven bar, so it doesn't fall off
Wider than the Pet to Dry towels, so ideal for adult hands
4.8″ x 14.96″
4 different colors to choose from: Sea Mist, Eggplant, Denim or Graphite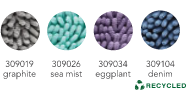 Towels Outside of the Bathroom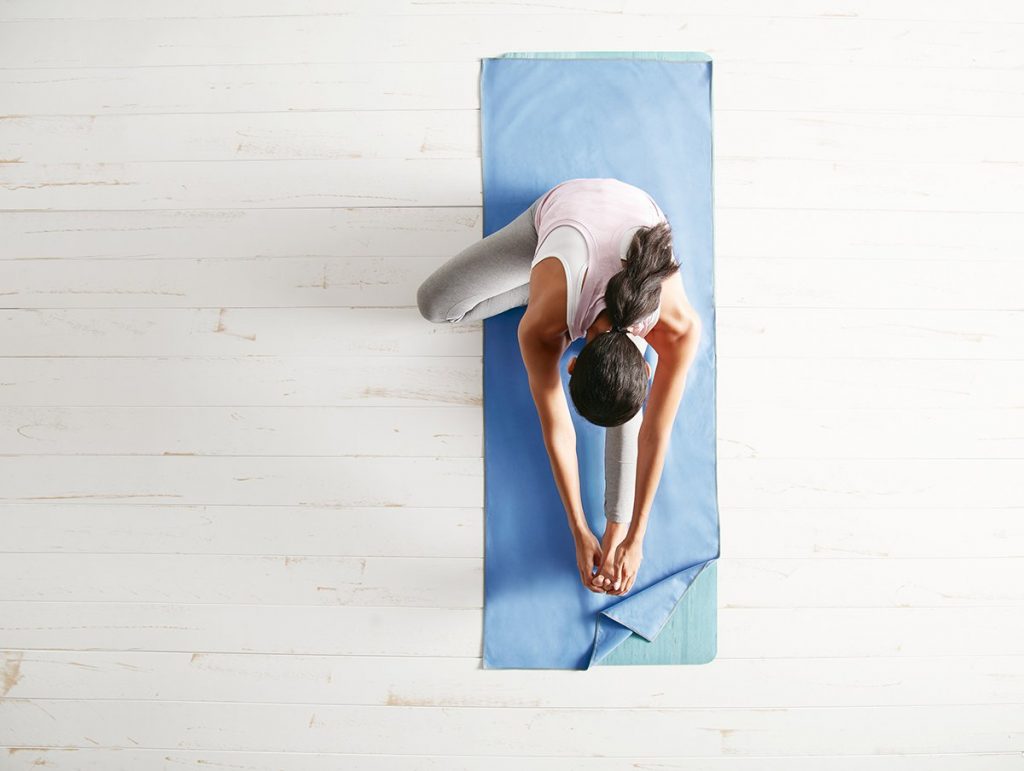 Extra absorbent, super thin, suede microfiber towel
Much smaller than the Bath towel, with two sizes available, which is convenient for fitting into a gym bag
Comes with a bag for easy carrying
Not just ideal for the gym! Also perfect for travel, camping or drying off after the beach (it won't hold onto sand!)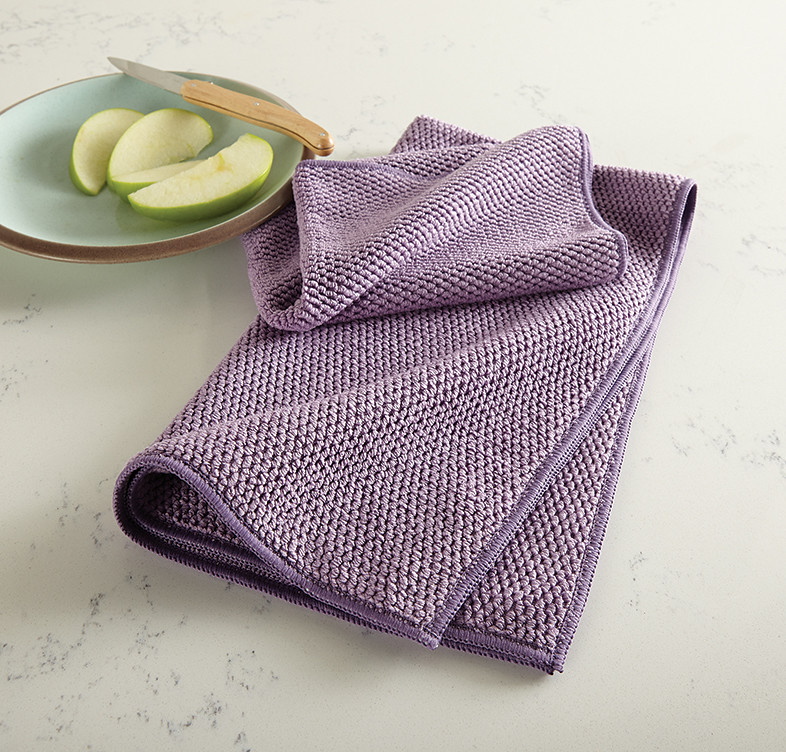 Perfect in the kitchen for: drying dishes, countertops, absorbing spills, or drying hands
25.59″ x 13.79″
Textured diamond weave on one side makes this the best dang kitchen towel you'll ever use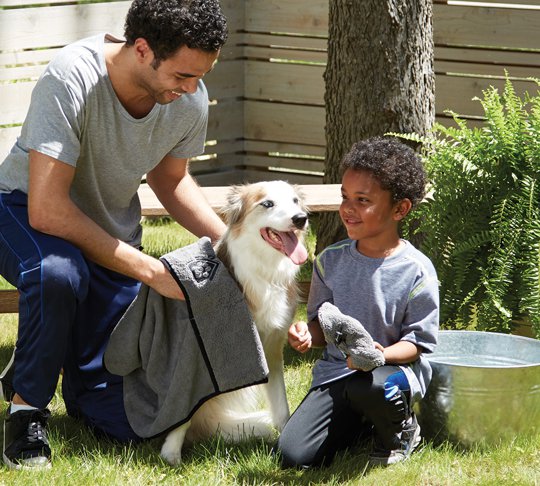 The fluffiest of all the Norwex towels
Perfect for drying pets down after a bath (or rainy walk)
Contains a pocket on both sides to slip your hand into and make it easy to securely hold onto the towel while drying a wiggly animal
Made for pets, but who says you can't buy it to use for yourself instead? Nobody. So go for it if you want to!
23.6″ x 39.4″
You too can have all the Norwex towels in your life
Swooning over all these towel choices? You can get more towels of all kinds in your life by heading over to my website and shopping to your heart's content!